President Obama may be gaining something as the Republicans battle for their party's presidential nomination. His approval rating in this week's Economist/YouGov Poll (Week of 2/11/2012) is still below 50%, but he still leads all the GOP candidates in hypothetical fall horseraces.
This week, 45% say they approve of the way the President is handling his job; 47% disapprove.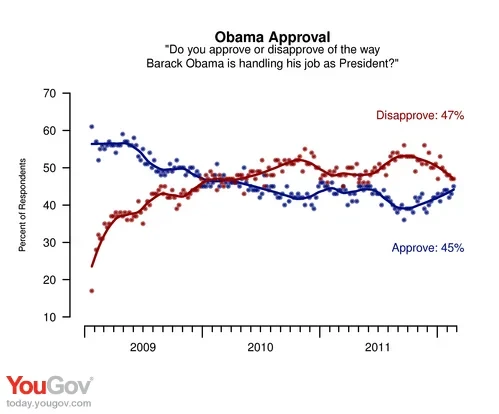 Still, Mr. Obama leads former Massachusetts Governor Mitt Romney by five points if they became the nominees; he leads former Pennsylvania Senator Rick Santorum by seven, Texas Congressman Ron Paul by eight, and former House Speaker Newt Gingrich by 15. 
Economist/YouGov poll archives can found here.
Photo source: Press Association