The coronavirus outbreak is having strong impacts on the 2020 US presidential race, specifically in the Sun Belt states of Florida, Arizona, and Texas. In these states, registered voters are more likely to vote for Biden over Trump, depending on their COVID-19 concerns, according to the latest CBS News/YouGov Poll.
Three in four voters say COVID-19 is a very serious problem in their state. Almost seven in 10 (69%) of registered voters in Arizona say the efforts to contain coronavirus in their state are going badly, compared to 65 percent in Florida, and 62 percent in Texas.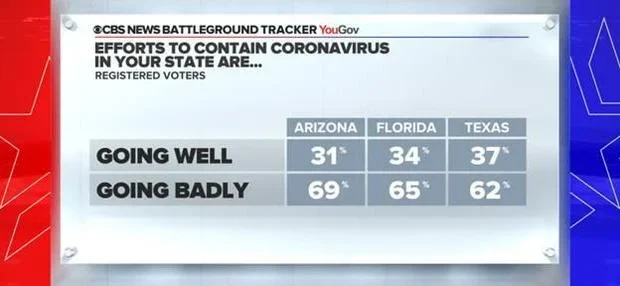 Two in three (68%) Floridians say the state opened too quickly because of pressure from the Trump administration, compared to 32 percent who say Florida reopened too quickly because the state thought it was right.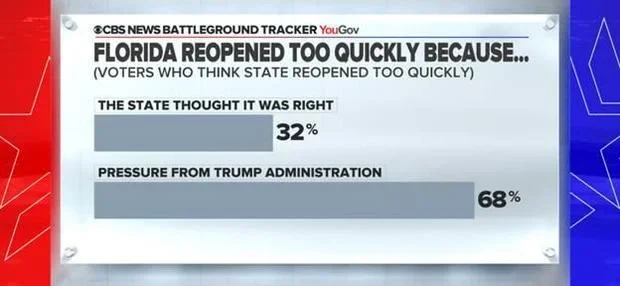 Biden support increases with concern about COVID-19. In Arizona, 72 percent of those voting for Biden say they are very concerned about COVID-19. 67 percent of Biden supporters in Florida and 68 percent of Biden supporters in Texas say they are very concerned. Nine in 10 Biden voters say COVID-19 is a major factor in their vote. Trump voters are more likely (90%) to say the major factor in their vote is the economy – specifically, in Arizona.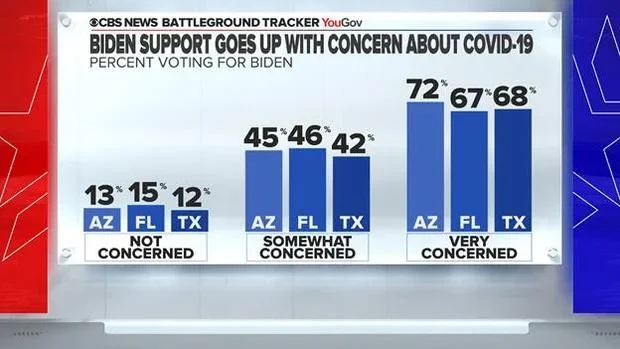 In Texas, voters (53%) say the President is the candidate that cares more about the US economic situation, compared to Biden (51%). Texas voters (58%) see Joe Biden as the candidate that cares more about COVID-19, compared to President Trump (46%).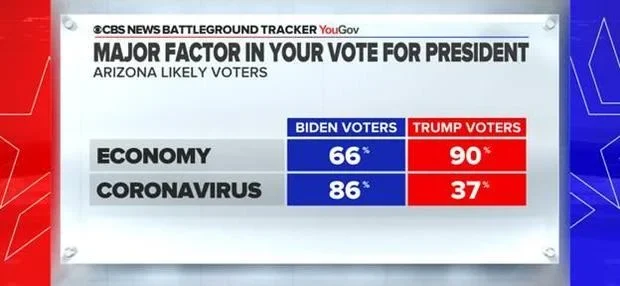 In the state of Florida, Joe Biden has a six-point lead on Trump (48% vs. 42%). President Trump holds the lead in Texas (46% vs. 45%). Arizona voters are split (46% vs. 46%) on their choice for president.
Biden leads among women voters in all three states of Arizona (50% vs. 42%), Florida (50% vs. 37%), and Texas (47% vs. 42%). Additionally, Biden is gaining voters with voters over the age of 65 – specifically in Florida. President Trump's support with Florida seniors has dropped slightly from 57 percent in 2016.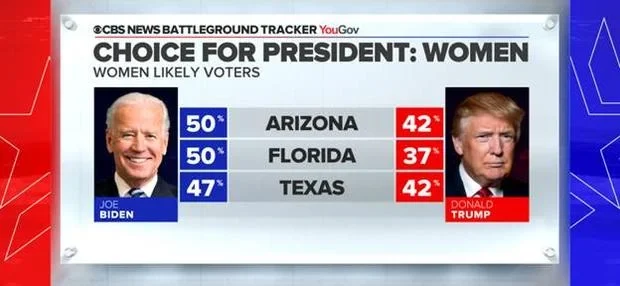 In the states of Arizona, Florida, and Texas, Trump 2020 supporters express more enthusiasm over voting than Biden supporters. Additionally, a stark difference emerges in the reason why supporters plan to vote for each candidate. In Florida, 67 percent of Trump supporters say the main reason they support him is because they like Donald Trump. Biden supports (49%) in the Sunshine State say their main reason for supporting him is to oppose Donald Trump.
In Arizona, 94 percent of Biden supporters and 95 percent of Trump supporters say they probably won't change their mind – leaving little room for change.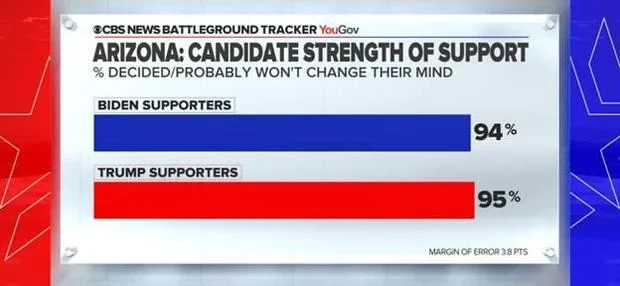 In all three states, voters would like to see voting by mail made easier. 59 percent of Biden voters, and a quarter (25%) of Trump voters in Florida, say they prefer to vote by mail in 2020. Trump supporters in Texas are less likely to prefer vote by mail (9%), compared to the states Biden supporters (45%).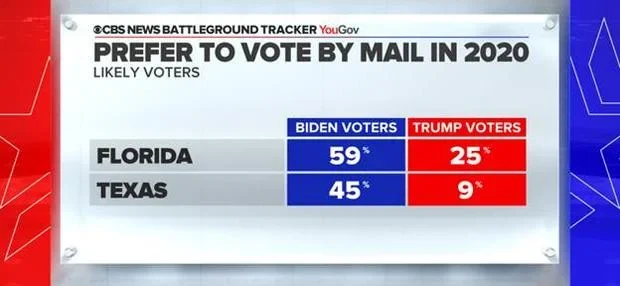 Methodology: These surveys were conducted on behalf of CBS News by YouGov between July 7-10, 2020. They are based on representative samples of 1,099 registered voters in Arizona, 1,229 in Florida and 1,212 in Texas. Margins of error for registered voters: Arizona +/- 3.8 points, Florida +/- 3.5 points, Texas +/- 3.3 points.
See the Texas, Arizona, and Florida toplines from this week's CBS News/YouGov Poll
Image: Getty