Half of the country (52%) believes President Donald Trump would refuse to accept a narrow defeat in the November presidential election, according to a new Yahoo News/YouGov Poll. And a majority of Trump's 2020 supporters (55%) say they would not accept the results of the general election if Democrat Joe Biden wins because of an advantage in mail-in ballots.
In contrast, a plurality of Americans (41%) believe that Biden would accept the defeat in the 2020 election if he loses by a thin margin. And about half (47%) of Biden's supporters say they would accept the results if Trump won a narrow re-election with mail-in ballots.
The partisan distinction could come down to GOP doubt in absentee voting. Other YouGov data indicates that Republicans (53%) are more likely than Democrats (17%) and Americans overall (35%) to believe that vote-by-mail leads to "a lot" of fraud. That idea has been promoted in recent weeks by President Trump, who has adamantly suggested — despite evidence to the contrary — that widespread absentee voting will lead to massive amounts of voter fraud.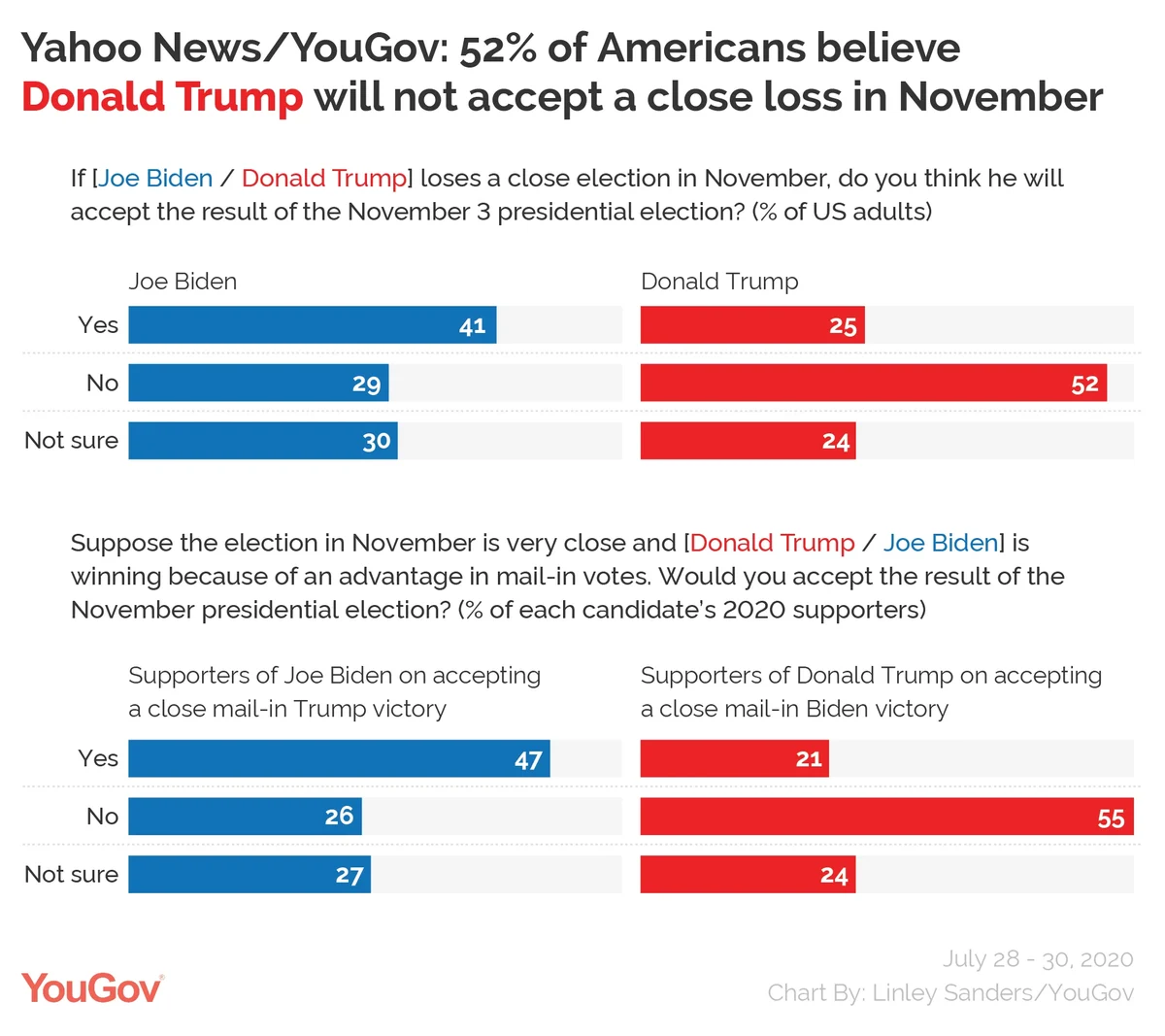 The poll comes as President Trump trails Biden by nine points in the Yahoo News/YouGov trial heat (49% vs 40%) and states grapple with how to guarantee Americans their right to vote in the 2020 election amid the COVID-19 pandemic.
The Centers for Disease Control and Prevention has said that elections that only offer in-person voting on a single day create a "higher risk for COVID-19 spread because there will be larger crowds and longer wait times."
Prior Yahoo News/YouGov Polls have shown that most Democrats (65%) prefer postal voting while three-quarters (75%) of Republicans prefer in-person voting.
Related: Are Americans more worried about voter fraud or denying eligible voters their ballot?
Methodology: The Yahoo! News survey was conducted by YouGov using a nationally representative sample of 1,506 U.S. adult residents interviewed online between July 28 - 30, 2020. This sample was weighted according to gender, age, race, and education based on the American Community Survey, conducted by the US Bureau of the Census, as well as 2016 Presidential vote, registration status, geographic region, and news interest. The margin of error for the entire sample is ±3.3%
Image: Getty