Democrat Joe Biden's vice-presidential pick, Kamala Harris, should be a formidable rival to Vice President Mike Pence, according to registered voters in a Yahoo News/YouGov Poll.
Voters place just as much confidence in Harris' ability to lead the nation as they do Pence, according to the latest poll. A plurality of registered voters (44%) believe the California Senator would be ready to assume the presidency if Biden wins the White House and is unable to serve at some point. The exact same number (44%) say that Pence is currently ready to serve if anything happens to President Donald Trump.
Democrats appear pleased with Harris as their vice-presidential nominee headed into the Democratic National Convention. Seven in 10 Democrats (70%) believe that Harris was the right selection, and three-quarters call her an excellent (46%) or good (31%) pick. Perhaps unsurprisingly, Democrats are particularly likely to believe Harris would be ready to assume the presidency (72%) if needed, while Republicans are less certain she will be ready on day one (73%).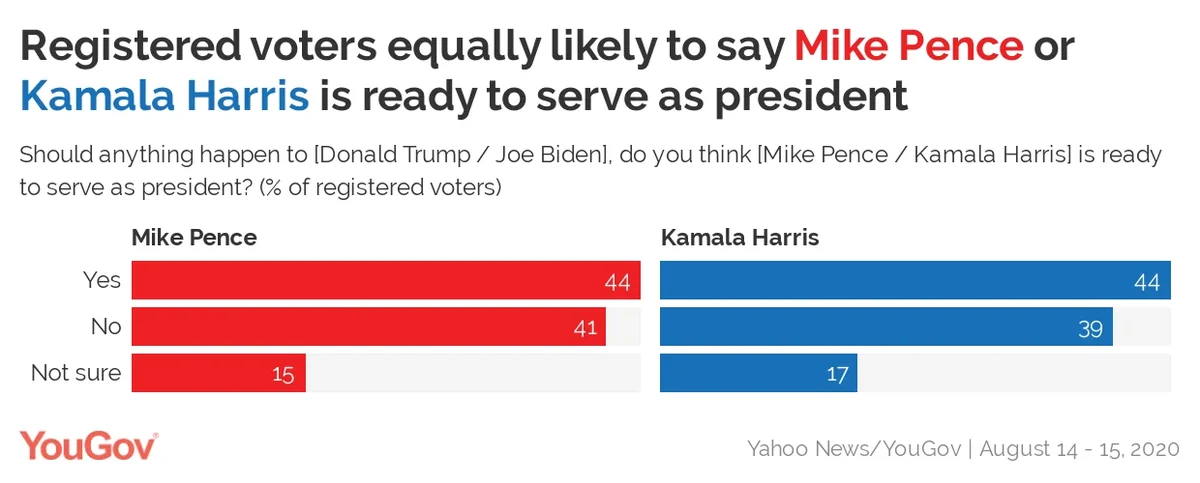 Republicans place more faith in Pence, who has served as President Trump's second-in-command for nearly four years. Three-fourths of Republicans (78%) say Pence is ready to serve, compared to two-thirds of Democrats (65%) who say that he is not. Four in five Trump supporters (82%) believe that the current vice president would be prepared to assume the nation's highest office.
Similar percentages of voters believe Harris and Pence are equally prepared to assume the presidency, registered voters give Harris the edge in a few areas. In a head-to-head contest between Harris and Pence, about half (51%) of voters would favor Harris. Two in five (40%) select Pence. This is a similar margin to the number of registered voters who favor Biden over Trump.
Half of registered voters (49%) also believe that Harris — a former prosecutor — is likely to get the better of Pence during the 2020 vice presidential debate on October 7. About one-third of registered voters (36%) give the edge to Pence. About one in seven (15%) are uncertain about who will do better.
The incumbent ticket may have a hard time portraying Harris as a member "radical left" as President Trump says. A plurality of registered voters does not consider Harris a radical (43%), though most Trump supporters (61%) do. One-third (34%) also say that she is not the most liberal person in the US Senate, despite assertions from the president that she is.
See the toplines and crosstabs from this week's Yahoo News/YouGov Poll
Methodology: The Yahoo! News survey was conducted by YouGov using a nationally representative sample of 1,529 US adult residents interviewed online between August 14-15, 2020. This sample was weighted according to gender, age, race, and education based on the American Community Survey, conducted by the US Bureau of the Census, as well as 2016 Presidential vote, registration status, geographic region, and news interest. Respondents were selected from YouGov's opt-in panel to be representative of all US residents. The margin of error for the entire sample is approximately 3.4%.
Image: Getty