Democrat Cal Cunningham holds firm lead over GOP incumbent Thom Tillis in Senate race
New polling from CBS News/YouGov finds Donald Trump and Joe Biden in a close contest in North Carolina as the Democrats try to win the state for the first time since 2008.
Biden holds a slender two-point advantage in the state, currently leading the President by 48% to 46%. At the moment, 4% of likely voters are unsure and 2% plan to vote for someone else. The former Vice President holds a strong advantage among women (56% to 37%) but Trump is performing better among men (56% to 39%). The President has a six-point lead among Independents (46% to 40%).
When YouGov last surveyed in North Carolina in late July Biden held a four-point advantage, leading Trump by 48% to 44%.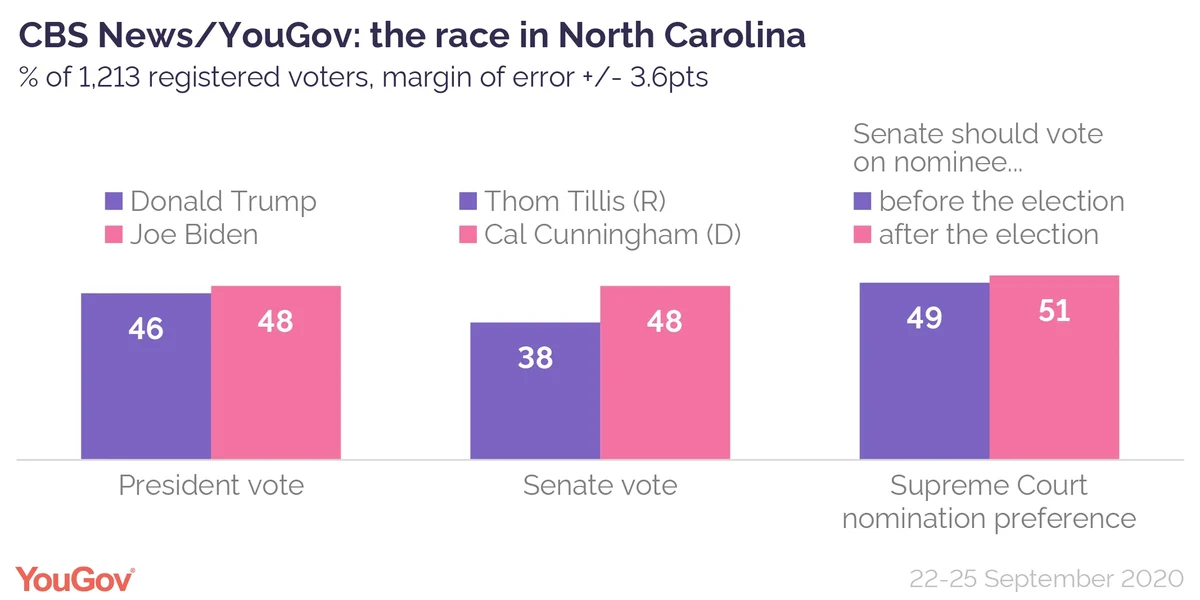 Senate race
The poll also shows that the Democrats are in a strong position in North Carolina's Senate race. Cal Cunningham leads Republican incumbent Thom Tillis 48% to 38% among likely voters, with 11% unsure and 3% intending to support someone else.
Cunningham is currently performing better than Tillis among women (55% to 26%) while the GOP incumbent leads among men (51% to 39%). North Carolina's Independent voters are split closely between the two, with Cunningham on 41% to Tillis' 38%.
Supreme Court
North Carolina voters are split evenly on whether the Senate should vote on the new justice before November's election. While 51% think there should not be a vote before the presidential contest, 49% think there should. Although Democrats firmly believe there should not be a Senate vote yet (86% to 14%) and Republicans strongly think there should (84% to 16%), North Carolina's Independents are pretty evenly split, with 52% wanting a vote ahead of the election and 48% preferring one after.
See the data for the latest North Carolina toplines and visit our CBS News/YouGov Poll page
Methodology: These surveys were conducted on behalf of CBS News by YouGov between September 22-25 2020. They are based on representative samples of 1,213 registered voters in North Carolina. The margin of error for this poll is +/- 3.6 points.