Three in five are concerned by the former vice president's age
Should he win the vote in November, Joe Biden would next year be the oldest person to become president, at 78 years old.
In this election he is not only trying to steal Donald Trump's job, but also his record, for Trump is currently the oldest person to become president, aged 70 back in early 2017 when he was sworn in. Should he win re-election he will be 74 years old when renewing his oath of office.
The advanced age of both candidates is of concern to voters, but particularly that of the Democratic challenger. Fully three in five voters say they are "very" or "fairly" worried about Biden's age, compared to 45% who say the same of Trump's.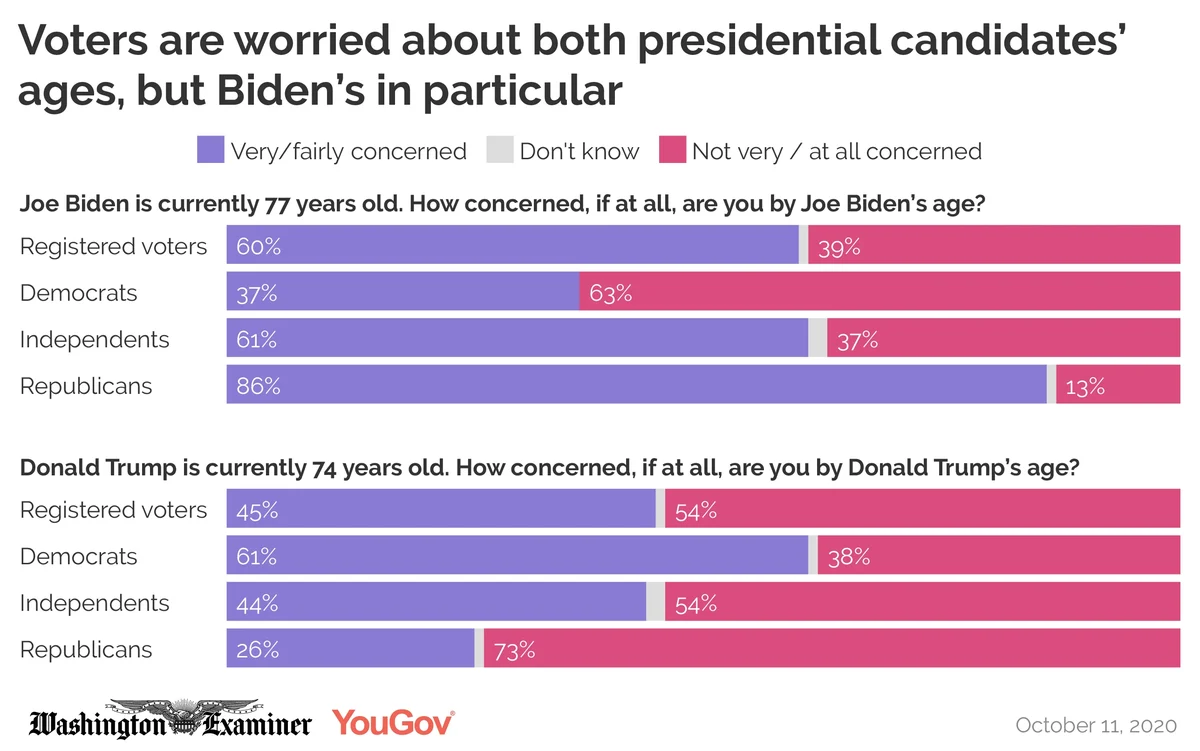 What stands out in the results is how many Democrats are concerned about their candidate's age. While voters from both parties express much higher levels of concern about their rival candidates' age (61% of Democrats are worried about Trump's age, 86% of Republicans are worried about Biden's), Democrats are noticeably more likely to be worried about Biden's age (37%) than Republicans are about Trump's (26%).
Mike Pence seen as more well-prepared to step in for his boss, but voters choose Harris in a direct head-to-head on who would make the better president
With both candidates of an age where many will question whether their health can be sustained, the natural follow-up is to look at the vice-presidential candidates.
Americans tend to think that Mike Pence is better placed to step in for President Trump in the event that he cannot serve his full second term (56% consider him well-prepared) than Kamala Harris would be to do the same for Biden (50% consider her well-prepared).
Again, it is noticeable that Pence gets more support from Democrats in this regard than Harris does from Republicans. More than a quarter of Democrats (28%) believe Pence to be well-prepared for the promotion to president, compared to only 9% of Republicans who say the same for Harris.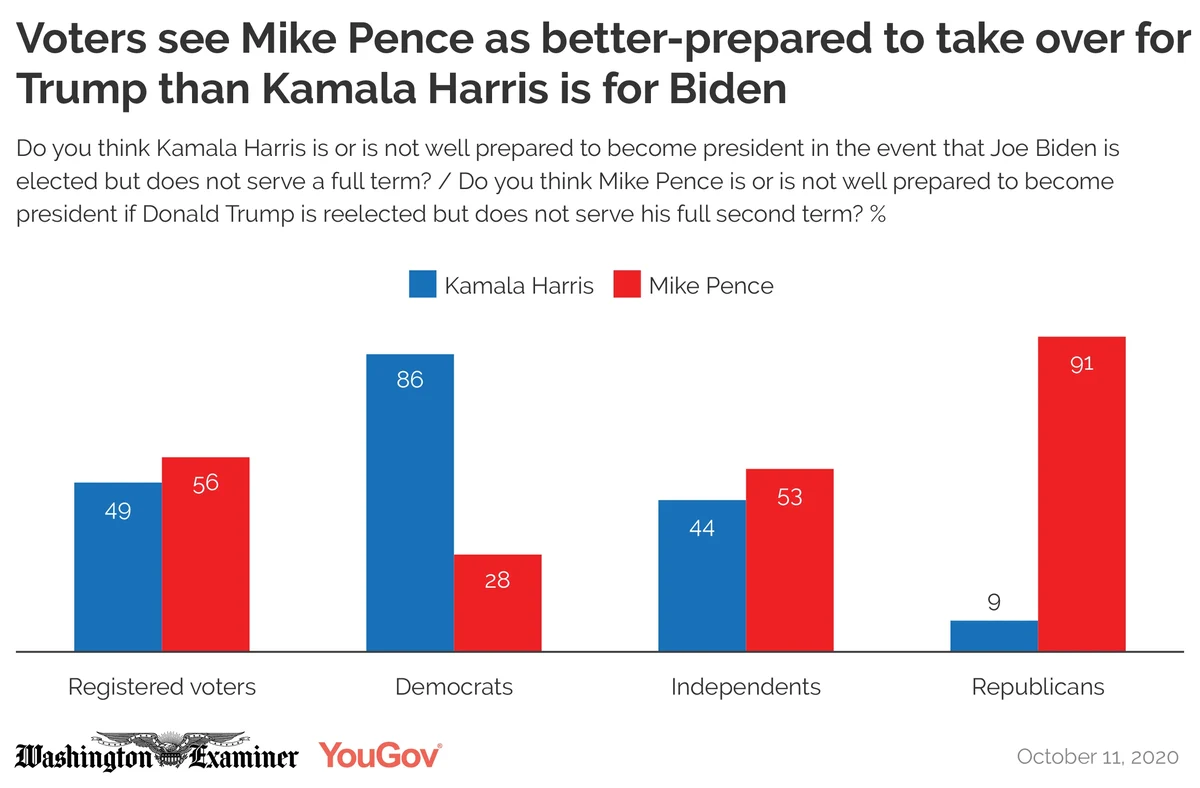 Roughly equal proportions think their own party's candidate is well-prepared (91% of Republicans for Pence, 86% of Democrats for Harris).
Independents also tend to think more favorably of Mike Pence on this matter, with 53% thinking him up to the task in the event of Trump's incapacitation, compared to 44% for Harris should Biden be unable to fulfill his obligations.
That being said, when asked which of the two they thought would make a better president, the Democratic VP candidate leads the current Vice President by 51% to 43%. Both candidates have almost equal support among their party's own voters (91-92%), while Independents break 48% / 37% in favor of Harris. This is, of course, a simple reflection of the fact that the Biden/Harris ticket is currently leading the Trump/Pence ticket in the election race.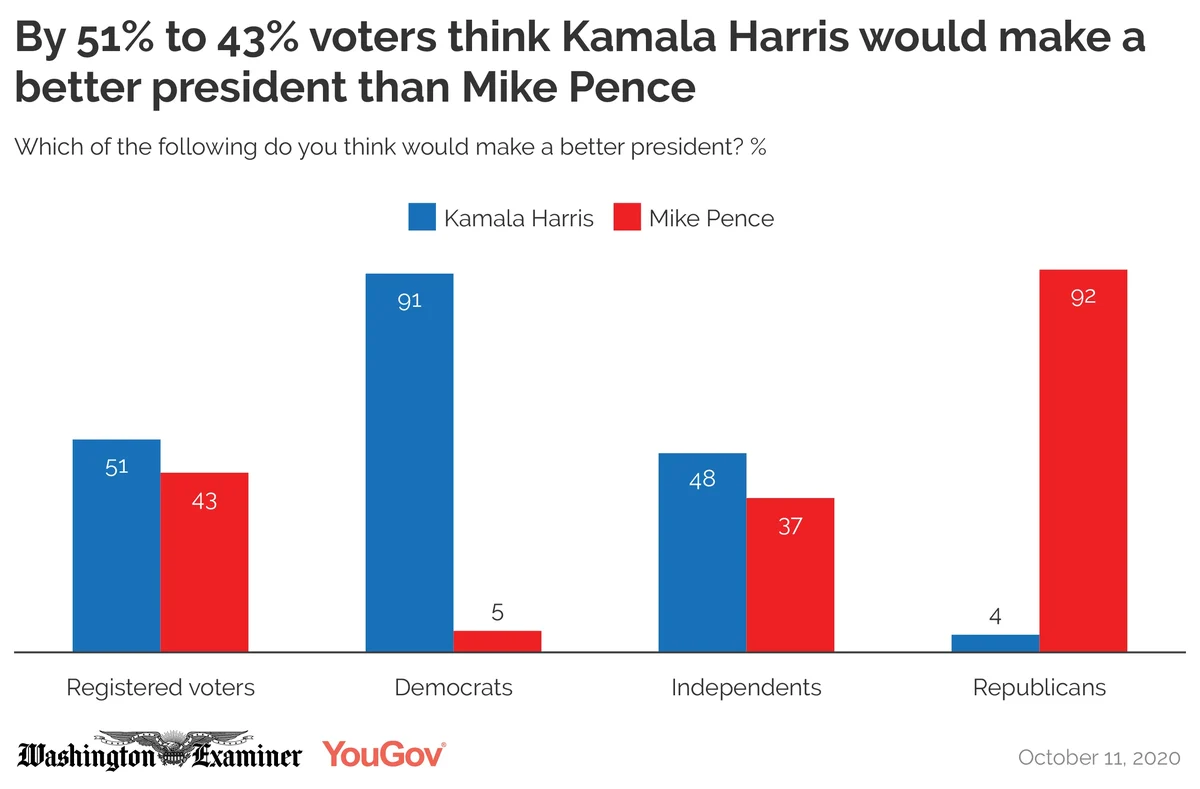 Two in five think Trump appears weakened as a result of his COVID-19 infection
Talk of vice presidents stepping in to take the reins assumes of course that the president is in danger of being unable to perform their duties. With Donald Trump's recent coronavirus diagnosis many speculated that it would leave the president too weak to carry on.
Two in five voters (40%) do believe the president appears physically weakened compared to normal. A further 24% think the opposite, considering Trump to have been energized by the experience – a figure that might perhaps have been higher had the president gone ahead with the Superman shirt stunt he was reportedly considering.
A further 28% don't think Trump appears weaker or more energized by his affliction.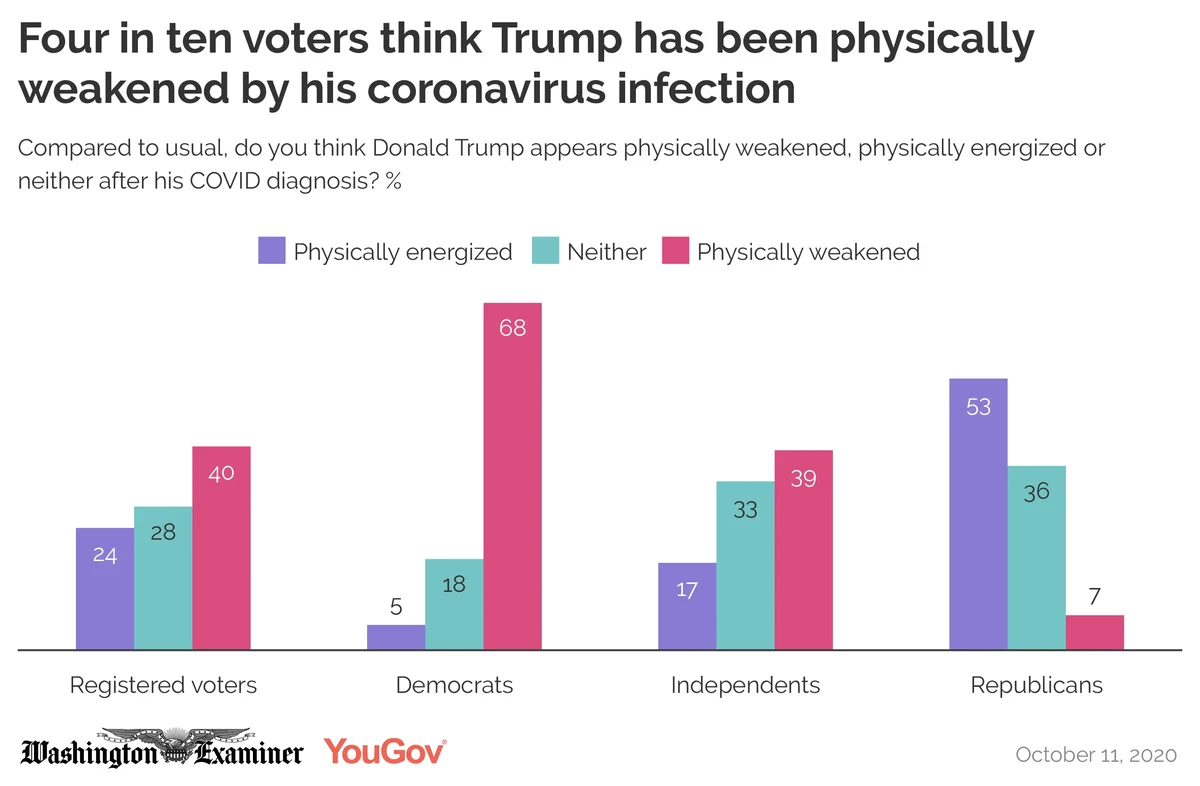 As ever, the perceptions are partisan: 60% of Democrats think Trump looks weakened, while 53% of Republicans see a more energetic president. Among Independents, 39% believe the president looks more frail, 17% think he looks more energetic and 33% think neither.
See the toplines and crosstabs from this Washington Examiner/YouGov Poll
Methodology: This article is based on a flash poll of 1,195 registered voters surveyed via YouGov Direct on October 11, 2020 between 1:00 p.m. and 7:35 p.m. This YouGov Direct Poll was weighted according to age, gender, race, education, and 2016 presidential vote. The margin of error is ±3.7%