Combining responses to the two questions finds that 5% of likely voters think the families of BOTH main candidates for president this year are corrupt.
There are some unsurprising partisan differences. Nearly all (90%) Democrats believe the Trump family to be corrupt, but only 6% believe the Bidens are. Among Republicans, one in 10 (10%) think the Trumps are corrupt, while far more (82%) believe that the Bidens are.
Most (54%) Independents believe the Trump family is corrupt, but this group is split on the Bidens. While 43% think that this family is corrupt, a similar number (39%) say they are not.
When voters are asked to compare the families head-to-head, most (54%) likely voters say that the Trumps are more corrupt than the Bidens. About four in 10 (39%) believe that Joe Biden and his family are more corrupt.
Virtually all (90%) Democrats, and half (50%) of Independents see the Trumps as more corrupt than the Bidens. Just 7% of Republicans agree. But 84% of Republicans, along with 39% of Independents and 4% of Democrats believe the Bidens are more corrupt.
Sadly for the state of American politics, just 2% of likely voters think that neither of the two main party's candidates' families are corrupt.
Most Republicans think Joe Biden should be in jail
Having started crowds chanting "lock her up" in 2016, regarding opponent Hillary Clinton, the 2020 election sees President Trump reportedly saying that Joe Biden too should be in jail.
Voters don't tend to agree. By 52% to 28%, likely voters don't think that Joe Biden has committed any crimes for which he should be imprisoned.
Most Republicans seem to believe Trump's claims, however, with 55% of this group thinking that the former vice president has committed crimes he should be in jail for. Only 11% don't think this is the case, while 34% are unsure.
Aside from calling for the imprisonment of just his two Democratic presidential opponents, at a recent rally Trump responded to supporters chanting "lock her up" (about Governor Gretchen Whitmer) by saying "lock 'em all up."
A majority (56%) of likely voters think it's inappropriate for Trump to call for Biden and other political opponents to be locked up. But about one-third (32%) of likely voters say that it is appropriate for Trump to make these statements. Most (61%) Republicans, along with 32% of Independents and about one in 11 Democrats (9%) say that it is appropriate.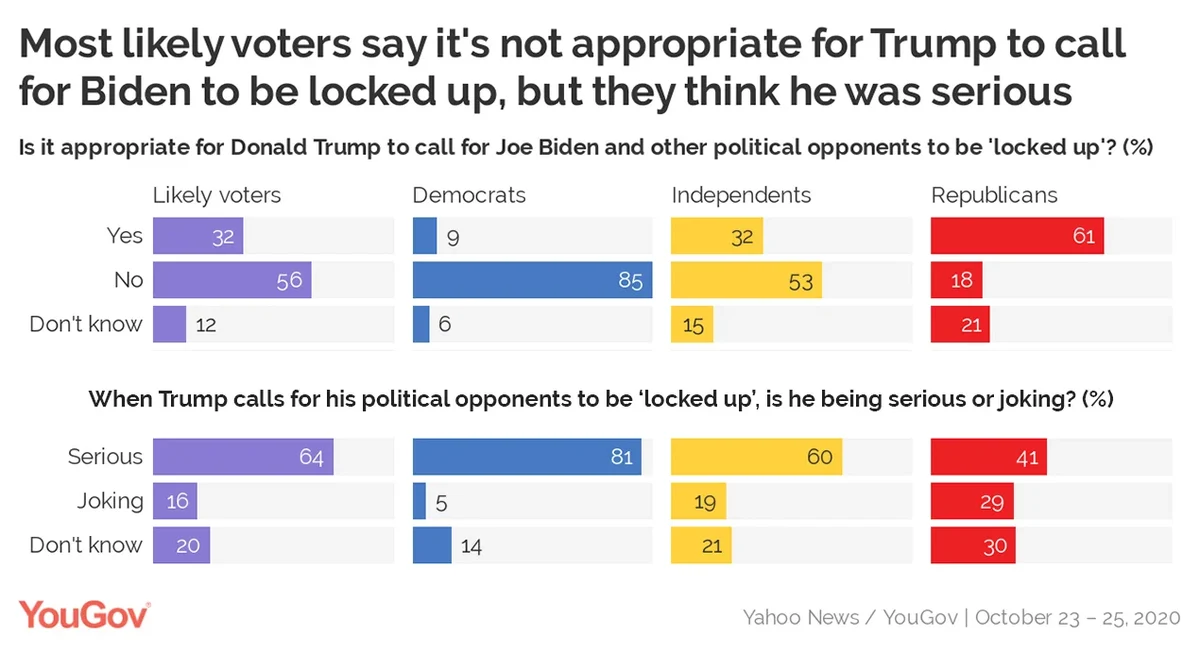 Trump campaign adviser Lara Trump, the president's daughter-in-law, said that the recent "lock 'em all up" comments were made in jest. "He was having fun at a Trump rally," she said.
Voters don't necessarily see it that way. About two-thirds (64%) of likely voters believe that Trump is serious when he calls for his political opponents to be locked up. Only 16% believe that he's joking. Even Republicans are more likely to believe the president is serious (41%), rather than joking (29%).
Some voters believe that it's Trump, not Biden, who has committed crimes. But that doesn't necessarily translate to wanting Biden to take action. Among likely voters, 44% think that if Biden wins, he should launch investigations into whether Trump committed crimes as president. But a roughly equal number (43%) say he shouldn't look into this.
Among Biden's own party, 72% believe he should investigate. Independents are split, with 40% saying he should take action while 44% think he should not. Republicans overwhelmingly think that Biden should not (79%) investigate whether Trump committed any crimes while he was president.
See the toplines and crosstabs from this week's Yahoo News/YouGov Poll
Methodology: The Yahoo! News survey was conducted by YouGov using a nationally representative sample of 1,500 U.S. registered voters interviewed online between October 23-25, 2020. This sample was weighted according to gender, age, race, and education based on the American Community Survey, conducted by the U.S. Bureau of the Census, as well as 2016 Presidential vote, registration status, geographic region, and news interest. Respondents were selected from YouGov's opt-in panel to be representative of all U.S registered voters. The margin of error for the entire sample is ±3.0%