Only a third of Democrats say same of Biden
Last week YouGov showed that Democrats and Republicans are expecting completely different outcomes from Election Day. The majority of voters on both sides expect their own candidate to emerge victorious after tomorrow's vote.
With fears that the candidates might dispute the outcome of the election, it is important to ask: while they each think their own candidate will win, are Democrats and Republicans at least open to the possibility that their rival candidate might win?
The results of a new Yahoo News/YouGov poll do not make for positive reading on that front. Almost half of Republicans (48%) think that Donald Trump is "definitely" going to win re-election. A further 26% say Trump will probably win, while only 6% see Trump as more likely to win, but with a reasonable chance that Biden could win.
Despite his commanding lead in most election polling, just 8% of Republicans think Biden is most likely to win, with another 5% giving both candidates equal odds, and another 6% unsure who will win.
Data from the same survey show that 51% of Republicans think the election will be rigged in favor of one candidate, and that 61% would consider a Trump defeat evidence that the election was rigged.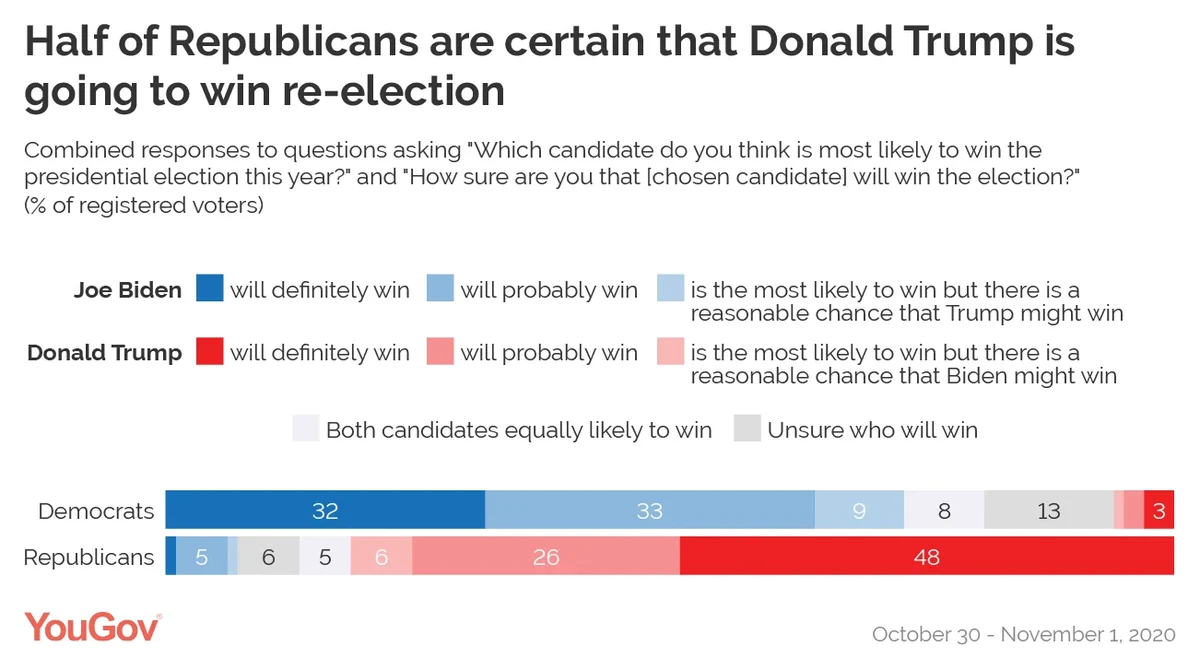 Democrats are less certain of a Biden victory than their Republican opponents are for their party's candidate. Only 32% think that Biden will "definitely" win, with a similar proportion (33%) saying that he will "probably" win. A further 9% consider him the more likely victor, but that Trump stands a reasonable chance of winning.
In addition, 6% of Democrats are actively expecting Trump to win, while 8% giving both candidates a 50/50 chance of winning and 13% unsure who will win in the first place.
Democrats are far less likely to think that the 2020 election is being rigged than their Republican counterparts, at just 21%. Nevertheless, by an identical rate to their rivals (58%) they think a stolen election would be the most important reason for a Biden defeat.
See the toplines and crosstabs from this week's Yahoo News/YouGov Poll
Methodology: The Yahoo News survey was conducted by YouGov using a nationally representative sample of 1,501 registered U.S. voters interviewed online from Oct. 30 to Nov. 1. This sample was weighted according to gender, age, race and education based on the American Community Survey, conducted by the U.S. Bureau of the Census, as well as 2016 president vote, registration status, geographic region and news interest. Respondents were selected from YouGov's opt-in panel to be representative of all U.S registered voters. The margin of error is approximately 2.9 percent.