(Week of 5/5/2012) Some of the most frequently-mentioned contenders for the position of Mitt Romney's running mate aren't even known by most of the Republican voters who helped make Romney the GOP's presumptive nominee.
A large majority of Republicans say they have yet to hear about Ohio Senator Rob Portman, Virginia Governor Bob McDonnell, South Carolina Senator Jim DeMint, or South Carolina Governor Nikki Haley.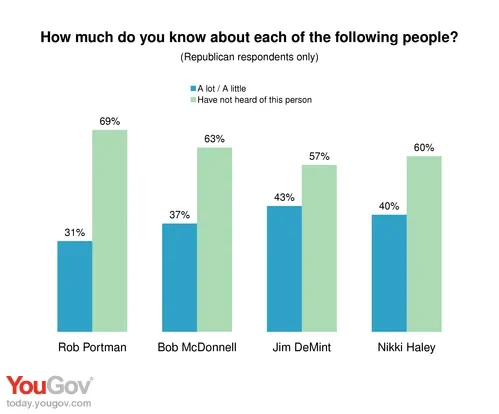 While McDonnell and Haley are relatively new on the national scene, Portman has been both a Congressman and a U.S. Cabinet member, and DeMint has been a Senator since 2005.
About half of Republicans also have not heard of Indiana Governor Mitch Daniels, another potential contender who has been mentioned. More are aware of Wisconsin Representative Paul Ryan, New Jersey Governor Chris Christie and Florida Senator Marco Rubio.
Republicans generally like all of these potential VP nominees, though many of those who have heard of some of these candidates aren't yet sure what they think of them.
Economist/YouGov poll archives can be found here
Photo source: Press Association