Opinion of New York Governor Andrew Cuomo keeps getting worse: Democrats continue to desert him and say they want him to resign.
Embroiled in scandals from underreporting COVID-19 related deaths in New York nursing homes, and from allegations of sexual harassment and improper workplace behavior, the Governor faces a public in the latest Economist/YouGov poll — including members of his own party — that increasingly wants him out of office.
The rise in Democratic support for Cuomo's resignation continues. Last week's eight-point Democratic margin in support of his resignation (37% to 29%) is now a 19-point gap (44% to 25%). Democratic women want Cuomo out by 17 points (41% to 24%).
It isn't just the public that appears to be deserting Cuomo. There are two investigations taking place, and both are being led by Democrats. The New York State Assembly, controlled by Democrats, has opened an impeachment inquiry which will cover more charges beyond sexual harassment and the nursing home scandal. Meanwhile, State Attorney General Letitia James, also a Democrat, has opened an investigation into the sexual harassment charges.
National Democrats may not speak for the state, though: a Siena College New York State Poll, conducted before last weekend, found New Yorkers supportive of Cuomo remaining in office by 50% to 35%.
Two weeks ago, national Democrats still had a net favorable view of Cuomo. That favorable rating declined last week (-12), and dropped even further this week (-16). Compared to last week, Cuomo's net favorability among the Americans overall remains unchanged (-40 to -39).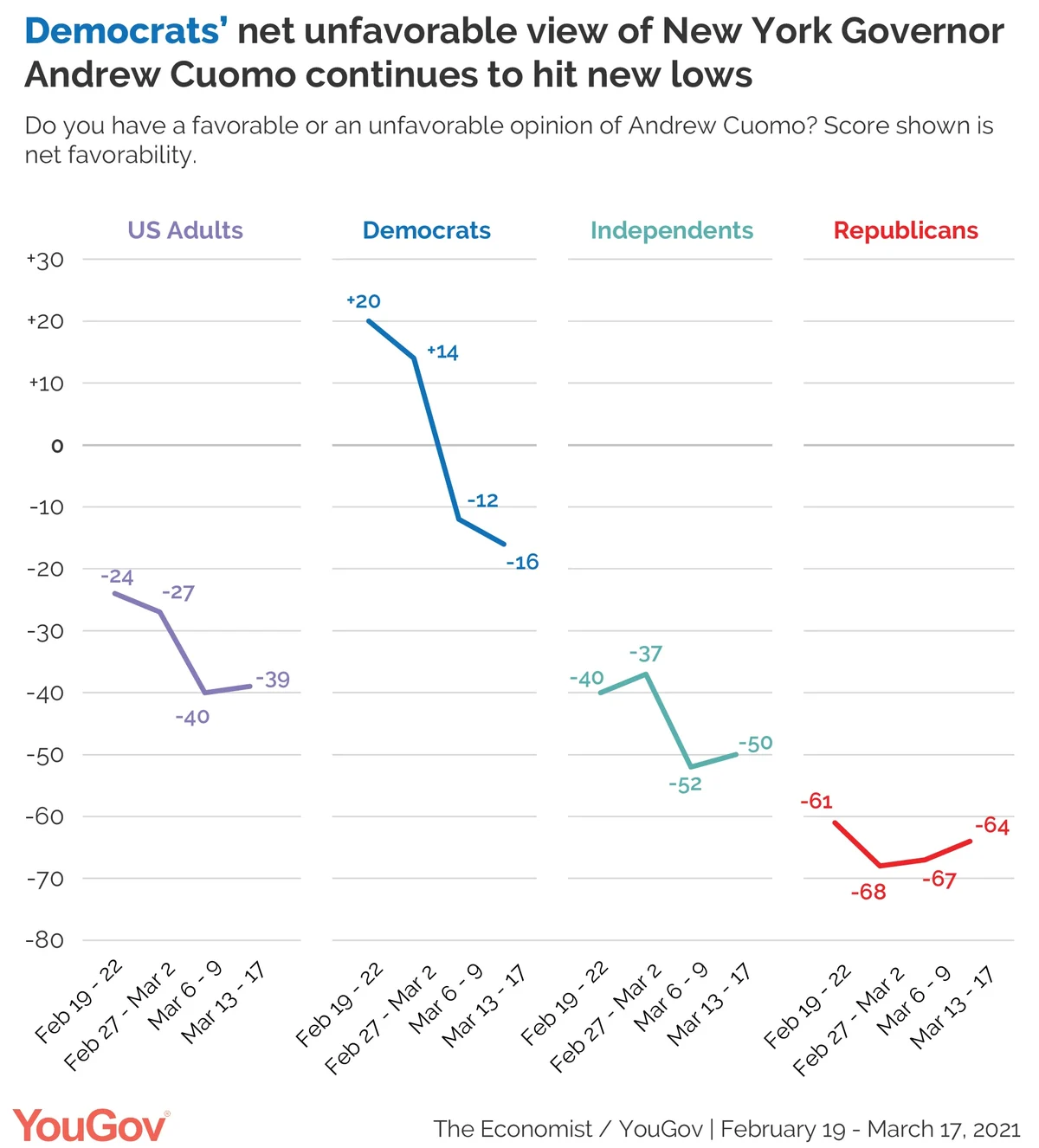 Related: How personal experience shaped public opinion on COVID-19
See the toplines and crosstabs from this Economist/YouGov poll
Methodology: The Economist survey was conducted by YouGov using a nationally representative sample of 1,500 US Adult Citizens interviewed online between March 13 - 17, 2021. This sample was weighted according to gender, age, race, and education based on the American Community Survey, conducted by the US Bureau of the Census, as well as 2016 Presidential vote, registration status, geographic region, and news interest. Respondents were selected from YouGov's opt-in panel to be representative of all US citizens. The margin of error is approximately 2.7% for the overall sample
Image: Getty