Of eight key national issues, Americans think that Joe Biden is handling coronavirus the best, according to a new Yahoo News/YouGov poll. A majority of Americans (57%) approve of the way the president is managing the pandemic, with only a third disapproving (32%).
Biden also holds a double-digit approval lead when it comes to his handling of the economy (49% vs 38% disapprove) and climate change (47% vs 36%). He also leads, albeit more narrowly, on his handling of race (47% approve vs 39% disapprove) and foreign policy (44% vs 39%).
Naturally, opinion differs by party, with Republicans far less likely to approve of anything Biden is doing than Democrats. As with the country at large, Republicans rate Biden most highly on coronavirus (28% approve) About one in five Republicans (19%) approve of how the Democratic president is handling of the economy.
Americans credit Biden with accomplishing several popular COVID-19 goals
Looking at more specific achievements, Americans tend to believe President Biden has successfully accomplished two popular goals: administering 200 million COVID-19 vaccines and passing a COVID-19 relief package. Two-thirds of Americans (68%) credit Biden passing a COVID-19 relief package through Congress, and 64% of Americans favored this goal.
Similarly, two-thirds favored the goal of 200 million COVID-19 vaccine shots (67%), and half (51%) credit Biden with accomplishing this.
Biden is not viewed as successful on all of his COVID-related aspirations, however. Another popular goal – ensuring a majority of schools can re-open – is favored by 62% of Americans, but only half that number (31%) believe Biden has accomplished it.
While Biden passed a COVID-19 relief package through Congress, it did not receive any Republican votes in the House or the Senate. Perhaps because of this, just 22% of Americans credit President Biden with working across the aisle to find bipartisan compromise, even though most favor this goal (58%). Americans credit Biden with accomplishing a few goals that are less popular, especially when it comes to immigration. Most (54%) believe Biden stopped construction of the southern border wall, but only 43% of Americans favor that move. About half (53%) also say Biden reversed Trump's strict immigration policies, but, again, only 43% approved of that goal.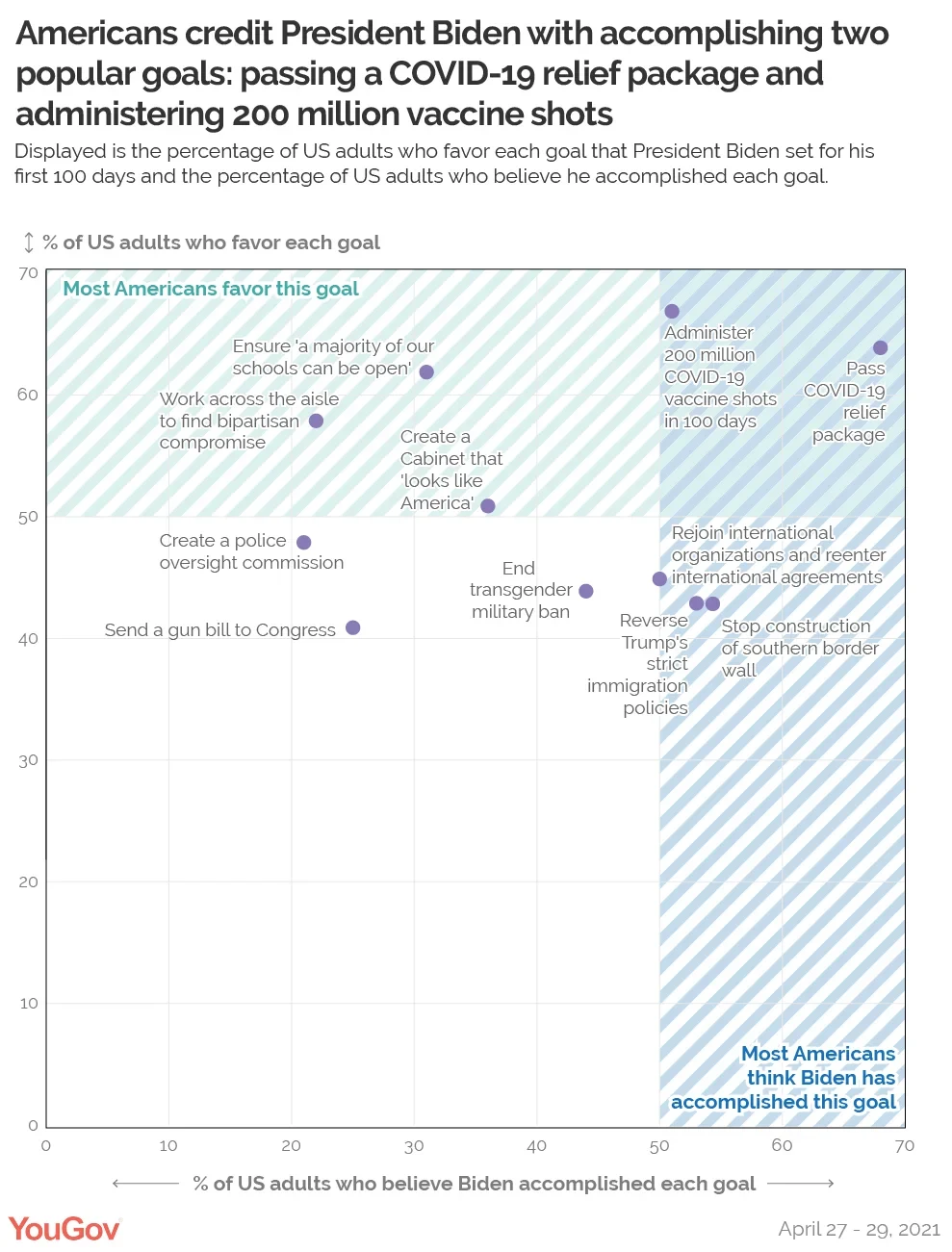 See the toplines and crosstabs from this Yahoo News/YouGov Poll
Related: Why YouGov is changing how we ask people whether they've received the COVID-19 vaccine
Methodology: The Yahoo! News survey was conducted by YouGov using a nationally representative sample of 1,558 U.S. adults interviewed online between April 27-29, 2021. This sample was weighted according to gender, age, race, and education based on the American Community Survey, conducted by the U.S. Bureau of the Census, as well as 2020 Presidential vote (or non vote), and voter registration status. Respondents were selected from YouGov's opt-in panel to be representative of all U.S. adults. The margin of error (a 95% confidence interval) for the entire sample is approximately 2.8%.
Image: Getty