(Week of 5/26/2012) Approval ratings for the U.S. Congress in the Economist/YouGov Polls have been abysmal. During many weeks this year, only 7% or 8% have expressed approval in Congress's job performance. This week, those low figures have slipped even more: Congressional approval for the week is tied for being the lowest that has ever been recorded on this poll.
Just 6% of Americans approve of how Congress is handling its job, while 69% disapprove.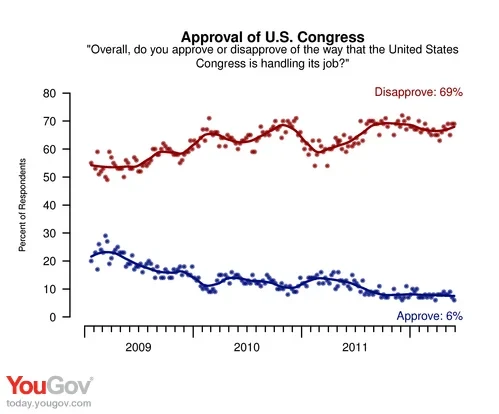 Republicans and Democrats don't agree on many political assessments, but they agree here. Just 5% of Democrats and 8% of Republicans approve of how Congress is handling its job.
Looking ahead to the fall Congressional campaign, registered voters are closely divided, with many still undecided. Asked how they will vote in their district's congressional race in the fall, 43% say they will vote Democratic, 40% Republican.