Just over a third of the country has heard something about critical race theory and believes they have a good idea of its meaning (35%), according to the latest Economist/YouGov poll. A slightly larger share of Republicans (41%) than Democrats (32%) fall into this category.
Critical race theory teaches the idea that racism exists systematically, and that institutions perpetuate that racism because of the advantages it provides them. When people describe critical race theory in their own words, their definitions often include negative comments, including criticisms that it is too divisive.
When asked if their opinion is favorable or not favorable, those who have heard of critical race theory and think they have a good idea of what it is are 20 points more likely to have unfavorable (58%) as favorable (38%) opinions of it. This represents 13% of the population as a whole having a favorable opinion of critical race theory, with 20% having an unfavorable opinion.
One-third of Republicans overall (37%) and one-quarter of white Americans overall (23%) have heard about critical race theory, believe they have a good idea of what it is, and take a negative view. Just 7% of Black Americans and 3% of Democrats say the same.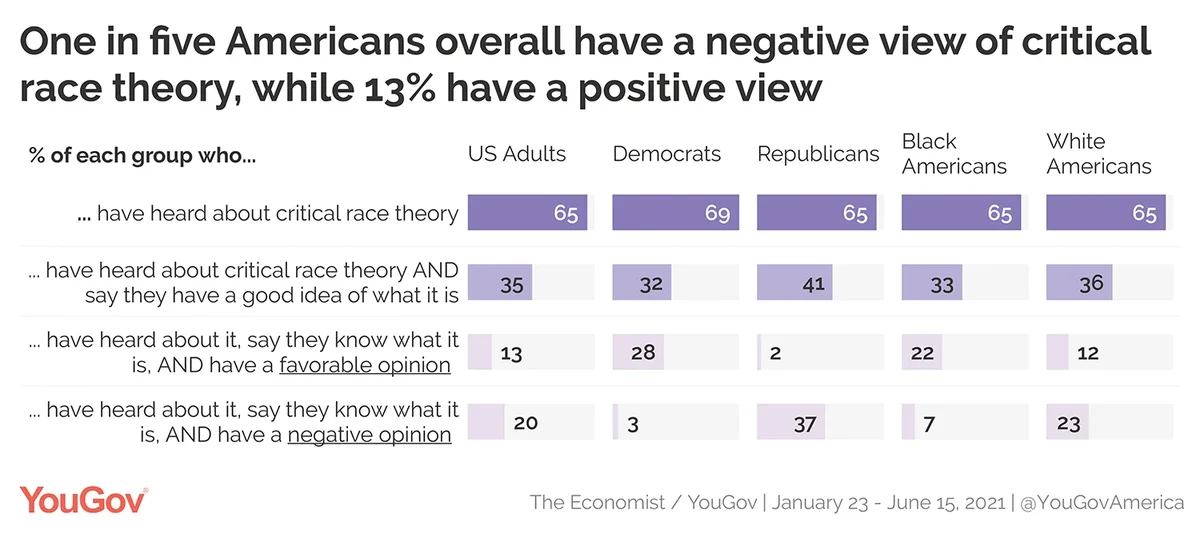 Additionally, most those who have heard of critical race theory and think they have a good idea of what it is believe that teaching it in schools is bad for America (55%). More than one-third of this group (37%) thinks that it is good for America. These groups represent 19% and 13% of the whole population, respectively.
Do Americans see racism as systematic?
Perceptions of the existence of racism affects how people view "critical race theory." Seven in ten Americans (71%) say it is at least somewhat of a problem in American society, with fewer than half (45%) calling it a big problem.
Just under half of Republicans (48%) call racism a big problem or somewhat of a problem. By comparison, 95% of Democrats believe it is a problem with 72% referring to it as a big problem. About one in five Democrats (22%) call it "somewhat" of a problem.
Among those who agree that racism is a problem, most look at it as something that goes beyond the existence of individual racists. By 57% to 31%, this group describes racism as a sign of a broader problem that exists within American organizational, societal and legal structures, not just something expressed by individuals. White Americans agree by 52% to 33%, but Republicans don't.
A majority of Republicans who believe racism is a problem in our society today (57%) dispute the existence of racism within the country's organizational, societal and legal structures, and say it is only a problem with individuals. When asked directly if specific institutions ever operate in racist ways, a majority of Americans overall say "yes" about most of them. Only for the President, the Supreme Court, and banks do fewer than half say this. Even in each of those cases, the affirmative answers are a plurality.
For most of these items, Republicans are less likely than Democrats to see the possibility of racist actions by each institution.
See the toplines and crosstabs from this Economist/YouGov poll
Related: Americans want a Juneteenth holiday, though some aren't sure what it is
Methodology: The Economist survey was conducted by YouGov using a nationally representative sample of 1,500 US Adult Citizens interviewed online between June 13 - 15, 2021. This sample was weighted according to gender, age, race, and education based on the American Community Survey, conducted by the US Bureau of the Census, as well as 2016 Presidential vote, registration status, geographic region, and news interest. Respondents were selected from YouGov's opt-in panel to be representative of all US citizens. The margin of error is approximately 3.0% for the overall sample.
Image: Photo by Katerina Holmes from Pexels