Most Americans are following the coverage of Friday's Royal Wedding between Britain's Prince William and Kate Middleton — but they aren't following it closely. In fact, in the latest Economist/YouGov Poll, only 5% are following the wedding very closely, and 17% are following it somewhat closely.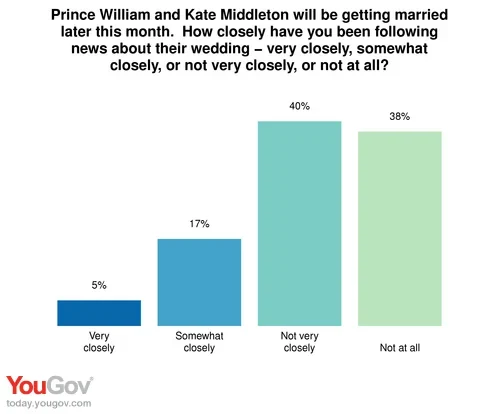 Women are twice as likely as men to be following the wedding news closely. Most Americans think the news media is giving the wedding too much attention.

But those who are paying even a little attention have opinions about two issues surrounding the wedding. Should Prince William have given his fiancée his mother's engagement ring? By more than ten to one (78% to 6%), Americans think it was appropriate. And what about the possibility of Kate Middleton working after the wedding? Americans accept that as appropriate by a narrower, but still clear 47% to 32% margin. Women say that would be appropriate by two to one.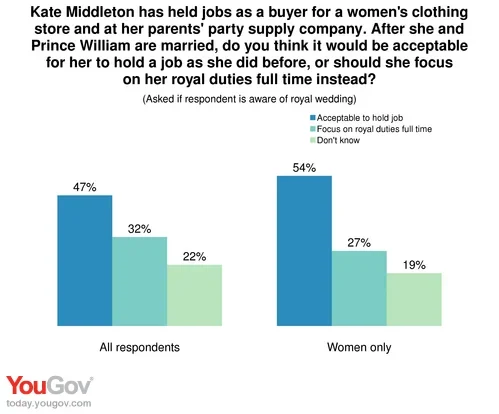 William and Kate are generally liked by their country's former subjects here. So are William's brother, Prince Harry, and his grandmother, Queen Elizabeth. But his father, Prince Charles, and Charles' wife Camilla, get negative ratings from Americans. 
We'd like to get your overall opinion of some members of the British royal family. For each of the following people, please say whether your opinion is favorable, not favorable, undecided, or whether you haven't heard enough about him or her yet to have an opinion?
| | Favorable | Not favorable | Undecided | Haven't heard enough about them to have an opinion |
| --- | --- | --- | --- | --- |
| Queen Elizabeth | 48% | 13% | 21% | 19% |
| Prince Charles | 24% | 37% | 21% | 19% |
| Prince Charles' wife Camilla | 11% | 39% | 24% | 26% |
| Prince William | 52% | 8% | 20% | 20% |
| Prince Harry | 47% | 10% | 21% | 23% |
| Kate Middleton, Prince William's fiancee | 46% | 8% | 21% | 25% |
| Princess Diana | 66% | 8% | 13% | 13% |