Just over one in ten Americans in the latest Economist/YouGov Poll approve of how Congress is handling its job. And opinion of its Republican leaders is also low.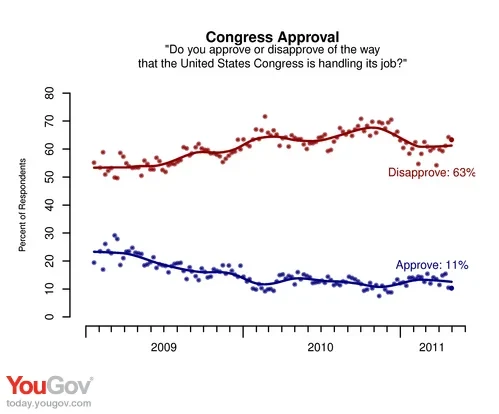 Opinions about Congress frequently drop as it debates legislation, and the fight about the budget and the debt ceiling could have had this effect. And it also may have given some a more negative view of Speaker of the House John Boehner and Senate Minority Leader Mitch McConnell. Both now are more likely to be viewed negatively than positively. Earlier this year, opinion of Boehner (though not Mc-Connell) was more closely divided.

As for the President, nearly 80% of the interviews in the week's Economist/YouGov Poll were completed before the announcement that Osama bin Laden had been found and killed by the U.S. military. So this week's results cannot reflect the full impact of that capture. But there was some improvement: 45% approved of how he was handling his job, up from 41% last week. 46% disapproved, down six points from a week ago. 
Full datasets for Economist/YouGov polls can be found here.
Photo source: flickr ( brokentrinkets )