A majority of Americans disagree with the President's decision not to release the photos taken of Osama bin Laden after he was shot by American troops in Pakistan. In the Economist/YouGov Poll, conducted after the killing of Osama bin Laden but before the President announced his decision, 52% said the pictures should be shown; 26% thought they should not.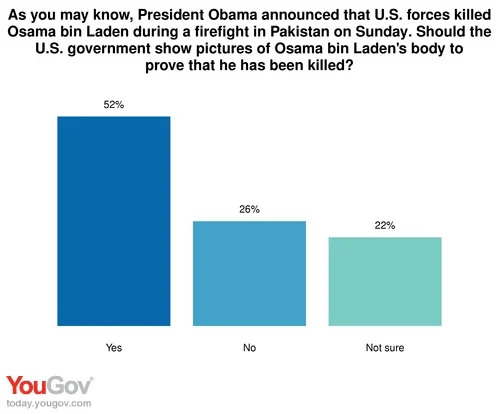 Both Republicans and Democrats agreed the photos should be released, but men were much more likely than women to agree.
Nearly all Americans don't need the pictures to believe that Osama is dead. Just one in ten expressed any uncertainty about it.
There is significant distrust of Pakistan's role in bin Laden's years of evading capture of the U.S. By 64% to 7%, Americans believe that top leaders in the Pakistani government knew where bin Laden was. Just 30% say Pakistan is even somewhat likely to be counted on to help in the war on terror (only 1% think they are very likely to help). And just 3% view Pakistan as an ally.
The Shooting
For the majority of Americans, it was the traditional media that brought the news of Osama bin Laden's death. In the Economist/YouGov Poll, 49% heard the news on television, 4% on radio, 2% read about it in a newspaper. 18% learned about through word of mouth – a friend or relative let them know.
But new technologies mattered, too. More than one in five learned about in on internet news sites, or via twitter or facebook. The newer technologies were especially important to those under 30 – only 32% of whom got the news on TV.
Americans are divided on whether bin Laden could have been caught sooner. More do think the war in Iraq was a distraction than say it was not.