In the months leading up to the 2020 presidential election, the Yahoo News/YouGov Poll asked registered voters who they thought would do a better job handling the COVID-19 pandemic: Donald Trump or Joe Biden? Biden outperformed Trump in every poll, usually by double-digit percentage points. But how do Americans feel about each man's handling of the pandemic now, after they've had time to evaluate their performance? While Biden still holds an advantage over Trump, it is narrower than voters' high expectations before his 2020 win.
Among Americans overall, Biden receives higher marks than Trump in his handling of the COVID-19 pandemic — or, more precisely, Trump receives very low marks and Biden receives somewhat low marks. Democrats and Republicans both rate the president of their party similarly: Three-fourths approve while roughly one in 10 disapprove. Differences arise in how they evaluate the president from the opposing party: While two-thirds of Democrats (68%) strongly disapprove of Trump's pandemic response, fewer Republicans – 55% – strongly disapprove of Biden's response. Biden's edge is consistent with Democrats' edge over Republicans' when it comes to ratings of each party's handling of the pandemic.
In terms of how Americans rate both Biden's and Trump's handling of the pandemic, about as many rank Biden above Trump as the other way around: 42% rate Biden higher than Trump, 21% give both the same rating, and 38% rate Trump higher than Biden. Among registered voters, 45% rate Biden higher while 39% rate Trump higher. In the final Yahoo poll before the 2020 presidential election, 51% of voters said Biden would do a better job handling the pandemic compared to 37% who said Trump would.
It's less that many people like what Biden has done (only 18% strongly approve of his handling of the virus) and more that many people were incredibly displeased with Trump's approach (37% strongly disapprove). Just 21% of Americans both strongly disapprove of Biden's handling of the pandemic and somewhat or strongly approve of Trump's; 28% strongly disapprove of Trump's handling while approving of Biden's.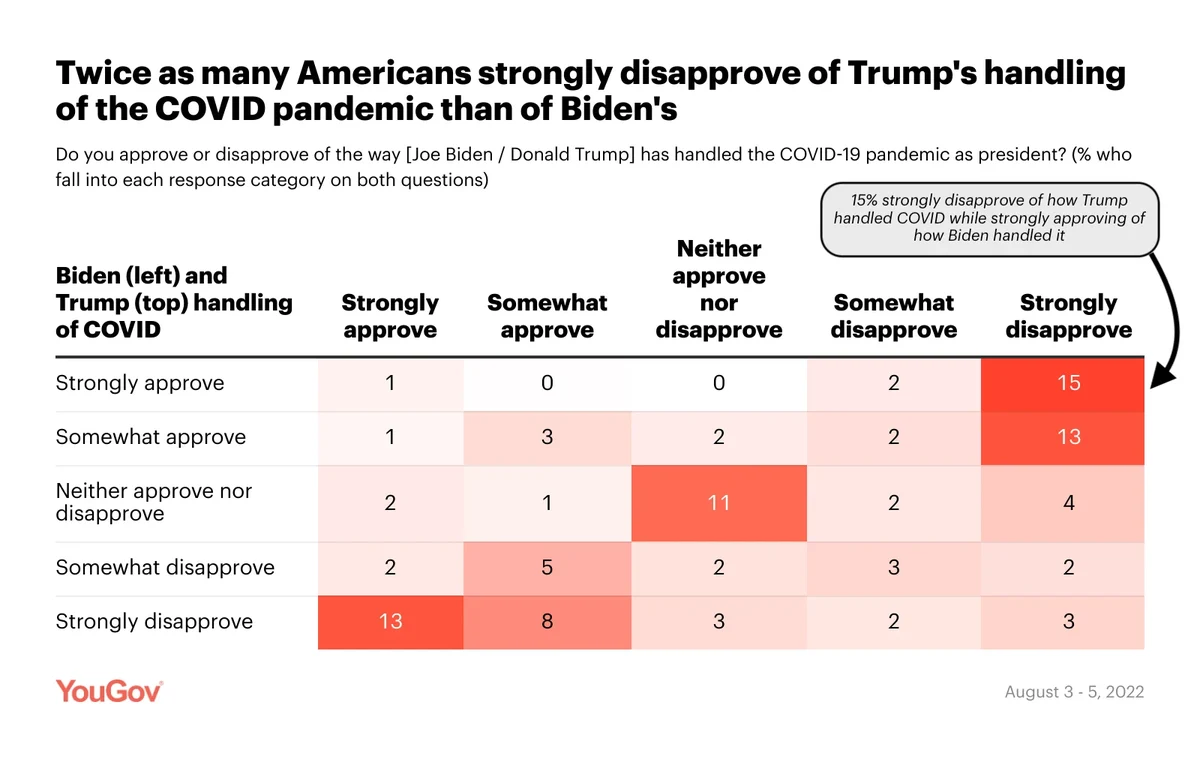 Both presidents' net ratings on handling the pandemic (percentage who approve minus percentage who disapprove) since its beginning, demonstrate that each man's public standing on COVID took a dive over the course of their presidencies. Evaluation of Trump's handling of the pandemic began to dip as the virus first spread throughout the U.S. in March of 2020, and continued falling until his ratings bottomed out in July and August of 2020, according to the Economist / YouGov Poll. Approval of Trump's performance remained low throughout the remainder of his presidency.
Biden started out with far higher ratings on the pandemic than Trump ever received. He maintained high marks until July of 2021, when the Delta variant spread and his approval began to fall. It reached a low point in January 2022 as the Omicron variant spread, and while it has recovered some since, it remains close to 0, meaning roughly an equal share of Americans approve and disapprove of his performance.
While not all that positive, Biden's rating on COVID-19 remains higher than his rating on most other issues, for which he tends to receive net negative rather than neutral ratings.