In a YouGov poll of 776 Americans (results) completed in the hour after the 2012 Vice Presidential debates, Vice President Joe Biden comes out as the clear winner, but it was not a pretty win. Although 47% gave the win to Biden, giving him a 10% ege over Ryan (Tie: 13%, Not Sure: 2%), Biden lost the race for Independents and racked up a slew of unfavorable evaluations. Ryan may have gotten the win from both Independents and Republicans, these two groups were well divided. Democrats were near uniform in their pick of Obama. Where only 6% of Democrats did not think that Biden won (Tie: 3%, Not Sure 3%), 28% of Republicans were able to make that admission about their own candidate (Tie: 21%, Not Sure 7%).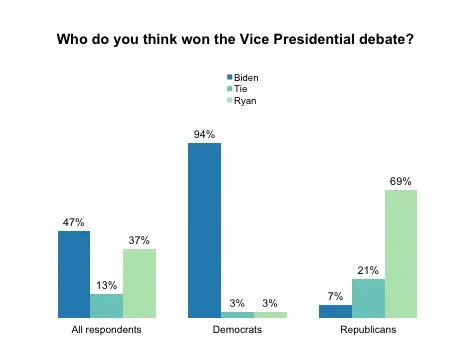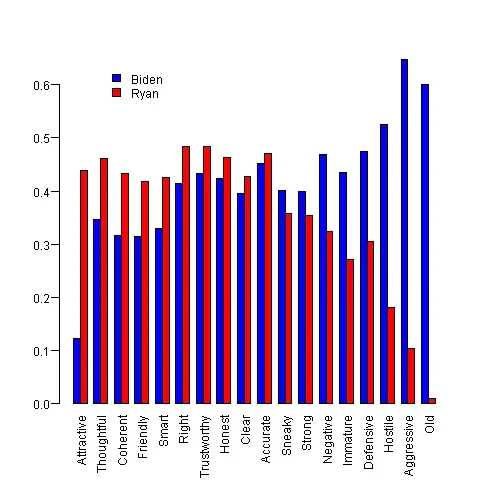 Overall, perhaps, Biden is simply more polarizing. Although the debate made people feel more favorable towards Biden (33% more favorable for Biden versus 28% more favorable for Ryan), Biden's 'win' in making people feel less favorable was clearly stronger. 29% said they were less favorable of Biden after the debate, while only 17% said the same about Ryan.
Unfortunately for Mr. Biden, most Americans thought that it was the Vice President who was 'full of malarkey' (51% versus 42%). In an unambigous exchange on the unemployment rate, Americans sided with Ryan's claim that the unemployment rate has increased since Obama took office. 52% believed the unemployment rate has increased since Obama took office, while 39% know that the unemployment rate has gone down.
Biden is slightly behind (47% to 50%) when it comes to people's trust to take over the office of the Presidency. Democrats and Republicans view their candidates fairly equally, but Independents again sided with Ryan 59% to 38%.