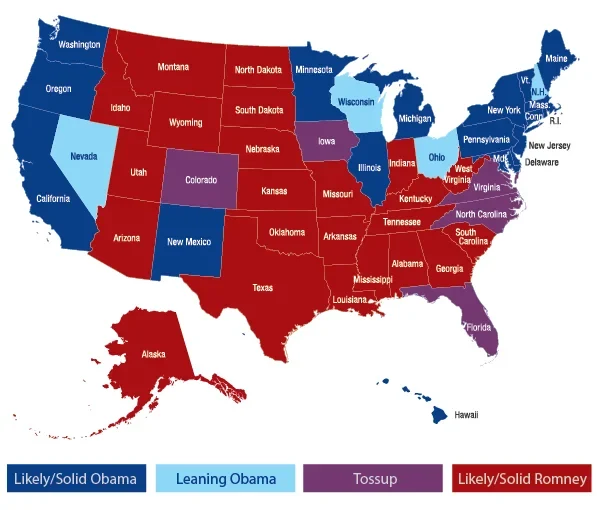 YouGov's pre-election poll, conducted between October 31st and November 3rd, shows Democrat Barack Obama with a two-point lead over Mitt Romney in the national popular vote (48.5%-46.5%).
YouGov also completed 27 state-level polls during this same time period. Based on these polls, President Obama is well-positioned to win in the Electoral College Tuesday. A Romney victory is not impossible, however: if the cards line up correctly for him, the former Massachusetts Governor could squeak by the threshold of 270 electoral votes and become the next President.
Obama is ahead by at least five points in twelve of these states, prompting us to classify these states as Likely/Solid Obama States. They are California, Connecticut, Illinois, Massachusetts, Maryland, Michigan, Minnesota, New Jersey, New Mexico, New York, Pennsylvania, and Washington.
The other nine states that we polled are, not coincidentally, the very states that have been on everyone's list of battleground states for some time now. In four of these nine states, which we are classifying as Leaning Obama States, the President maintains a marginal lead of 3-to-5 percentage points. These states are New Hampshire, Nevada, Ohio, and Wisconsin.
In the remaining five states, less than three points separate the two candidates, thus making these states the last true tossups of the campaign season. Of the Tossup States, President Obama maintains a nominal lead in three (Colorado, Iowa, and Virginia) while Governor Romney has a tiny lead in two (Florida and North Carolina).
If Likely/Solid Romney, Likely/Solid Obama, and Leaning Obama States (as well as the 23 states that were not polled) go to the candidate who is ahead in each, President Obama would garner 275 electoral votes, and win. For Romney to win, he would have to sweep all five Tossup States while winning an upset victory in at least one of the states currently leaning in Obama's direction (and he would need to win two Leaning Obama States if one of them is New Hampshire).
YouGov also polled on 21 Senate races throughout the country. While not every competitive Senate race was polled, the results suggest that Democrats have the upper-hand in the race for control of Congress' upper chamber.
In competitive races in Florida, Massachusetts, and Pennsylvania, Democratic Senate candidates are ahead by more than five points. Republican Senate candidates, on the other hand, enjoy sizable leads in competitive races in Arizona and Nevada.
In Connecticut, Democratic Congressman Chris Murphy is ahead of Republican Linda McMahon by three points. In Indiana, Congressman Joe Donnelly is now leading Republican State Treasurer Richard Mourdock by two points.
Three Senate races are complete dead-heats: in Ohio, Senator Sherrod Brown is clinging to a one-point lead over State Treasurer Josh Mandel; in Wisconsin, Congresswoman Tammy Baldwin holds a one-point lead over former Governor Tommy Thompson; and in Virginia, former Senator George Allen and former Governor Tim Kaine are all tied up at 46%.
Polling results in different groups of states!