(Week of 3/16/2013) As the budget sequester enters its third week, expectation that Americans will suffer has increased. In this week's Economist/YouGov Poll, 62% expect that they and their family will be affected, up eleven points from last week's poll.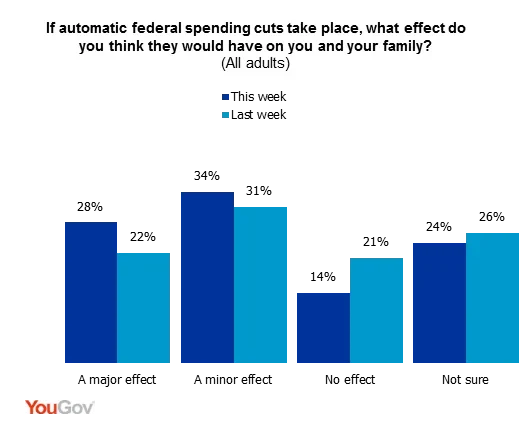 Some may have seen the cuts in screening or customs personnel in airports, or know of those who may lose their jobs because of the sequester. Both Democrats and Republicans expect to be personally affected; both the well-off and the less well-off expect to feel the pain personally. However, individuals from families earning less than $40,000 a year are twice as likely as those with family incomes above $100,000 to say the impact on them will be major.
More Americans disapprove of the way Barack Obama is handling the budget deficit than approve this week, but the President's rating on handling the economy is closely divided between approval and disapproval in this week's poll, perhaps reflecting recent stock market gains and the modestly improving economic situation. Nearly as many in this week's poll think the economy is improving as say it is getting worse. Two years ago, disapproval of the President's economic management outpaced approval by more than 20 points. Two months ago, disapprovers outnumbered approvers on this issue by ten points.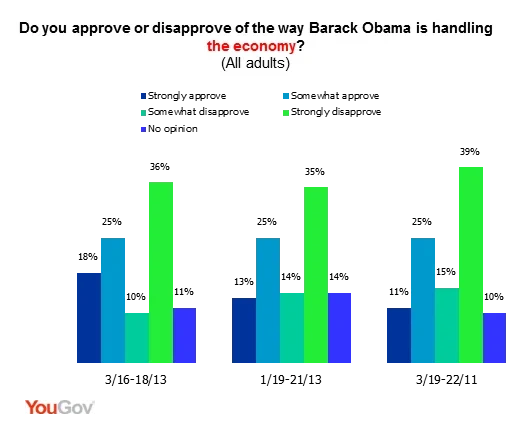 As for the overall Obama Presidency, the country remains evenly divided. In this week's poll, 48% of Americans approve of the way he is handling his job; 46% disapprove.