(Week of 4/27/2013) About two in three Americans agree that Dzhokhar Tsarnaev, the surviving suspect in the Boston Marathon bombings, should have been read his Miranda rights, and want him tried in a criminal, not a military court. The latest Economist/YouGov poll also finds that - if found guilty - just over half the public would want him to be given the death penalty.
Republicans were less willing to have given Tsarnaev his Miranda rights, which were read to him at his prison hospital bed several days after his capture: 62% of Republicans say he should not have been read his rights even then.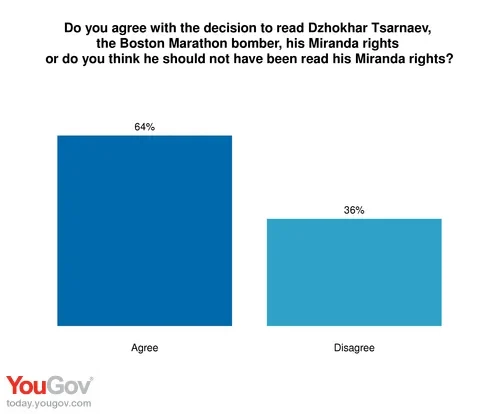 But Americans want Tsarnaev tried in civilian court: 69% agree with that decision.
54% would support the death penalty for Tsarnaev, if he is found guilty. But there are differences among groups. Just over a third of African-Americans, who traditionally are less likely to be in favor of the death penalty, would sentence Tsarnaev to death. Fewer than half of Democrats (44%), compared with 79% of Republicans, would impose the death penalty.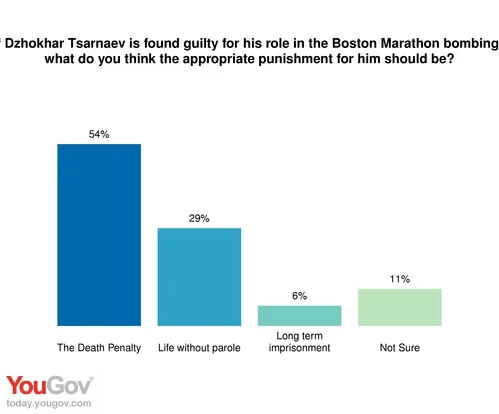 While the public supports the specific actions taken by law enforcement, and continues to give law enforcement good grades for its handling of the case, approval has dropped 13 points since the last Economist/YouGov Poll, taken in the immediate wake of the capture of Tsarnaev. This week, 66% approve of the way law enforcement agencies are handling the case; last week 78% approved.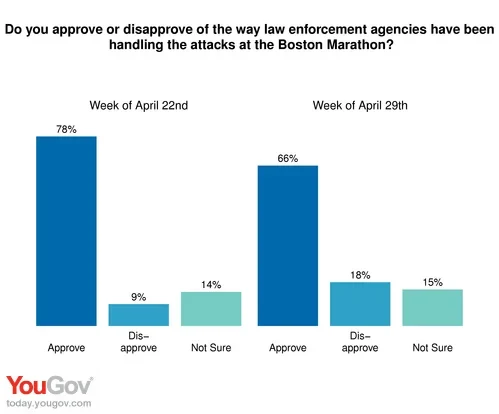 Approval of the President's handling of the situation has also dropped. Last week, 53% approved of the way President Obama was handling the attacks; this week just 44% do.
And approval for the President has divided along the usual party lines: 75% of Democrats approve; just 20% of Republicans do. When it comes to his handling of terrorism overall, this week 44% approve, 43% disapprove.