(Week of 5/18/2013) Angelina Jolie's decision to undergo a double mastectomy when she learned through genetic testing that she was about to develop breast cancer is applauded by Americans, and more than half in the latest Economist/YouGov Poll say they would want to have genetic testing themselves to see if they were likely to develop a life threatening disease. 2% said they had already had genetic testing done.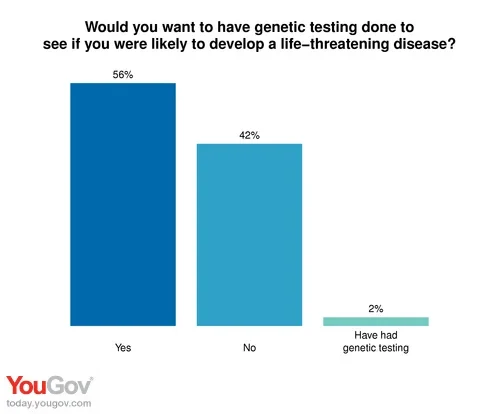 There is relatively little difference by most demographic or political groups when it comes to wanting testing done. But education matters: 61% of college graduates say they would want to be tested.
One in five have not been following the story of Jolie's double mastectomy. But those who have generally applaud Jolie's decision - and Jolie herself is rated favorably by the country. By 52% to 16%, those following the story believe she did the right thing in having the double mastectomy.
Four in ten men don't express an opinion on this, but they say it was the right decision by 45% to 16% (59% of women say it was the right decision). Only among young adults is there any real disagreement: 54% of those under 30 say it was the right decision, 28% say it was not.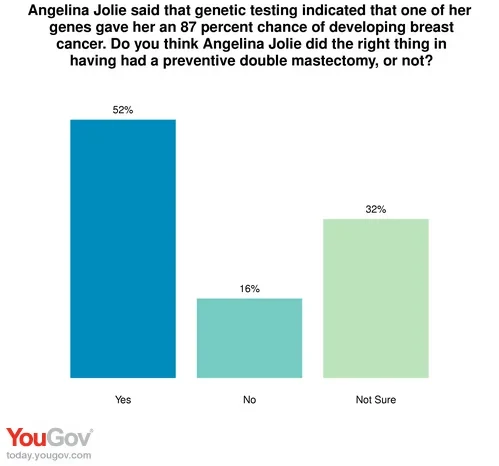 Many women say they would do the same thing confronted with the information Jolie had. By 51% to 30% - nearly two to one - women say they would have a double mastectomy if – like Jolie – they had an 87% risk of developing breast cancer.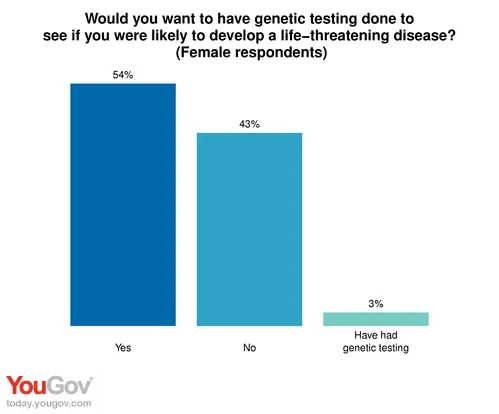 Women who are older are among the most likely to say they would be very likely to undergo a double mastectomy in Jolie's circumstances.
The Academy Award-winning actress, who is a Special Envoy for the United Nations Commissioner for refugees, is well-liked by Americans, who have an overall favorable view of her. 53% are favorable, 28% are not; she does better than any of the politicians asked about in this week's poll. Among men, her favorable-unfavorable ratio is nearly three to one, and for those under 30, the most active movie-goers, it is more than three to one.