(Week of 5/25/2013) One part of the war on terrorism that President Obama highlighted last week gets agreement from the public - most do not believe that the Al Qaeda itself is the most serious threat to the United States. In the latest Economist/YouGov Poll that designation goes about equally to the independent groups around the world who share Al Qaeda's ideology, and to home-grown terrorists, those living in the U.S. who follow Al Qaeda.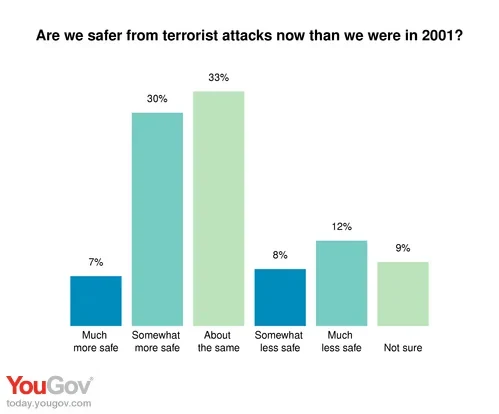 Of course, Americans have seen examples of both those kinds of activity recently - particularly the bombings at the Boston Marathon last month. And that act continues to make Americans worry about the terrorism threat. When asked whether the U.S. is more or less safe than it was in 2001, just 37% look on the U.S. as more safe; one in five thinks it is less safe.
While there may be more dangerous opponents, Al Qaeda remains a threat to most Americans. 68% describe it as at least a somewhat serious threat; 31% say its threat is immediate and serious.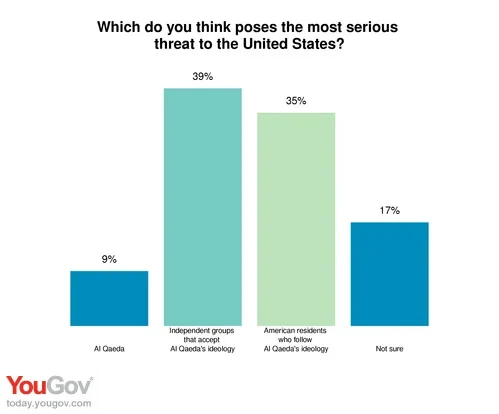 Neither President Obama nor former President George W. Bush is seen as making the country safer from terrorism. In fact, for both Presidents, just about as many say they made the country less safe as made it safer, though President Bush fares marginally better. 35% say his Administration's policies made the U.S. safer, while 29% say he made it less safe. A third selects each of those options for President Obama. A third thinks each President's policies had no effect on safety.
The President received high marks for his handling of terrorism after the killing of Osama bin Laden two years ago. But now, there isn't much difference between the public's assessment of his performance overall and its assessment on terrorism. In this week's poll, 45% approve his job performance overall; 45% approve his handling of terrorism.
In addition, Americans are even less likely to view the President as a strong leader than they were a week ago. This week, just 46% describes the President as a strong leader.