(Week of 6/15/2013) President Barack Obama, responding to the verification by U.S. security agencies that the Syrian government had used chemical weapons against its own people, as well as calls for aiding the rebels from individuals as diverse as former President Bill Clinton and Senator John McCain, agreed to send weapons to help the rebels there. But many Americans say "not so fast." In the latest Economist/YouGov Poll, most Americans don't think the United States has a responsibility to do anything about the fighting in Syria. That number rises to two-thirds among Republicans, even though many Republican leaders, including Senator McCain, have supported acting in Syria.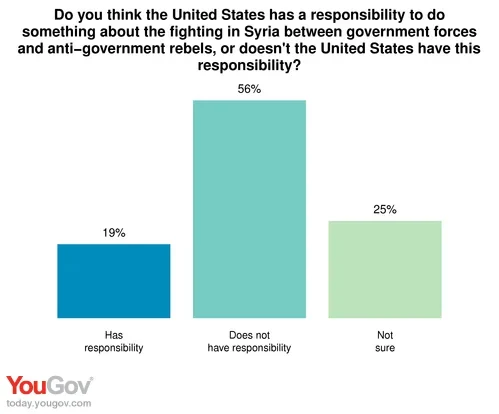 Only 13% think there should have been earlier action by the U.S. government; more than three times as many think the U.S. either should have waited to act on behalf of the rebels (8% of sample), or that the President should not take any action in support of the Syrian rebels at all (33% of sample). More than a third of Democrats believe action should have been either delayed further or not taken at all.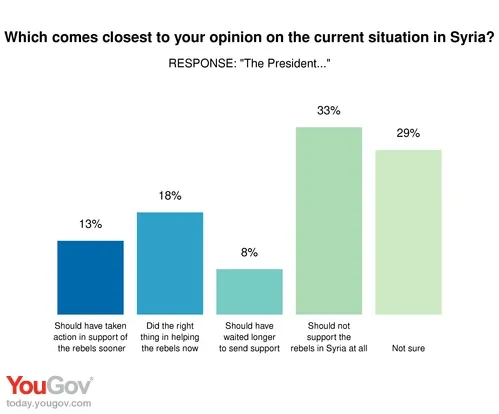 So the President's action meets wth disapproval: only 29% approve of his sending weapons to help the rebels in Syria, while 49% disapprove. And the disapproval extends to his foreign policy overall. Only 34% say they approve of the way the President is handling foreign policy, while 45% disapprove. In fact, more believe the President's foreign policy has made the country less safe than has made it more safe.