(Week of 7/6/2013) Prior to — and immediately after — the Supreme Court's June decision to reduce the reach of the 1965 Voting Rights Act, Americans in the Economist/YouGov Poll believed that the act was still necessary. But that might be changing as people become more aware of the Court's decision to invalidate how states became subject to pre-clearance before changing voting laws. In this week's poll, more say the law is no longer necessary than believe it is still needed. 43% today say the law is no longer needed, agreeing with the 5-4 Court majority. 38% disagree. Last week, by a very narrow margin, the public took the other side. And the week before, prior to the Court's decision, more said the law was still necessary.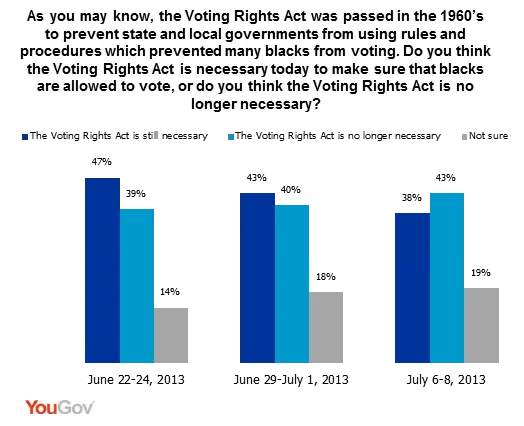 Two weeks ago, a majority in regions outside the South said the law was still necessary (those in the South disagreed 48% to 39%). That is no longer the case. And while 60% of Democrats still say the law is necessary, that percentage has dropped 12 points in two weeks. Just 15% of Republicans (down ten points in two weeks) and 34% of independents (down 15 points) still agree.
More Americans disapprove than approve of the Court's recent decisions in general. And when they answered this question, they were probably not thinking about the Voting Rights Act. More likely, the Court's last decision of the term, overturning the Defense of Marriage Act prohibiting the federal government from recognizing same-sex marriages even from states where the unions were legal (and the rejection of a challenge to same-sex marriages in California), affected their opinion. 61% of Republicans, who generally oppose same-sex marriage, disapproved of the Court's recent decisions. And while many Democrats (who generally support same sex marriages) had mixed feelings about the Court's recent actions, more approved than disapproved of what the Court had decided overall. The Court's rulings may have changed some people's minds about who should be making decisions about marriage. More this week than last agree with the Court that those decisions should be left to states, not the federal government. 49%, up from 44% a week ago, would leave decisions about same-sex marriage to the states; 30%, down from 38%, say this belongs to the federal government.