(Week of 7/13/2013) The Republican Party has often rewarded its second place finisher in one campaign with the presidential nomination in the next. However, last year's second place finisher, former Pennsylvania Senator Rick Santorum, may have a hard time if he runs again. In the latest Economist/YouGov Poll, only 4% of Republican identifiers select Santorum as their first choice for the 2016 nomination.
Five other possible contenders have significant support (though with so many potential nominees, no candidate scores above 13%). The five "front-runners" include former Florida Governor Jeb Bush, the 2012 Vice Presidential candidate Paul Ryan, Kentucky Senator Rand Paul, New Jersey Governor Chris Christie, and current Florida Senator Marco Rubio.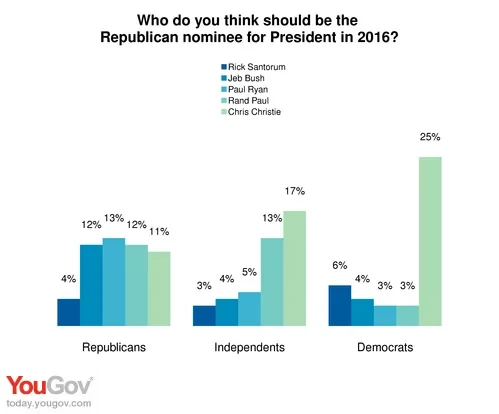 As usual, Christie runs better with Democrats and Independents than he does with members of his own party. He is far and away the Democrats' favorite Republican. One in four Democrats choose him for their GOP nominee. The next Republican gets only 6%.
Economist/YouGov poll archives can be found here
Photo source: Press Association