Older Americans are much more hostile to Obamacare than the young, while most Republicans back Cruz's shutdown strategy to fight Obamacare.
Ted Cruz started a marathon speech on the Senate floor Monday afternoon and, as of Tuesday morning, is still ongoing. Ted Cruz has been a leading advocate of the idea that Republicans should refuse to vote for funding to keep the federal government functioning unless the implementation of Obamacare can be stopped. The first healthcare exchanges, which will connect uninsured individuals with health insurance plans, open in just under a week on October 1st.
The latest research from YouGov shows that Ted Cruz enjoys the support of much of the Republican Party. 64% of Republicans want to stop Obamacare even if it causes a government shutdown and a further 21% want to stop Obamacare, but not at the cost of a government shutdown. Among Democrats, 45% want to keep Obamacare even at the cost of a shutdown and 21% want to keep it but avoid a shutdown.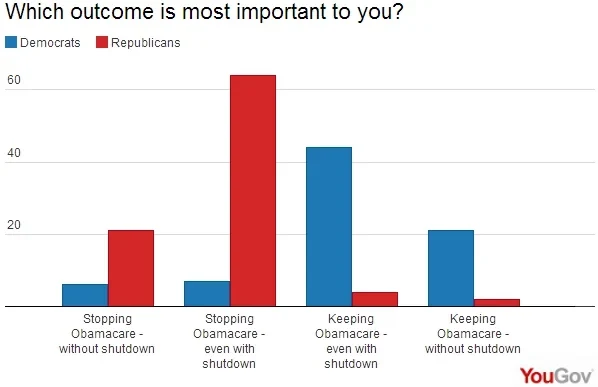 When this research was conducted on September 20th and 21st, 43% of Americans had not heard of Ted Cruz. Overall, 24% of Americans have a favorable opinion of Ted Cruz while 25% have an unfavorable opinion. 38% of Democrats dislike Ted Cruz and 7% like him, while Independents are split with 24% liking him and 24% disliking him. Among Republicans who do have an opinion of the Senator, 46% have a favorable opinion - 26% very much so - and 7% have an unfavorable opinion.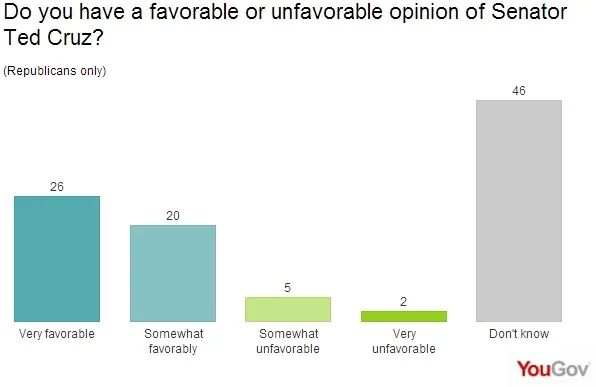 With the healthcare exchanges opening on October 1st, one of the main battlegrounds for determining whether the law will or will not be a success are under-30s who don't have insurance through their employers. Among this critical group, opposition to Obamacare is much lower than among older Americans. 44% of under-30s want Obamacare either kept or expanded and only 31% want it repealed. Support for repeal increased to 44% among 30-44 year-olds, 51% among people aged 45 to 64 and 61% among over-65s.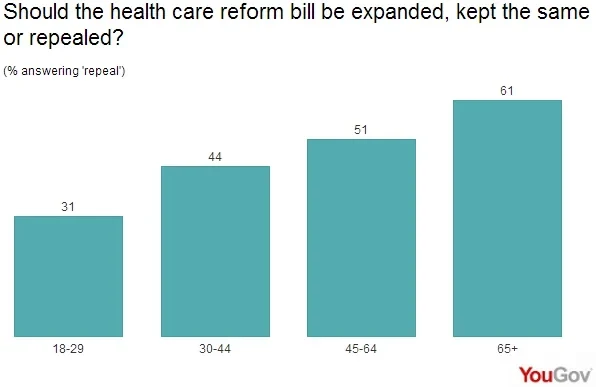 Unsurprisingly, opposition to Obamacare is strongest among Republicans, 88% of whom want to repeal the law. Even among Democrats, however, full-throated support for the current law is limited, as 45% of Democrats want to expand the scope of the law and 22% want to keep it as it is.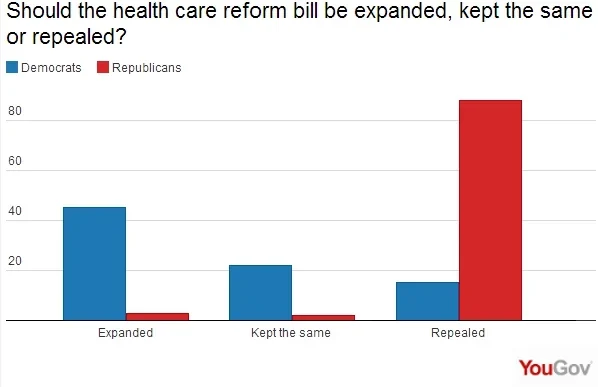 Senator Cruz's speech is not a filibuster as his long speech against Obamacare isn't delaying votes on the budget resolution that may or may not cut off funding for the implementation of Obamacare. Currently the resolution, which was first passed by the House, defunds Obamacare but Democrats in the Senate are expected to reverse this almost immediately.
Full results can be found here.
Image: Getty.