Since the beginning of the shutdown YouGov has been asking 1000 Americans a day who they think is the biggest obstacle to bringing it to an end. Here are the latest results:
October 15th:

As the shutdown enters its third week, Democrats and Republicans are equally blamed by the public for failing to stop the shutdown. President Obama and Democrats in Congress have continued to see an increase in the number of people viewing them as the major obstacle to ending the shutdown, with Americans being more likely to blame President Obama in particular for the ongoing shutdown. 42% now view the President and Democrats as the biggest obstacle, neck and neck with Congressional Republicans who are viewed as the biggest obstacle by 42% of the public.
The number of Americans impacted by the shutdown has plateaued, with around of quarter of Americans saying that the federal shutdown has impacted them.
These results are from the end of last week, right before more formal negotiations began between the President and Congressional Republicans to end the shutdown.
October 9th:

The number of Americans who have been affected by the shutdown continues to rise.
Up two points from the previous week, 20% of Americans now say the shutdown has impacted their lives.
The number who say Republicans in Congress are the biggest obstacle to ending the shutdown has not changed, however, and at 44% is still higher than the number who finger either President Barack Obama or Democrats in Congress, which is 41%, down one point from Friday.
This comes after a weekend during which Speaker of the House John A. Boehner said it was time for his party to 'stand and fight' and Treasury Secretary Jack Lew warned Republicans were 'playing with fire' by threatening not to raise the country's debt limit without concessions from the Obama Administration.
October 7th: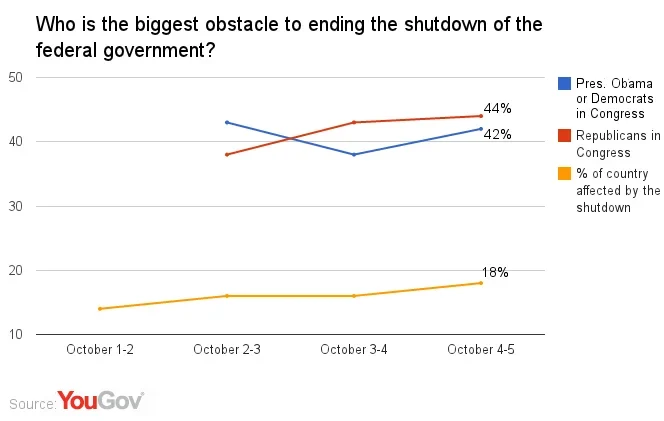 In the days immediately following the beginning of the federal government shutdown, public opinion on who is responsible for its continuation remains almost evenly split between Congressional Republicans (44%) and Democrats (42%).
However, while the share of blame on President Barack Obama or Congressional Democrats has hardly moved, from 43% on October 2-3 to 42% on October 4-5, blame on Congressional Republicans appears to have increased marginally, from 38% to 44% over the same period.
Meanwhile, the number of Americans who have been affected by the shutdown – which has resulted in the closure of national parks and monuments, the furlough of around 800,000 federal employees, and other disruptions – has been increasing very slightly from 14% to 18%.
We will be watching closely in the coming days for any shifts in public attitude.
This tracker will be updated daily.
View the full tracker results here.
Image: Getty