78% of Americans think that members of Congress should be required to submit to random drug testing, and would refuse to vote for anyone convicted of cocaine possession during their term in office.
Trey Radel, a Republican Congressman from Florida, was recently arrested by Washington DC police for possession of cocaine after he bought cocaine in the capital city. The scandal has engulfed his career, with even the Florida Republican Party calling on him to resign, and has prompted claims of hypocrisy after he recently voted for a bill that would require welfare recipients to submit to drug testing in order to keep on receiving welfare benefits.
The latest research from YouGov shows that Americans support requiring welfare recipients (64%) to submit to drug tests, but are even more in favor of requiring Congressmen (78%) to also prove that they do not take illegal drugs. People are only more likely to support requiring airline pilots (87%) to submit to random drug tests.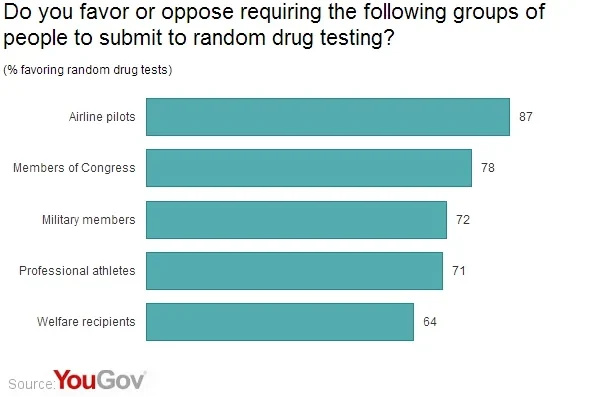 Out of the five options on the survey, the issue of drug tests for welfare recipients is the only question that prompted a distinct partisan divide. Support for testing welfare recipients among Democrats (50%) is significantly lower than among Republicans (87%), though even among Democrats support for testing still outnumbers the 28% who oppose it.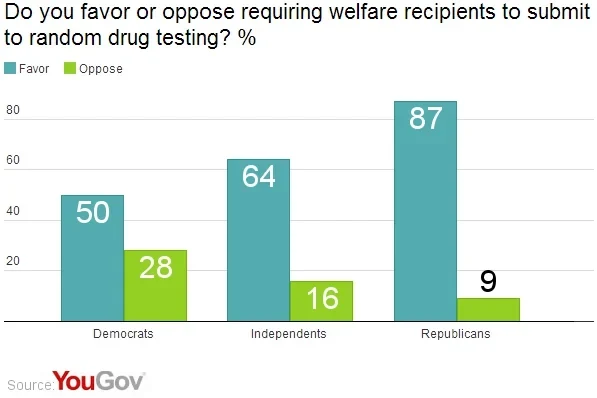 Most Americans (66%), regardless of demographic group or political ID, think that Congress members who are convicted of cocaine possession should be forced to resign their seats. Only 14% think that they should be allowed to fulfill the remainder of their term in the House of Representatives.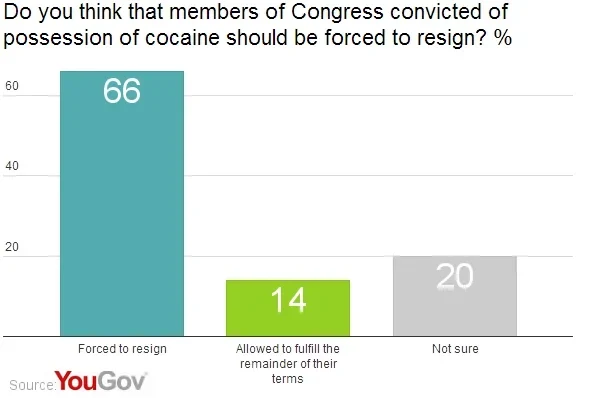 Similarly, a majority of Americans (56%) say that they would never vote for a member of Congress who was convicted of possession of cocaine, even if they otherwise agreed with his politics. 27% say that they would consider voting for such a politician while only 4% say that they definitely would vote for the member of Congress. Interestingly, people in the Northeast (12%) are much more likely than people in the Midwest (1%), South (2%) or West (3%) to say that they definitely would vote for a Congressman convicted of cocaine possession who they otherwise agreed with.
Full poll results can be found here.
Image: Getty Images