Americans tend to be supportive of Israel, but there is a partisan divide over whether or not the US provides enough support to Israel.
Israeli Prime Minister Benjamin Netanyahu's dissatisfaction with President Barack Obama over American willingness to negotiate with Iran, and American dissatisfaction with Israel's unwillingness to discuss an agreement with Palestine has made relations between the two countries problematic at best. Americans in the latest Economist/YouGov Poll aren't happy with the Administration's handling of Israel, but some are not sure they can trust the Israeli Prime Minister.
Americans have consistently thought of Israel as a friend or ally of the U.S., and in this week's poll a majority agrees that the U.S. can trust Israel – at least a fair amount. In the Economist/YouGov Poll conducted two weeks ago, 75% said they didn't trust Iran to follow any agreement it might make with the United States about its nuclear program – clearly agreeing with Netanyahu on this question.
But Americans are somewhat leery about how the United States should deal with Israel. Although 64% say it is at least somewhat important for the United States to protect Israel (34% say this is very important), just about as many say the U.S. is too supportive of Israel as think it is not supportive enough.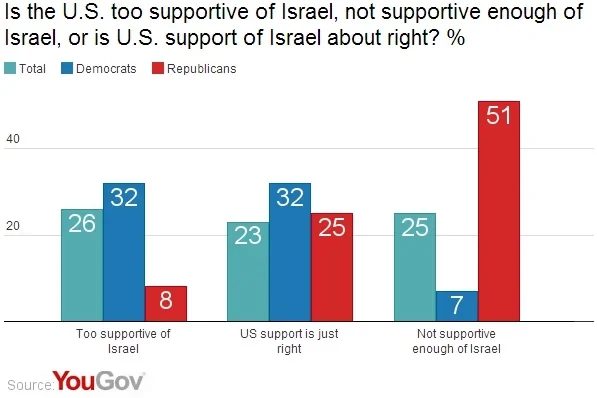 This division is partisan: just 7% of Democrats think the U.S. is not as supportive of Israel as it should be, something that 51% of Republicans believe. Democrats are more likely to say the U.S. is too supportive or that its support of Israel is about right.
Democrats – and independents—are also more likely than Republicans to favor the establishment of an independent Palestinian state, negotiations Netanyahu has not moved forward with as quickly as the Administration might like. On Thursday, Secretary of State John Kerry will meet with Netanyahu to discuss security arrangements and other topics. Overall, Americans are more likely to favor the establishment of a Palestinian state as to oppose it.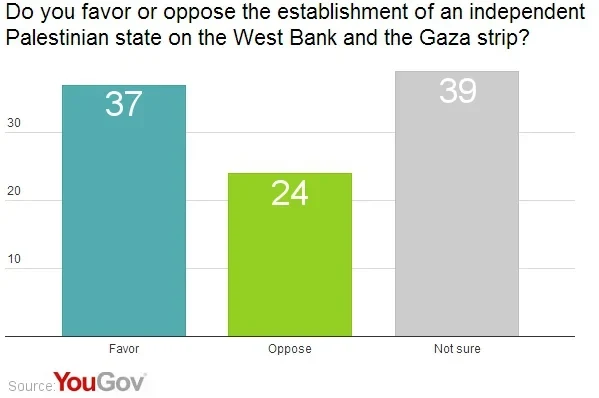 But Israel ranks far above Palestinians in Americans' sympathy, though a large number of those in the poll want the U.S. to be more even-handed in its dealings with Israel and the Palestinians: more than a third say their sympathies lie with Israel, just 7% say they lie with the Palestinians. Liberals are closely divided, but in all other groups, sympathy for Israel outweighs sympathy for the Palestinians. Democrats – and moderates – are among the most likely to feel sympathy for both equally.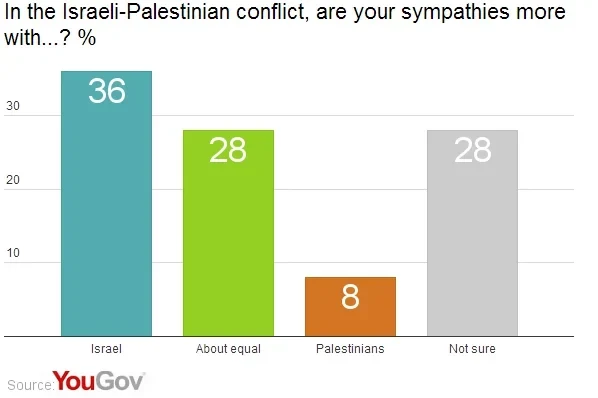 There are a number of Americans who lack confidence in the leaders of one or both countries. These assessments, like so many others, are affected by partisanship. Overall, Americans are closely divided on whether the policies of Barack Obama and/or Benjamin Netanyahu have damaged relations between the United States and Israel. But Republicans are overwhelmingly critical of Obama; Democrats are more likely to criticize Netanyahu.
Overall opinion of Netanyahu is divided, with a third viewing him favorably, and a third viewing him unfavorably. A third aren't sure.
President Obama's ratings have been affected by far more than just opinions of how he has handled Israel – economic concerns, fears about changes in health care laws, and the struggles with the Affordable Care Act's implementation. So overall, unfavorable ratings of the President outweigh favorable ones 53% to 41%. Only 39% approved of the way he is handling his job overall.
Those negative assessments continue when Americans look at the President's performance in the Middle East – when it comes to both Iran and Israel. In the Economist/YouGov Poll conducted two weeks ago, 54% of the public favored negotiations with Iran about their nuclear program (President Obama's position, not Prime Minister Netanyahu's view), but Americans disapproved of the way the President was handling Iran, 42% to 32%. Feelings about his handling of Israel are pretty much the same: 30% approve, 43% do not.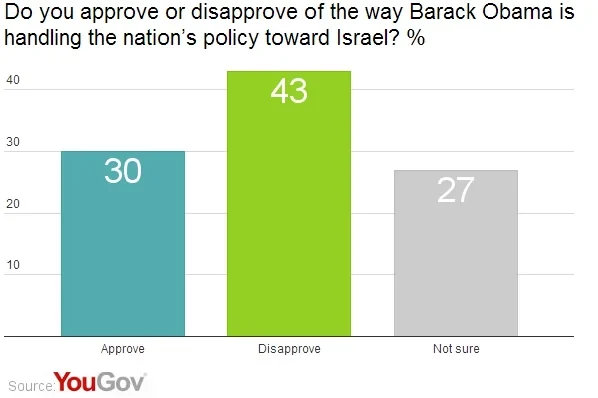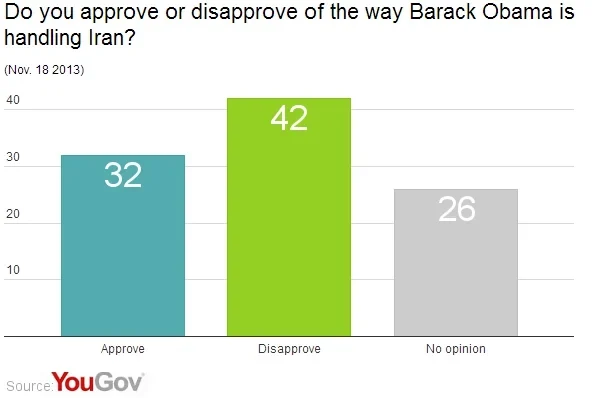 Image: Getty
Full results can be found here.
Economist/YouGov poll archives can be found here.