While Americans are split on the appropriateness of Obama's 'selfie' during Mandela's memorial, most agree there is a time and place for the self photo shoots.
Last week, the nation of South Africa held a memorial ceremony honoring the late Nelson Mandela. The event was attended by nearly 100 heads of state and tens of thousands of mourners. During the event Danish Prime Minister Helle Thorning Schmidt took a photo with her smart phone that included herself, President Barack Obama, and UK Prime Minister David Cameron. The incident, dubbed by some as "Powerselfie", has caused a lot of controversy stateside, with many saying that the act was incredibly insensitive. However this is not necessarily the case elsewhere as Ms. Thorning Schmidt and the rest of the Danish parliament are largely unfazed.
According to the latest YouGov research, more people think Barack Obama's selfie behavior was acceptable (46%) than unacceptable (38%), but there is a stark partisan divide. A majority of Republicans (65%) say it was unacceptable, while most Democrats (71%) say that it was acceptable.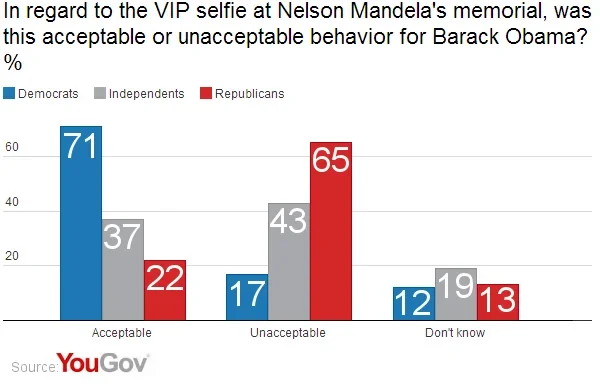 'Taking a selfie' is defined as taking a photograph of oneself, typically with a smartphone or webcam and uploading it to a social media website. Americans find selfies totally acceptable within certain contexts... and not so acceptable in others. Most Americans think it is acceptable to take selfies at tourist destinations, at parties, on public transport, or even while eating. However, bathing selfies or selfies at funerals, are mostly frowned upon.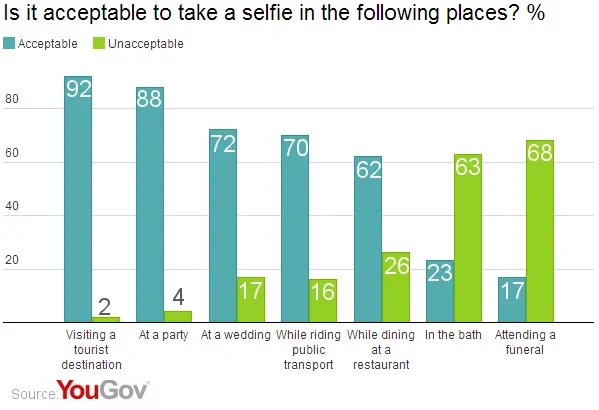 For the most part, Republicans are slightly more reserved in their selfie-taking habits. For all of the places YouGov asked whether it was ok or not to take selfies, more Democrats than Republicans think it is acceptable. The only exception is that Republicans think it is even more acceptable to take a selfie at a tourist destination (95%) than Democrats (92%).
Young people are also more comfortable with selfies, as a majority of young Americans (64%) and those aged 30-44 (51%) having taken one before, while only 20% of those aged over 65 have taken one before.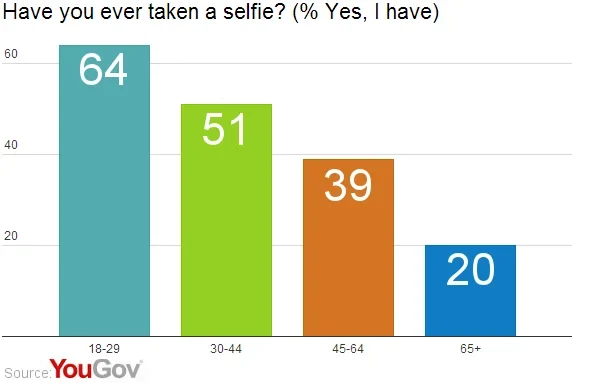 One interesting note is that in regard to funerals, only 12% of those 18-29 said that it was acceptable to take a selfie at a funeral, while almost twice as many of those 65 and older (22%) said that it was acceptable.
In a comparison with the United Kingdom, fewer people in the US are familiar with the term 'selfie', but more (44%) have actually taken a selfie than the British (37%).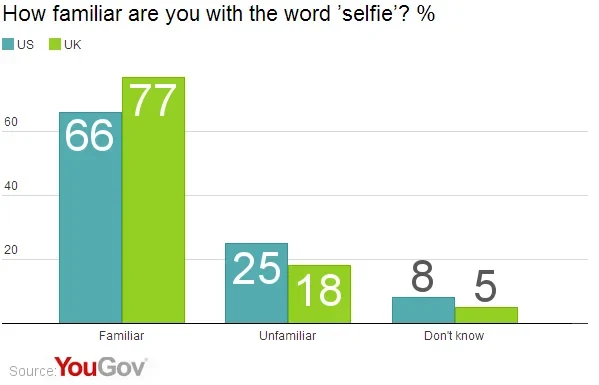 Though selfies have existed for many years, several phones have recently introduced the front facing camera feature, to make selfie-taking easier. What's more is that 2013 saw "selfie" added to the dictionary, along with the word 'twerk', another prominent word of 2013.
Full poll results can be found here.
Image: Getty Images