Paul Ryan's popularity in the GOP is dwindling, while Mike Huckabee emerges as most favorable among Republicans.
The success of Representative Paul Ryan and Senator Patty Murray's budget compromise in getting through a divided and squabbling Congress this week may be a major legislative accomplishment, but it hasn't necessarily helped Paul Ryan with his GOP base. The latest Economist/YouGov Poll found conservatives and Republicans opposed to the budget agreement, and the Republican image of Ryan, one of the agreement's architects, has not improved.
In fact, there is less support for Ryan as a 2016 presidential candidate today than there was in a late October Economist/YouGov Poll. In that poll, Paul Ryan led among Republicans when they were asked whom they preferred as their party's candidate in 2016. Not today. New Jersey Governor Chris Christie now leads the pack, with Kentucky Senator Rand Paul and former Arkansas Governor and television personality Mike Huckabee doing as well as Ryan.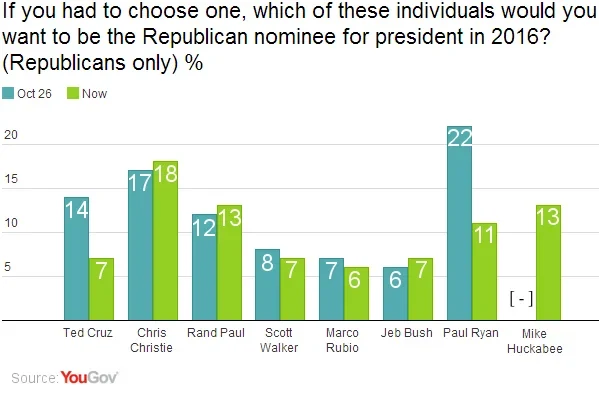 Huckabee was not on the October list, and receives 13% support in this week's poll. Christie's support – as well as the support of most of the other possible candidates – has remained stable in the intervening two months. Ryan and Texas Senator Ted Cruz have seen their support cut in half.
Some of that change may be the addition of Huckabee's name. The former Governor and Fox News host recently indicated his possible interest in running for President again, and it appears from this poll he gets some support from his fellow Republicans.
The poll suggests, however, that most of these possible presidential contenders are similarly well-regarded by Republicans. Just about six in ten Republicans hold favorable views of Huckabee, Ryan, Paul, former Florida Governor Jeb Bush and Florida Senator Marco Rubio. Christie, although most preferred for the nomination today according to the horserace question, also has more detractors than other Republicans. He gets the highest unfavorable rating from Republican identifiers. 29% of Republicans have an unfavorable rating of Christie, while fewer than half are favorable.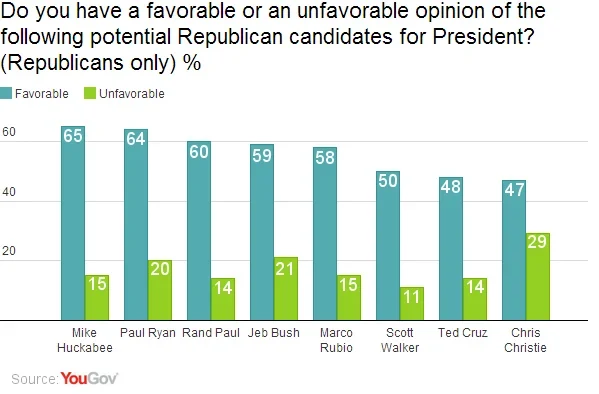 Cruz also gets a lower favorable rating from Republicans, but half as many Republicans rate Cruz unfavorably as feel that way about Christie. Cruz's GOP rating has changed little since October, although his unfavorable rating among Republicans had jumped ten points in the October poll from his rating before his late September one-man Senate filibuster.
Ryan's favorable rating from Republicans has suffered since the late October poll. Then, 70% of Republicans held a favorable view of him, the highest percentage for any Republican contender asked about that week. The favorable percentage is down six points this week, with Ryan's unfavorable assessments rising seven points.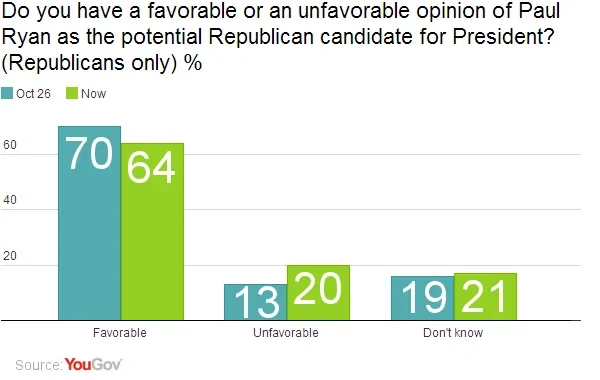 This drop among Republicans hasn't been made up by any real improvement in his standing with Democrats and political independents, most of whom have supported political compromise in recent polls, while Republicans have not. Ryan gets only a 12% favorable rating from Democrats, while 70% are unfavorable. Both favorable and unfavorable ratings of Ryan among Democrats have increased slightly in the last two months. 48% of independents give Ryan an unfavorable rating; less than a third are favorable.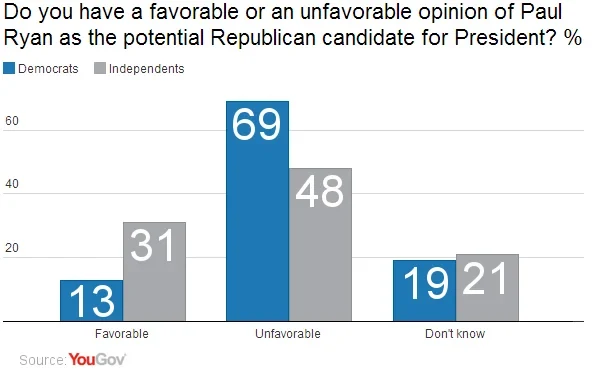 Of course, 2016 is still a long way away. And voters in Republican primaries and caucuses will not all identify as Republicans. Among those who now say they will vote in GOP primaries and caucuses three years from now, Ryan trails behind Christie, Huckabee, Paul and Cruz.