Americans tend to support the prosecution of Devyani Khobragade, with many Americans having doubts about the entire idea of diplomatic immunity.
On December 11th 2013 an Indian diplomat in New York City was arrested and charged for committing visa fraud and violating US labor laws. It is alleged that the diplomat, Devyani Khobragade, brought over a maid from India under false pretenses, promising in official documents to pay the maid $4,500 every month, who was in reality allegedly only paid just under $600 a month. The case has caused uproar in India, with the Indian government responding by removing security barriers from outside of the US embassy and launching investigations into the immigration status of Americans working at schools in India.
The latest research from YouGov shows that many Americans (41%) think that it is more important to prosecute Devyani Khobragade for her alleged violation of US labor law than it is to preserve good relations with India. 25% think that preference should be given to the maintenance of good relations, with 22% saying that the appropriate response depends on other circumstances.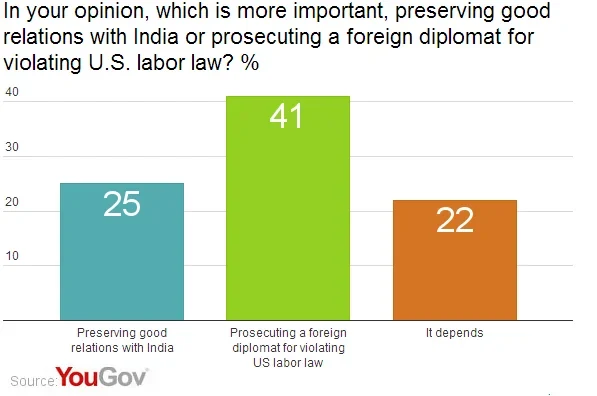 In general, Americans tend to not support diplomatic immunity, either for foreign diplomats in the US or American diplomats abroad. 51% think that diplomats in the US should be subject to arrest in general, while 45% think that US diplomats abroad should be subject to arrest. Only 6% say that foreign diplomats should have blanket legal immunity, with only 9% saying the same for American diplomats.
Asked about specific alleged crimes for which diplomats should face arrest, Americans overwhelmingly think that diplomats accused of murder should not receive legal immunity, with 77% believing that foreign diplomats involved in murder cases should be subject to arrest and 78% thinking the same of American diplomats. The largest discrepancy between attitudes towards foreign and American diplomats concerns spying, with 51% of Americans saying that foreign diplomats accused of spying should be subject to arrest and 41% wanting the same for American diplomats. Interestingly, support for the prosecution of Devyani Khobragade specifically is marginally higher (at 41%) than the proportion of Americans who say that foreign diplomats in general should be subject to arrest for similar offenses of violating labor laws (38%) and filing false visa claims (36%).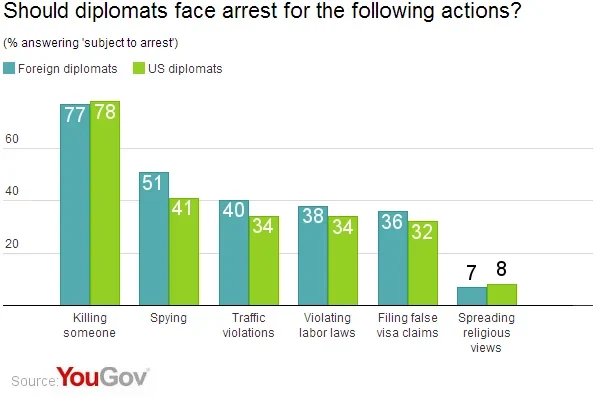 The federal prosecutors who ordered the arrest of Devyani Khobragade dispute her claim to full diplomatic immunity, saying that as a consular official at the Indian Consulate in New York, instead of their Embassy in Washington, D.C., her immunity only covers illegal acts undertaken as part of her official duties. The Indian government disagrees and, regardless, the arrest of consular officials is very unusual.
Full poll results can be found here.
Image: Getty Images