Americans have opinions about who should win Oscars this year – even though most of them haven't seen any of the nominated films.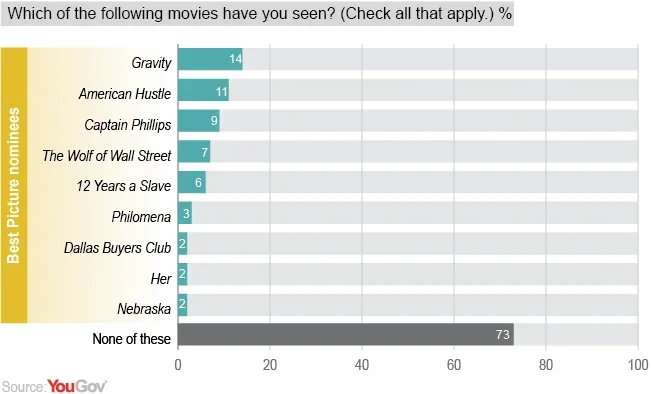 In the week after the announcement of Academy Awards nominations, the latest Economist/YouGov Poll finds that only 27% of adults have seen any of the movies competing for Best Picture.
What should win?
Among those who have seen at least one of the nominated pictures, "12 Years a Slave" comes out on top, but "Gravity " and "American Hustle" are close, followed by "Captain Phillips" and the "Wolf of Wall Street." Those who haven't seen any of the movies nominated also put "12 Years a Slave" on top.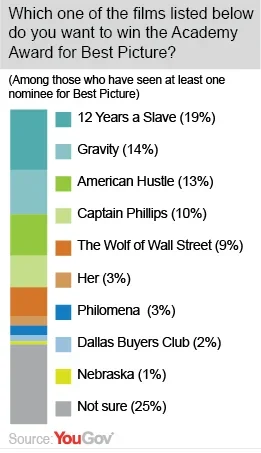 Of course, the Oscar ceremonies are more than a month away. Between now and March 2, more Americans will have an opportunity to see the nominated movies and will be subject to campaigns encouraging them to do so. Their preferences may change.
Many people just don't go to the movies. 34% say they almost never go to a movie theater. 39% say they go only a few times a year. More than nine in ten of those 65 and older rarely go to a movie – in fact, more than half of senior citizens say they never or almost never see a movie in a theater. In fact, two-thirds of senior citizens report not having seen any Best Picture nominees nor any of some of last year's higher grossing films like "Iron Man 3"or "The Hobbit: The Desolation of Smaug" or "Star Trek: Into Darkness."
The audience that follows the Academy Awards tends to be younger than average, more Democratic than Republican, and more college educated than average. Blacks and Hispanics are more likely than whites to say they pay attention to the awards. In this week's poll, African-Americans were more than three times as likely as the public at large to report having seen "12 Years a Slave" and more than a third said they wanted that movie to win the Best Picture Oscar. Among the overall public, more reported having seen "Gravity" and "American Hustle" than said they had viewed "12 Years a Slave."
Admittedly, Americans prefer that Oscars go to the stars they know from more than one movie. Americans' choice for Best Actress is Sandra Bullock of "Gravity." Leonardo DiCaprio comes out on top for Best Actor, though only narrowly beating out Chiwetel Ejiofor, of "12 Years a Slave."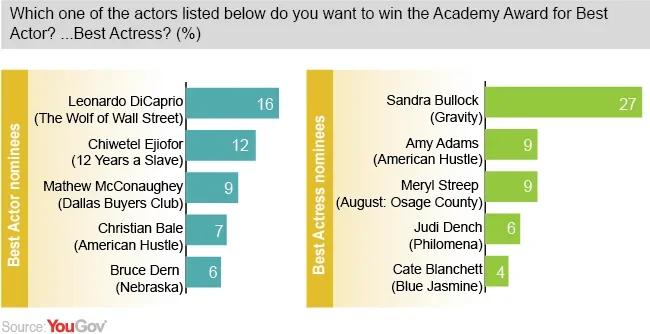 Jennifer Lawrence, last year's winner for "Silver Linings Playbook" ranks first for Best Supporting Actress this year for her work in "American Hustle," with Julia Roberts of "August: Osage County" not far behind. Bradley Cooper, also from "American Hustle," ranks first for Best Supporting Actor.
Americans following the Oscars – and those who have seen at least one nominated film put the same people on top.
Image: Getty
Full results can be found here.
Economist/YouGov poll archives can be found here.