Negative feelings about the New Jersey Governor's have grown among Republicans and Democrats alike since December
New Jersey Republican Governor Chris Christie has paid a toll in American public opinion for his aides' order to close several lanes of traffic on the George Washington Bridge between New York City and New Jersey last September. The closures created traffic problems in Fort Lee, and were allegedly ordered to punish that town's Mayor for not endorsing Christie's re-election. The latest Economist/YouGov polls find decidedly different evaluations of Christie before and after the scandal broke January 8.
The general public
When asked whether they had a favorable or unfavorable view of Christie in general, Americans polled in late December and early January were favorable, though only narrowly. After the revelation, opinion turned around: more were unfavorable than favorable towards Christie.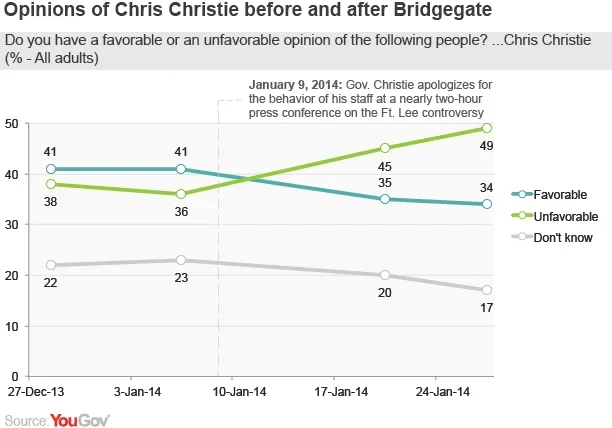 Internal Christie Administration emails became public January 8, and outlined political motivations for the bridge closure. Christie fired his Deputy Chief of Staff Bridget Kelly for her involvement, and the Governor apologized for the problems to the public and to Fort Lee's Mayor. The Economist/YouGov Polls reported here asked a general favorable/unfavorable question about Christie, without any reference to the possibility that he might run for the Republican Party's Presidential nomination in 2016.
Republicans
But the public's response to Bridgegate clearly had a political component. Republicans feel differently about Christie than do Democrats. And both before and after publicity about Bridgegate, about half of Republicans in each poll held favorable views of Christie. But afterwards, unfavorable views of Christie among Republicans rose about 10 points.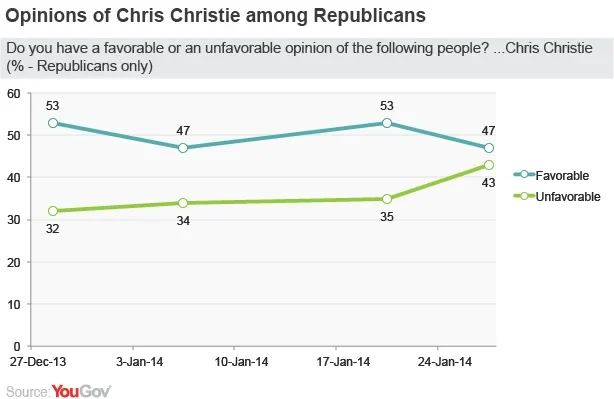 Christie continues to be a front-runner in polling about the GOP nomination, though several other Republicans perform just about as well as he does when Republicans are asked for their current choice. But even before the Bridgegate revelations, Christie garnered the highest unfavorable ratings by far from Republicans for any of the apparent candidates. For example, in the most recent poll, former Arkansas Governor and media personality Mike Huckabee gets a favorable rating from 75% of Republicans, while only 15% view him negatively.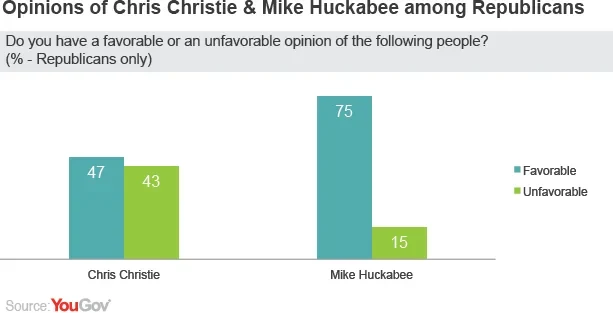 Democrats and Independents
Prior to the scandal, Chris Christie was arguably the favorite Republican for many Democrats. They gave him mixed to positive ratings, something rare when partisans evaluate a member of the other party. But that is no longer the case. In polling conducted after the scandal emerged, Democrats have become decidedly negative. And in the most recent poll, just about twice as many Democrats view Christie unfavorably as favorably.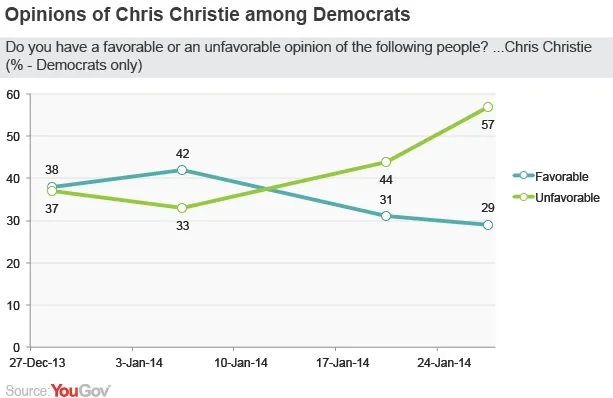 The attitudes of independents look very much like those of Democrats: pre-Bridgegate, independents divided evenly when asked to assess Christie. Now half of independents view the Governor unfavorably, and only a third are favorable.
Image: Getty
Full results can be found here.
Economist/YouGov poll archives can be found here.