After an opening ceremony marred only by technical glitches – not terrorist attacks – and the first days of competition, Americans are feeling somewhat more confident that the Winter Olympics in Sochi, Russia can take place in safety.
Two weeks ago, in an Economist/YouGov Poll conducted shortly after two terrorist attacks in nearly Volgograd, nearly six in ten Americans had little or no confidence that would be the case. Now, that level of concern has dropped 16 points, and less than half are worried.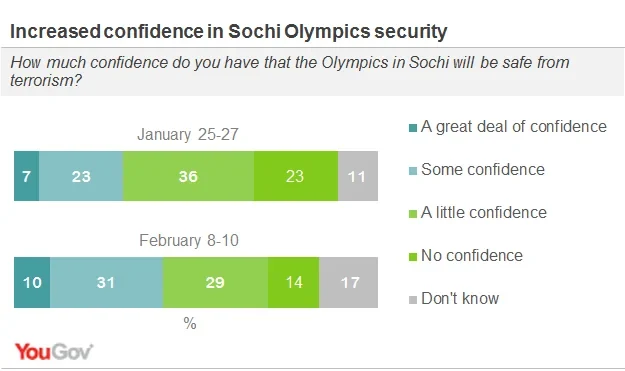 That doesn't mean Americans are glad the Winter Games are in Sochi. Just about half still think the International Olympic Committee's decision to award the Games to Sochi was a bad call, with little or no change from two weeks before.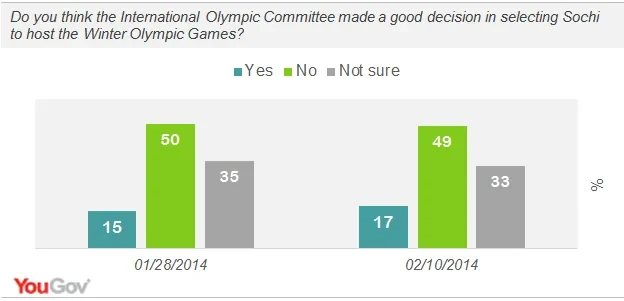 But Americans don't want the games to fail. 9% do, but eight times as many say they want the Games to be successful. More than a third think they already have been successful, though nearly half aren't sure yet.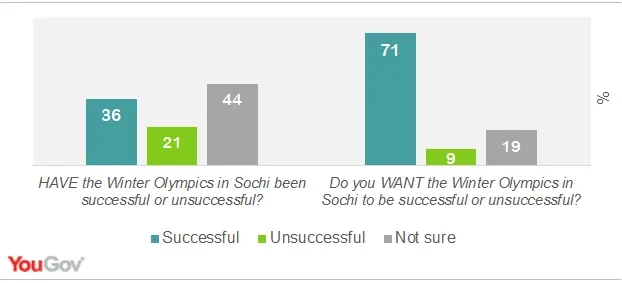 However, when Americans are presented with a list of the last ten Winter Olympics sites, from Lake Placid in 1980 to Sochi now, 14% are already declaring Sochi the least successful Olympics – more than three times as many as choose any of the other venues. The 2002 Salt Lake City games and the 2010 Winter Olympics in Vancouver, Canada, arte picked as the two most successful Winter Olympics. Only 2% expect Sochi to be in that category.
Of course, opinions may change along with the medal totals as the Games continue. But there is an element of patriotism when the public judges Olympics. The two most popular Olympics in the latest poll include the last Winter Olympics held in the United States (Salt Lake City), and the most recent games in Vancouver, where the United States won the largest overall number of medals (though not the largest number of gold medals).
More than six in ten Americans will be watching at least some of the contests (nearly a third expect to watch "lots" of events). The Olympics are one of the few athletic events where as many women as men watch (though in part that is due to the overwhelming female interest in figure skating, seen in a late January Economist/YouGov Poll).
Image: Getty
Full results can be found here.
Economist/YouGov poll archives can be found here.
Join YouGov today! Your views can shape the news...