Most Americans support prosecuting North Korean officials for crimes against humanity at the International Criminal Court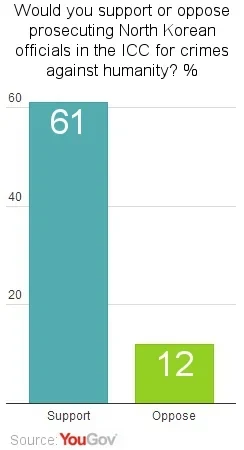 North Korea was recently slammed by an independent UN investigation into human rights abuses in the country. The report focused on the horrific state of human rights within the country's 'gulag' system, which is estimated to have up to 300,000 inmates. The few people who have managed to survive and escape North Korea told investigators of random killings as well as prolonged and routine torture at the hands of guards.
The High Commissioner for Human Rights, Navi Pillay, has called upon world powers to refer the case to the International Criminal Court (ICC) to consider prosecution of top North Korean officials such as the country's leader, Kim Jong-un.
The latest research from YouGov shows that most Americans (61%) support prosecuting North Korean officials in the ICC, while only 12% disagree. This might in large part reflect the enormous unpopularity of the North Korean regime - only 5% of Americans have any sort of favorable view towards Kim Jong-un, while 74% have unfavorable opinions of the North Korean dictator.
The US is not, however, actually a member of the ICC, though many Americans (46%) want the US to join even though this means that Americans accused of war crimes or crimes against humanity could be tried by international courts. Most Americans (56%) think that the US should support the work of the ICC, even if the US doesn't sign up for the court.
Kim Jong-un is the most likely (84%) man to be called a 'dictator' out of a list of well-known world leaders with what are widely considered authoritarian tendencies. Raoul Castro comes second, with 72% of Americans saying that he is a dictator. Most Americans (55%) say that Hassan Rouhani is a dictator, and just under half (47%) think that Russian President Vladimir Putin is a dictator.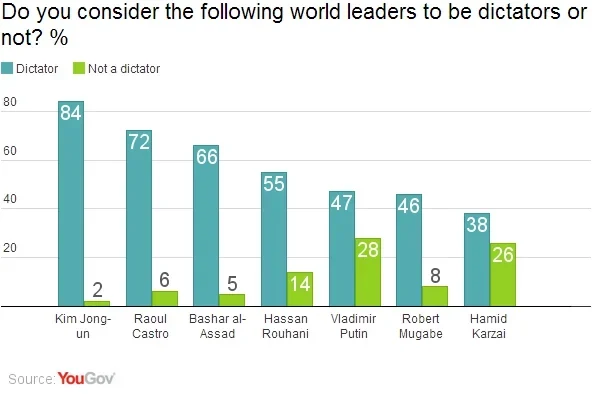 Even though US troops are currently fighting in Afghanistan to protect the Afghan government, Americans are more likely to say that Hamid Karzai is a dictator (38%) than to say that he is not one (26%).
Full poll results can be found here.
Image: Getty