The majority of Americans think the Keystone XL pipeline should be constructed, but many want its environmental impacts reviewed first
Activists opposing the construction of the Keystone XL pipeline have ramped up their efforts this month, staging large-scale protests in Washington D.C. and Philadelphia, where many protesters were arrested. The pipeline, which would carry especially carbon-intensive crude oil from the oil sands in Alberta, Canada to refineries in Texas, has opponents worried that it will speed up development of the oil sands and contribute to climate change. Supporters of the pipeline claim the $5.4 billion construction project would create jobs and reduce U.S. dependence on oil imports.
The project is nearing the end of a long review process, following the release of the State Department's final environmental impact statement on January 31st. The report concluded that the project would not have a siginificant environmental impact, although it would result in few permanent jobs.
In YouGov's latest polling about the pipeline, 34% of Americans believe simply that "it should be constructed" while another third (32%) believe it should be constructed "only after a careful government review of its environmental impacts". Around one fifth (19%) oppose its construction outright, and 16% don't know. YouGov has asked this question a few times since the beginning of 2012 and overall views have changed little.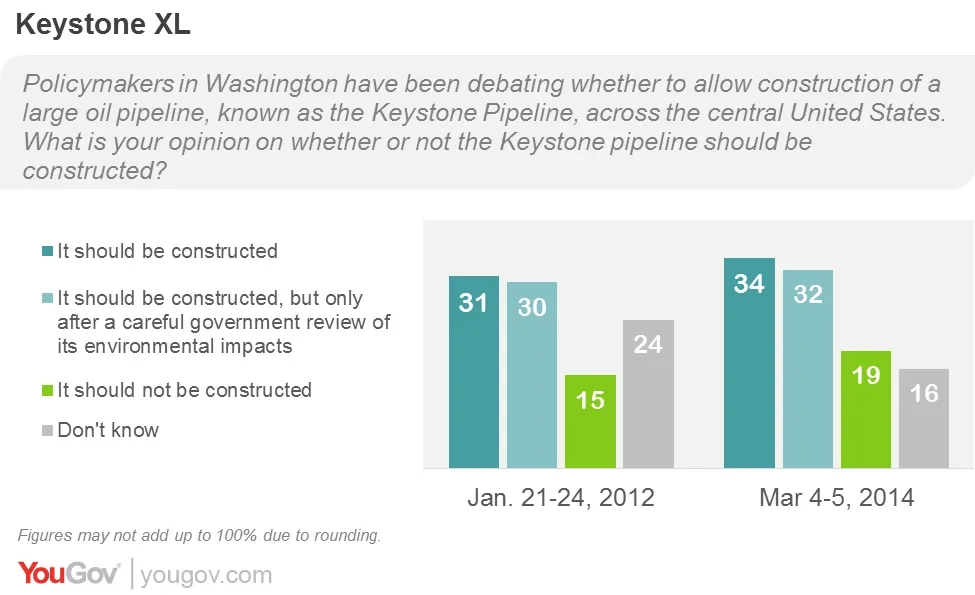 Views about the pipeline do appear to be divided along partisan lines: the majority (57%) of Republicans and 38% of independents pick the first option – which doesn't mention environmental review – compared to 15% of Democrats. And while a quarter (25%) of Democrats say Keystone "should not be constructed", only 19% of independents and 7% of Republicans agree.
However, views about Keystone appear more closely tied to what Americans believe about global warming.
Support for construction even without a review is at just 14% among the Americans who think global warming is "definitely happening" – a group that itself comprises 37% of Americans – while 36% oppose construction outright. Opposition to the pipeline drops significantly – to a level never higher than 10% – among Americans who are less than certain about the existence of global warming.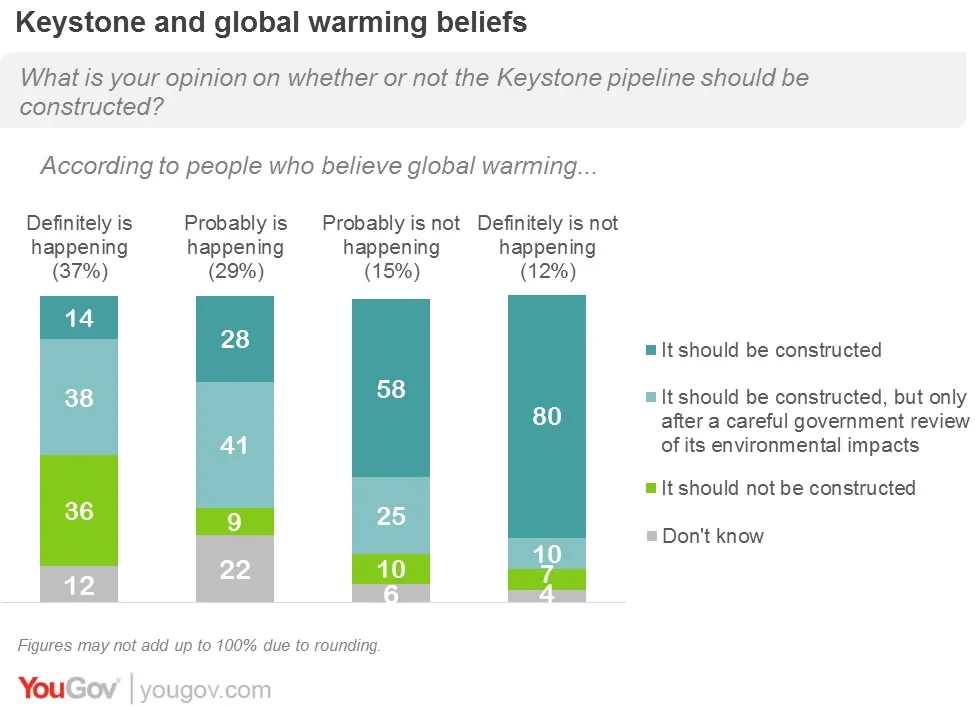 The State Department report is now in the midst of a 90-day review period, during which other government departments and agencies – such as the EPA – can weigh in. President Obama will make the final decision.
Full poll results can be found here.
Image: Getty
Join YouGov today! Your views can shape the news...