Most Americans want to end sanctions on Cuba, but few are under any illusions that US-Cuba relations are in good shape
Cuba, long the sole bastion of Communism in the Western hemisphere, has begun to shed the old trappings of state socialism and move forwards into a new era. The process began after Raul Castro, the brother of Fidel, was appointed to lead Cuba in 2006. Raul Castro has long been known as a supporter of economic reform in Cuba, but concrete steps were not taken until 2010, when the government announced a reform package with wide-ranging consequences: small private businesses would be legalized, companies could hire employees and hundreds of thousands of state workers would be laid off.
Despite the economic changes, however, relations with the United States can still be problematic. Even as the US loosens certain rules, for example by making it easier for Americans to travel to Cuba, tensions persist when it comes to issues such as human rights and the treatment of an American prisoner in Cuba, Alan Gross. Gross recently went on hunger strike to protest his treatment by Cuban authorities.
The latest research from YouGov shows that most Americans (51%) support re-establishing full diplomatic relations with Cuba, while only 20% oppose this. Democrats (60%) and Independents (62%) widely favor such a move, but Republicans are evenly split, with 34% for and 34% against sending an American Ambassador to Havana.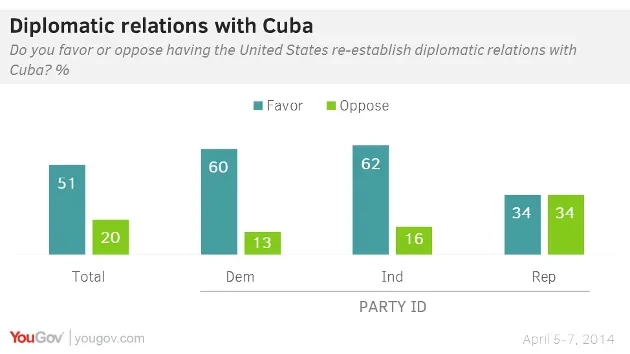 Despite support for re-establishing diplomatic relations, few Americans think that Cuba is friendly towards the US. Only 12% think that Cuba is either a friend or ally of the US, while just under half (42%) think that Cuba is 'unfriendly' to the US. 26% say that Cuba is an enemy of the United States. This means Cuba is about as popular as Somalia and Russia among Americans and only countries like Iran, Syria and North Korea are more likely to be seen as an enemy of the US.
Sanctions & Travel
Currently, Americans are only allowed to travel to Cuba if they are visiting relatives or if they are participating in a 'people-to-people' tour to encourage contact between Americans and Cubans. These restrictions are imposed by the US government, not the Cuban government. Most Americans (55%) think that even this restriction should be lifted and that Americans should be allowed to travel freely. 14% support this current limitation, while 13% think that no travel to Cuba whatsoever should be allowed.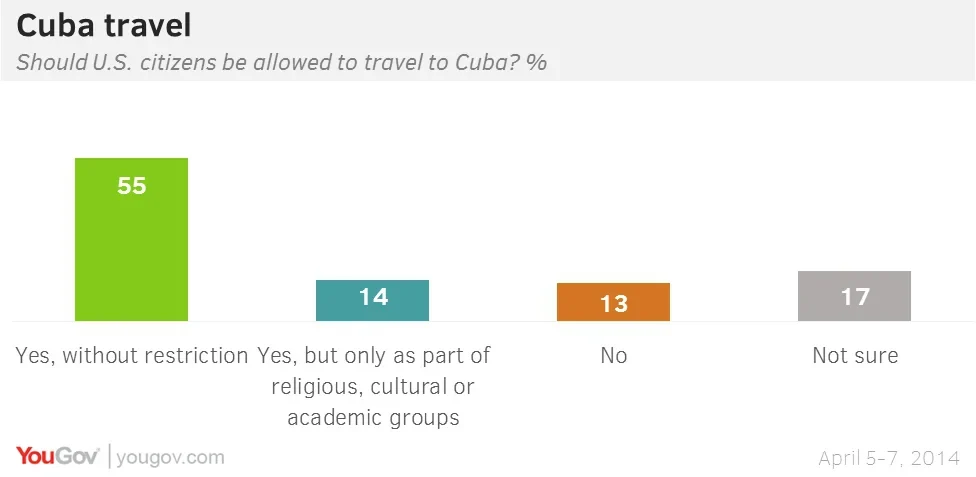 Support for travel restrictions is highest among Hispanics, who are the only group apart from Republicans who tend to support maintaining some sort of restriction. 40% support restriction-free travel to Cuba, while 25% support only allowing religious, cultural or academic group travel. 20% of Hispanics support a total ban on travel to Cuba.
In addition to travel restrictions, it is also illegal for Americans to trade with Cuba, while remittances to Cuba are tightly controlled. A majority of Americans in each case think that the rules should be relaxed. 51% of the public think that imports from Cuba should be allowed, while 55% think that Americans should be allowed to send money to Cubans – as long as the money doesn't end up with Communists.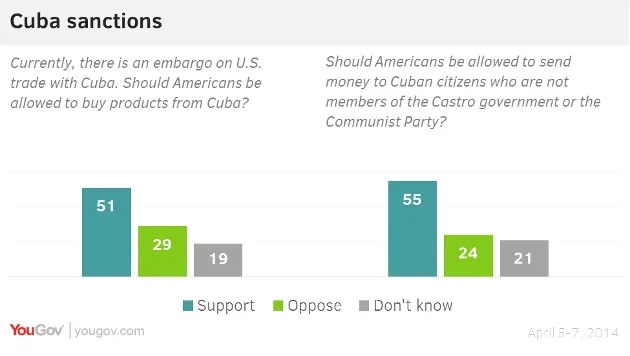 Image: Getty
Full results can be found here.
Economist/YouGov poll archives can be found here.