Politicians from powerful dynasties may be more experienced, but half of Americans say that they represent an unfair concentration of power in one family
Hillary Clinton is widely expected to run for President in 2016, and even commentators examining alternative Democratic candidates for 2016 admit that Clinton is "the biggest front-runner the Democratic Party has ever seen". She might not be the only politician with a famous last name to seek the Oval Office in 2016. Jeb Bush, the son of Bush 41 and the brother of Bush 43, is also talked of as a potential candidate. He steps into the shoes once filled by Chris Christie, who has been badly damaged by 'Bridge-gate', as a moderate Republican who could defeat more conservative opponents in the GOP primaries.
If Hillary and Jeb were to face off in 2016, however, that would mean that from 1989 to 2021 or even 2025, members of only three families would have been President: the Bushes, the Clintons and a single Obama.
The latest research from YouGov shows that just under half of Americans (48%) think that political dynasties such as the Bushes and the Clintons represent an unfair concentration of power, and only 24% say that it isn't unfair. People do, however, tend to say that candidates from dynasties would have more experience (43%) than other candidates, though 37% do disagree.
Significantly, attitudes towards dynasties do not vary all that much according to political affiliation, with Democrats, Republicans and Independents each being as likely as each other to agree that dynasties are unfair concentrations of power.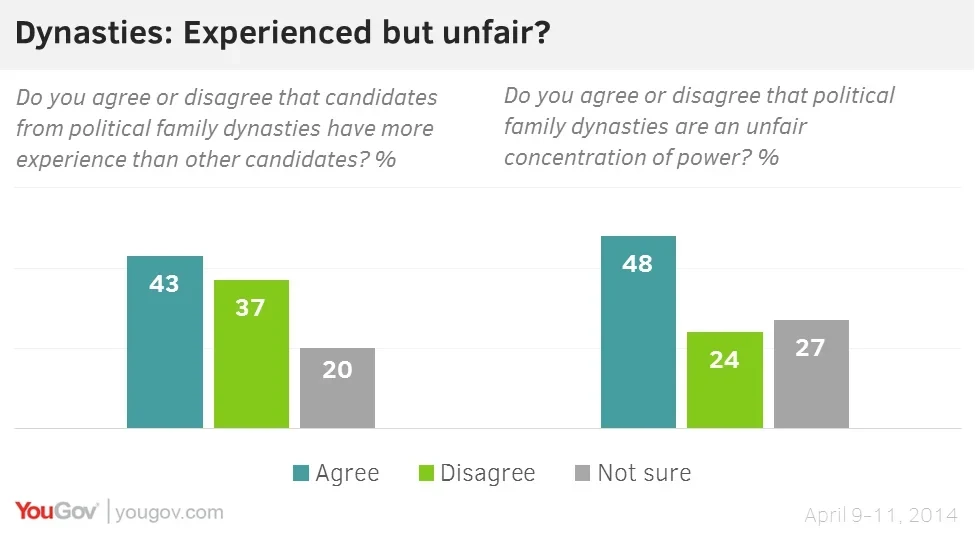 If the 2016 election were to be held today and the two main party candidates with Hillary Clinton and Jeb Bush, Hillary would be the likely winner. 40% of Americans would vote for her, while 25% would opt for Jeb Bush. Among Democrats, 79% say that they would vote for Hillary, while 68% of Republicans would vote for Bush. Independents lean towards Hillary (27%) over Bush (18%), but the largest group of Independents (35%) don't know who they would vote for.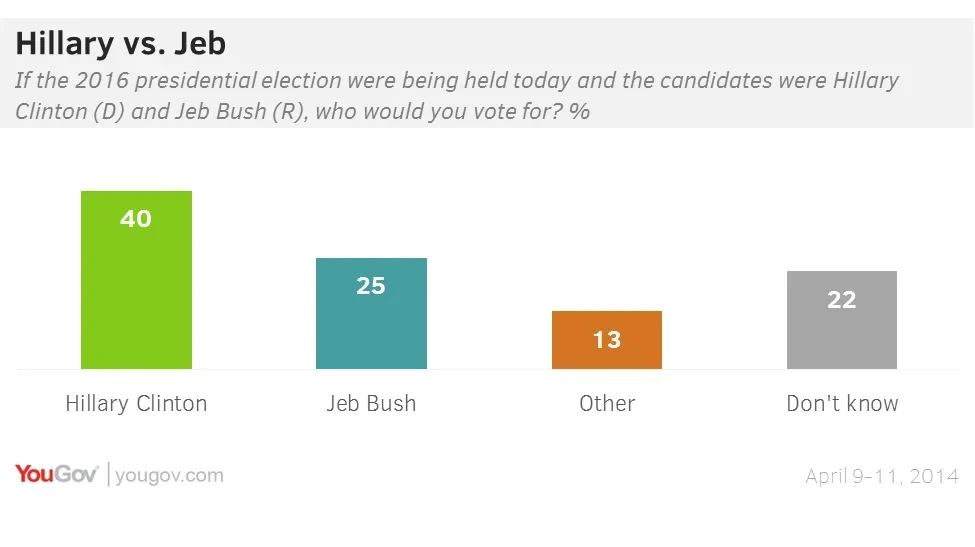 Full poll results can be found here.
Image: Getty