Despite widespread skepticism towards military involvement elsewhere, the American public backs a limited military mission in Nigeria to assist in the rescue of the kidnapped schoolgirls
It has been over a month since nearly 300 female high school students were kidnapped by the Islamist militant group Boko Haram in Chibok. The kidnapping crisis, which has become a major international issue in the past couple of weeks, still shows no sign of being over anytime soon. The US, and other countries, have begun providing assistance to the Nigerian government. American drones and surveillance aircraft are currently flying over Nigeria to locate where, exactly, the girls are being held.
Earlier this week YouGov showed that the American public wants the US government to 'get more involved' in the Nigerian kidnapping crisis, with 50% wanting the US to 'get more involved'. Asked the same question about other international crises – such as Russia's dispute with Ukraine, or the protests in Venezuela – Americans widely oppose greater US involvement.
YouGov's latest research shows that the US public would even support sending American troops to Nigeria to help find and rescue the kidnapped girls, if they are invited by the Nigerian government. 63% of the public back sending US troops, while only 25% oppose it. Democrats (72%) tend to support a US mission to Nigeria more than Republicans (62%).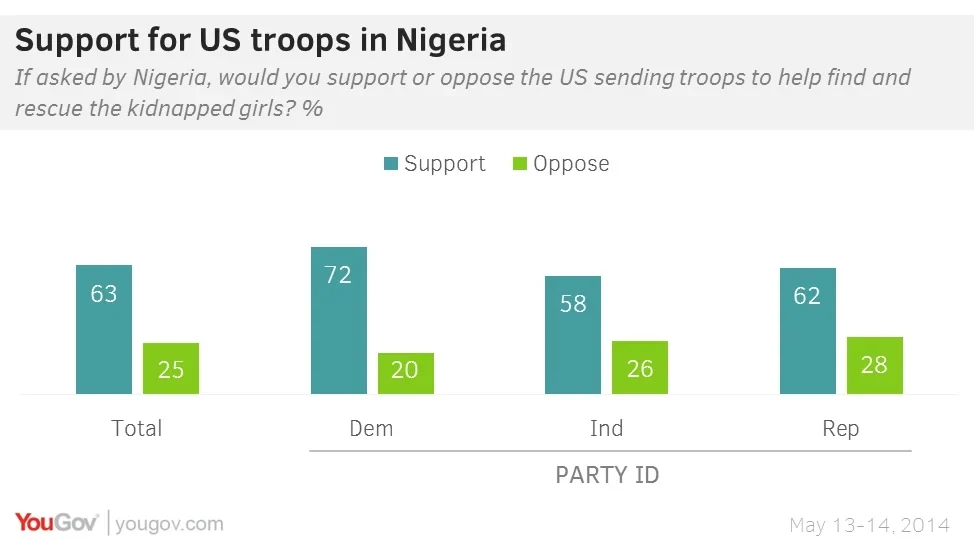 Earlier this week YouGov research conducted in Britain found that people there were also supportive of sending British troops to Nigeria, if the Nigerian government asked, by 54% to 33%.
Full poll results can be found here.
Image: Getty