48% of Americans think selling 9/11 themed merchandise at the new museum at Ground Zero is unacceptable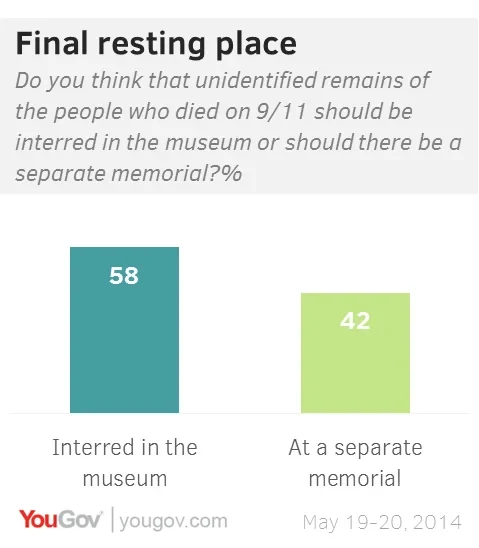 A museum commemorating the 9/11 attacks opened last week in lower Manhattan, at the site of Ground Zero. The museum, which recounts the events of 9/11 and its aftermath, hasn't escaped controversy. Some of the families of victims whose remains were never found are angry that unidentified remains are being kept in a museum instead of a separate memorial. On top of that, the decision to have a gift shop – which even sells a cheese plate marking where each of the attacks occurred – prompted significant opposition.
Americans are divided on whether or not the new museum should be the final resting place of unidentified remains, though just over half of the public (58%) do tend to support the decision to keep them at the museum. 42% think that the remains should be interred at a separate memorial.
Attitudes towards the giftshop are also far from clear cut. 36% of people think that selling 9/11 branded merchanise at the museum is acceptable, while 48% think it is unacceptable. A third of the country say that there should not be a giftshop at all, while 15% say that while it is OK to have a giftshop it shouldn't be selling 9/11 souvenirs.