As Eric Cantor's shock defeat shows, GOP politicians would do well to not ignore Tea Party challengers as most Republicans still support the movement and its goals
Majority Leader Eric Cantor's defeat in yesterday's Virginia GOP primary for his Congressional seat has been seen by many as an indication of the resurgence of the Tea Party movement, so instrumental in the GOP takeover of the U.S. House of Representatives in the 2010 elections. Though early primary losses suggested the Tea Party could be declining in strength, the latest Economist/YouGov Poll suggests that the Tea Party is the majority of Republican identifiers.
Although only a third in the public overall support the goals of the Tae Party, strongly or at least somewhat, two out of three Republicans are Tea Party supporters.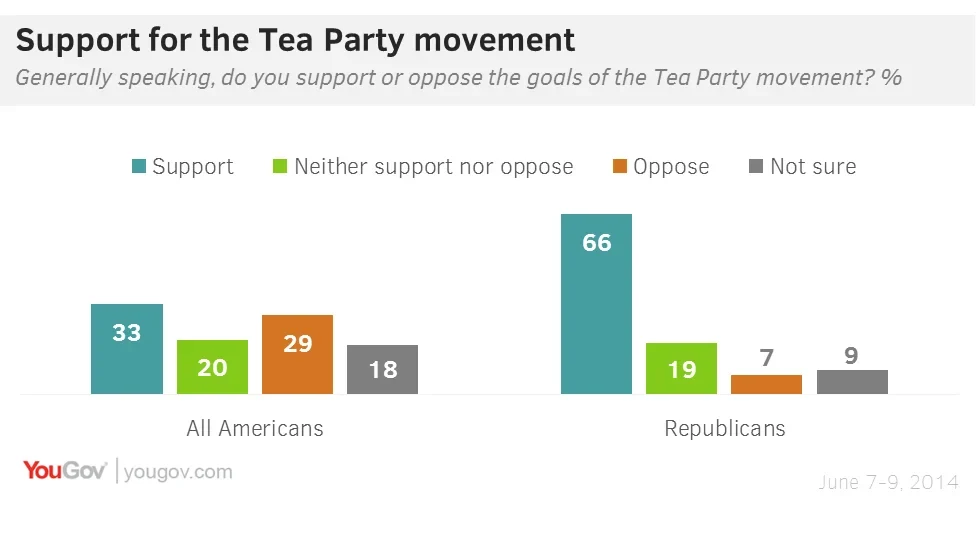 One in four Republicans strongly support Tea Party goals. And fewer than one in ten are Tea Party opponents.
GOP Tea Party supporters, like other Republicans, call themselves conservatives. They are extremely negative about government in general – both the President and Congress. Just 7% approve of the way Barack Obama is handling his job; just 9% approve of the way Congress is handling its job. 87% would repeal the Affordable Care Act.
But what sets the GOP Tea Party supporters apart is their attentiveness to politics. 61% follow news about politics most of the time (less than half of all Republicans say this). And there is even greater attentiveness among those who say they are strong supporters of the Tea Party.
Image: Getty
Economist/YouGov poll archives can be found here.