Most Americans think that the private sector should be doing the work of the Export-Import Bank, but attitudes towards aid for small businesses aren't so laissez-faire
For nearly eighty years the Export-Import Bank of the United States has been providing a range of financial products to foreign and domestic businesses aimed at creating American jobs by encouraging exports. Though the Bank says that it only steps in to fill gaps that aren't filled by private sector financial institutions, the charter might not be renewed this year after coming under fire from conservatives determined to limit federal intervention in the economy and liberals opposed to corporate welfare.
The latest research from YouGov shows that Americans are, perhaps not surprisingly, largely unaware of the dispute over the Export-Import Bank, with only 22% of Americans having even heard of the bank. When Americans are asked, however, whether they think that the federal government should be providing financial assistance to boost American exports, only 18% of the country says that they should, while 43% say that this function should be left to the private sector.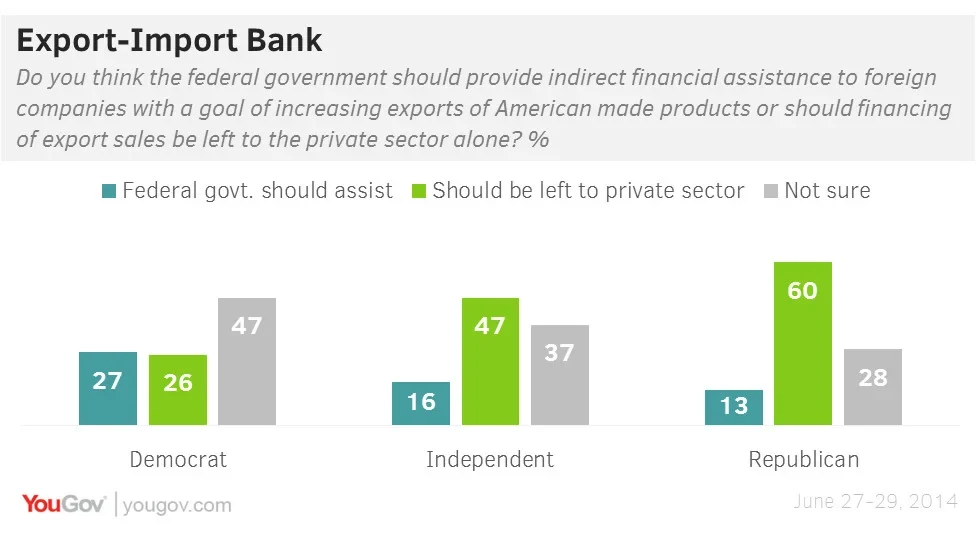 Most Republicans (60%) and many Independents (47%) think that the Export-Import Bank's role should be handled privately. Democrats are the most likely (27%) to support the federal government's role in boosting exports, but even then 26% think that it should be left to the private sector and 47% aren't sure either way.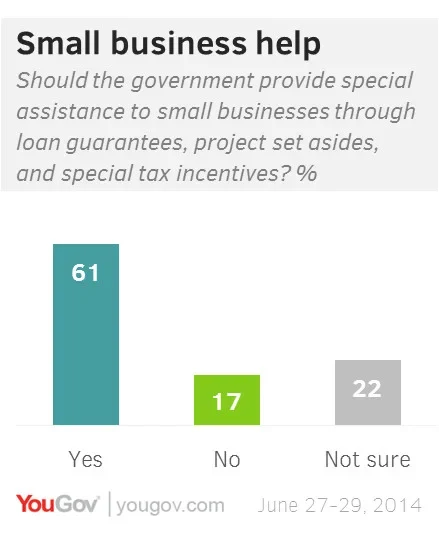 The Export-Import Bank may mainly benefit large companies, but when Americans are asked if the government should provide special assistance to small businesses, support is far higher. 61% support the government aiding small businesses with targetted help, including loan guarantees such as those given by the Export-Import Bank. Only 17% oppose small business help. Democrats (69%) are somewhat more likely to support small business aid than Republicans (60%).
Full poll results can be found here.
Image: Getty