Public opinion is divided over the Hobby Lobby decision that gives religious employers an exemption from the contraceptive mandate, but in most cases Americans do back the mandate
On Monday the Supreme Court issued a ruling on the long-running battle between the federal government and Hobby Lobby over the contraceptive mandate, which requires that employers cover contraceptives in their employee health plans. In a 5-4 decision, split along ideological lines, the Supreme Court ruled that the mandate violated the legal rights of employers who object to contraception on religious grounds.
The latest research from YouGov shows that the public narrowly tends to approve (46%) rather than disapprove (41%) of the decision to grant a religious exemption from the mandate.
Attitudes are highly polarized, however, with most Democrats (64%) disapproving of the decision, and Republicans (77%) overwhelmingly approving of it. Independents also tend to approve (50%) rather than disapprove (35%) of the decision. Support for the decision is also high among Protestants (59%) and Catholics (54%).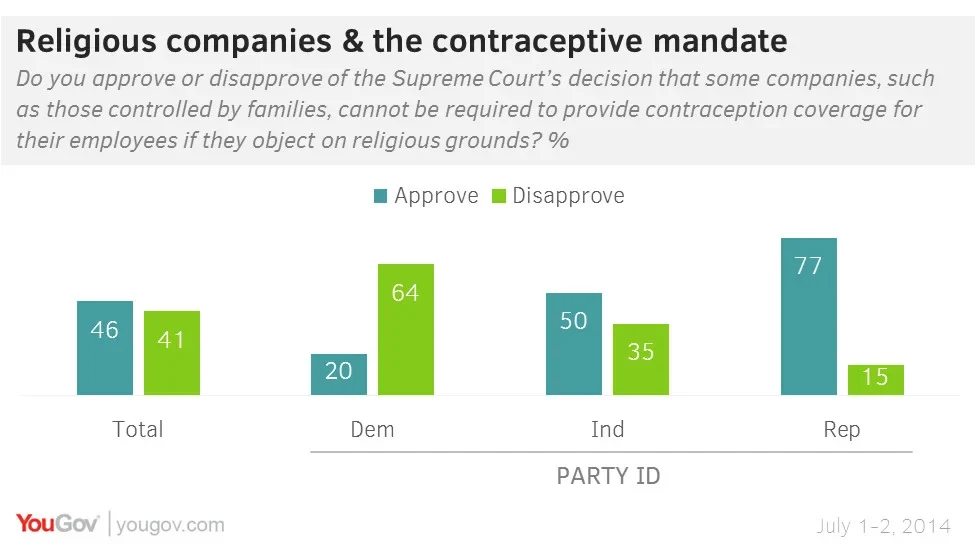 Even though 46% of Americans say that they think it is right for religious employers to be granted an exemption, most Americans (52%) do support the principle of the mandate.
76% of Democrats support the mandate, along with 50% of Independents. Two-thirds of Republicans (67%) oppose the contraceptive mandate, which divides Protestants almost evenly, with 41% supporting the mandate and 42% against. 47% of Catholics - whose Church officially prohibits the use of contraceptives - support the contraceptive mandate, while 40% oppose it.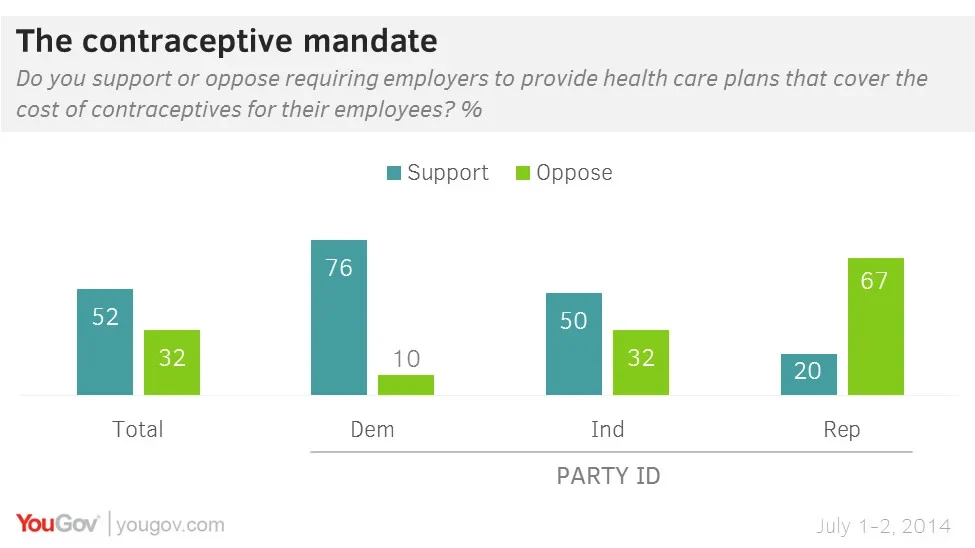 While the ruling has come as a blow to supporters of the mandate, it is unlikely that the move will materially affect anyone. When churches and religious groups were granted exemptions from the mandate, the federal government agreed to pick up the tab for contraceptive coverage, something that Justice Alito suggested in the majority opinion exempting Hobby Lobby from the mandate.
Full poll results can be found here.
Image: Getty