Most Americans support legalizing marijuana, though people do think legalization will increase youth marijuana use
Last Tuesday legal sales of marijuana for recreational use began in Washington state. The state has largely followed the same model as Colorado of taxing and regulating the production, sale and consumption of marijuana. Unlike Colorado, however, the program has got off to a slightly more problematic start, as the rules governing the production of marijuana in Washington are significantly stricter than in Colorado, where anyone is allowed to grow a limited amount of marijuana. The marijuana legalization campaign shows little sign of stopping, however, as other states - including Oregon and Alaska - look set to legalize marijuana in ballot measures in 2014, while Washington D.C. has passed a city law decriminalizing marijuana, though this has been contested in Congress.
The latest research from YouGov shows that most Americans (51%) support legalizing marijuana, while 37% oppose it. This figure has been fairly consistent over the past year. In January of this year 48% supported legalization, while in June 2013 54% of people were in favor of legalization.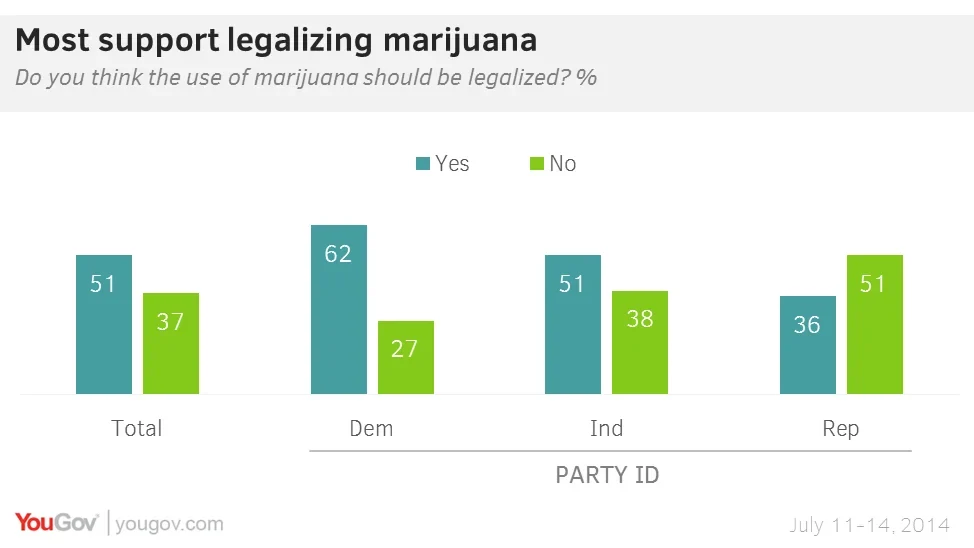 There is also a distinct partisan divide on the issue. Most Democrats (62%) and Independents (51%) support legalization, while most Republicans (51%) oppose it. There is also a notable age divide on the issue. Most under-45s support legalization, while people aged 45 to 64 tend to favor (49%) rather than oppose (37%) legalization. Among over-65s, however, 51% oppose legalization and 38% are in favor of it.
Two of the major arguments for prohibition of marijuana have been that legalization of marijuana would cause youth marijuana use to increase and that marijuana use is a gateway to using other, harder, drugs such as cocaine or heroin. Most Americans do agree (53%) that legalization of marijuana would encourage or increase youth use of the drug, while only 29% disagree. Asked whether marijuana would lead most people to use harder drugs, however, and a third of the country agrees that it would while half the country disagrees.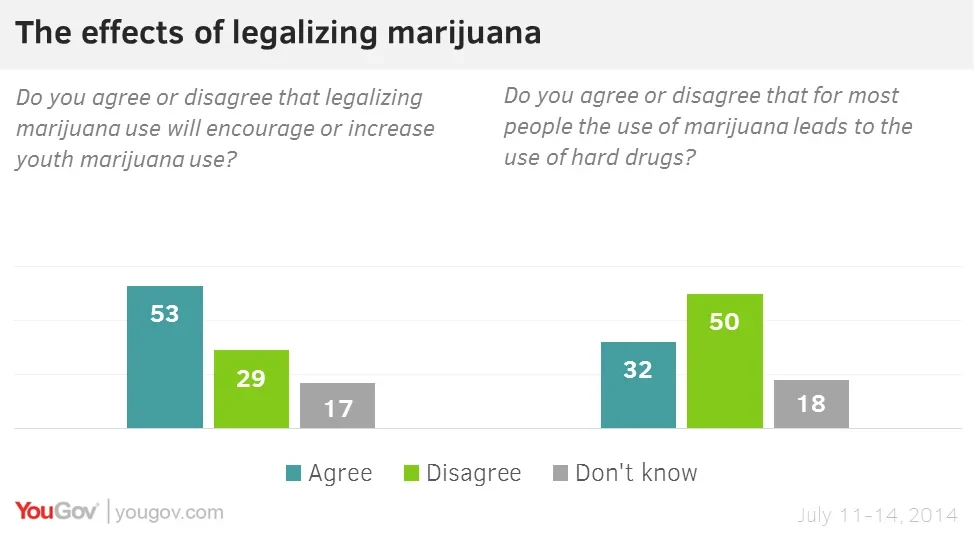 Most Americans (54%) also think that the federal government should tolerate state laws legalizing marijuana, despite the fact it is still prohibited at a federal level. 29% think that the federal government should prevent state-level legalization. Unlike many other issues, there is not a particularly large partisan split on this issue, with both Republicans (49%) and Democrats (55%) saying that the federal government should not interfere.
Full poll results can be found here.
Image: Getty