Most Americans think that the children crossing the Rio Grande are coming to take advantage of an amnesty, and the ongoing crisis has hit the President's approval ratings on immigration
Over the past nine months the number of children caught illegally crossing into the United States has doubled. Over 52,000 children have already been detained, and it is expected that more than 90,000 will be caught by year's end. Most of these new arrivals are from the Central American countries of Honduras, El Salvador and Guatemala. These countries have a serious problem with gang violence and some of the highest murder rates on earth, but there is disagreement over whether these children are refugees or are if they are merely seeking to take advantage of rumors that the US will offer amnesty to child illegal immigrants.
The latest research from YouGov shows that most Americans (58%) think that the main reason behind the surge in child illegal immigration is a belief that the US is or soon will be granting amnesty to children. Only 27% think that the main cause is the increase in violent crime in Central America. Independents (64%) and Republicans (71%) widely say that the crisis is caused by a belief in amnesty, but even Democrats narrowly tend to say that it is caused by amnesty rumors (40%) rather than an increase in violence (38%).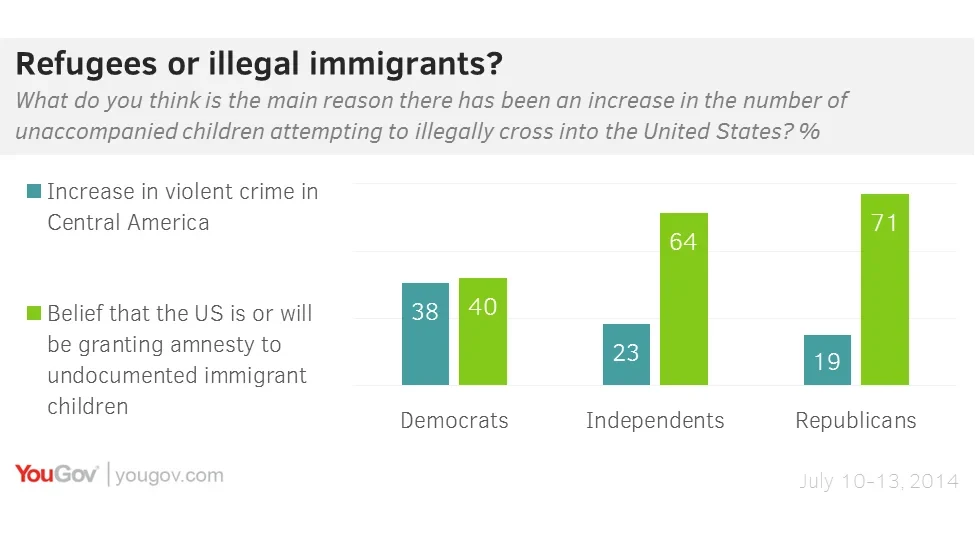 Immigration as an issue
After the border crisis hit the headlines in June, the public are increasingly upset with how the President handles immigration. In the latest Economist/YouGov poll, 58% of Americans say that they disapprove of how the President is handling immigration, while only 32% approve. These are President Obama's lowest figures on this issue since the beginning of the year, when 49% disapproved and 36% approved of his handling of immigration. Since the crisis began his disapproval ratings for immigration are now higher than his overall disapproval, while prior to June more people tended to disapprove of how he was handling his job overall than disapproved of how he was handling immigration.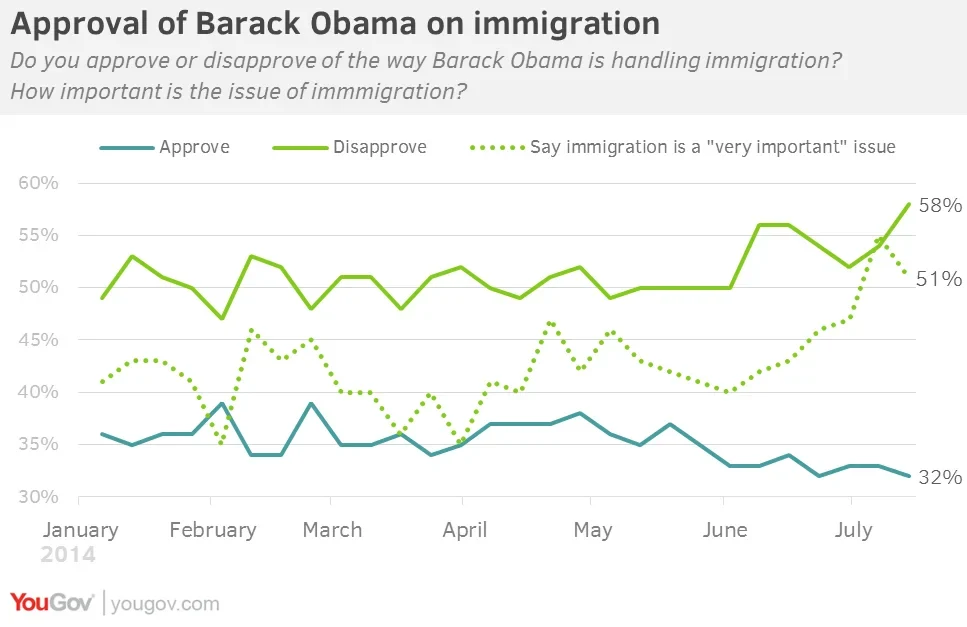 The percentage of Americans saying that immigration is 'very important' has also increased since the crisis began, jumping from around 40% to 51%.
For the first time Mexican children will not be the largest single group of children caught crossing the border. Well over 10,000 Mexican children are caught crossing the border each year but the procedures for deporting Mexican and Canadian children are far simpler, as they can be taken to the border and handed over to local authorities without a hearing without seeing an immigration judge.
Full poll results can be found here.
Image: Getty