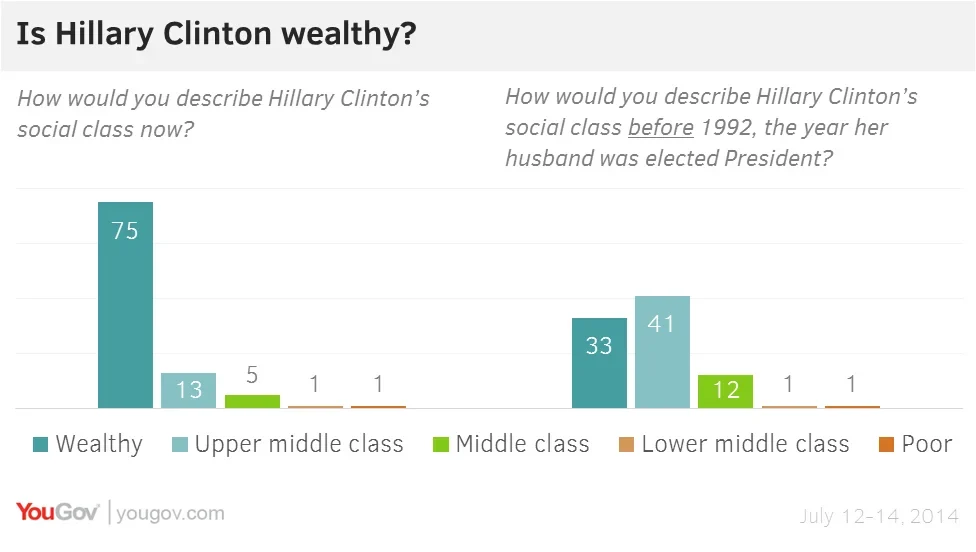 Democrats and Republicans generally agree: 66% of Democrats call Clinton wealthy, as do even more Republicans, 80%.
More Americans accept that Clinton was not wealthy when her husband entered the White House in 1993. Only a third believe she was wealthy then. But relatively few would have called her "middle class." Three in four put her at least in the upper middle class in 1993.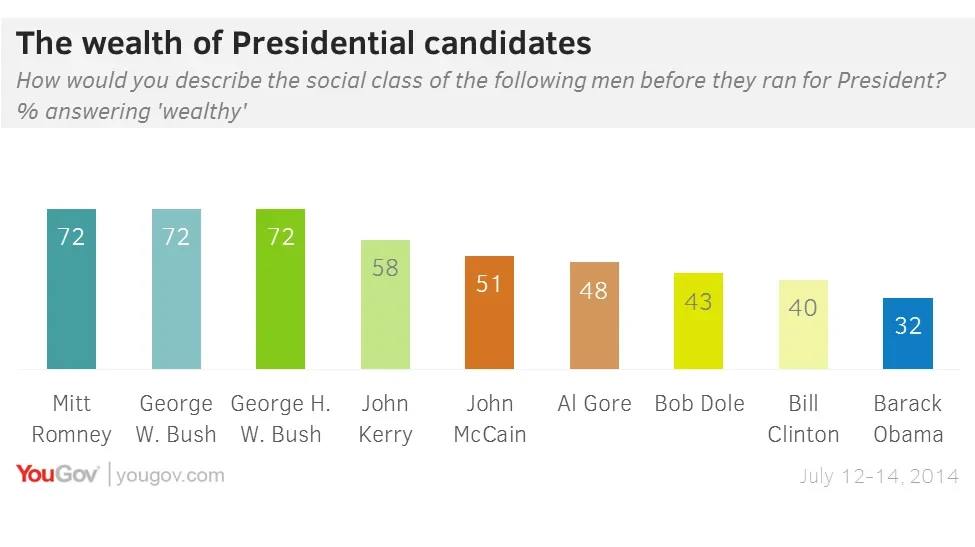 Presidential candidates tend to be well-off. They are either professionals who have earned good salaries, or have inherited wealth, or both. So it is no surprise that people regard Clinton as wealthy. But compared to recent Democratic Party nominees, she is the only one that so many think of as wealthy. However, there are three recent Republican candidates that as many Americans regard as wealthy when they took office as see Clinton that way today -- two Presidents (the Bushes) and one losing nominee (Mitt Romney). Far fewer think of the Democratic nominees since 1992 and two of the Republican ones (John McCain and Bob Dole) that way.
Somewhat more people viewed Bill Clinton as wealthy in 1993 then say that about Hillary Clinton. But more interesting is how partisans view the candidates. There are no differences in the way Democrats and Republicans describe Republican candidates when it comes to their assessments of wealth. But there are large differences in how partisans look at Democratic nominees. Differences can be 20 points or more – with more Republicans always describing the Democratic candidates as wealthy.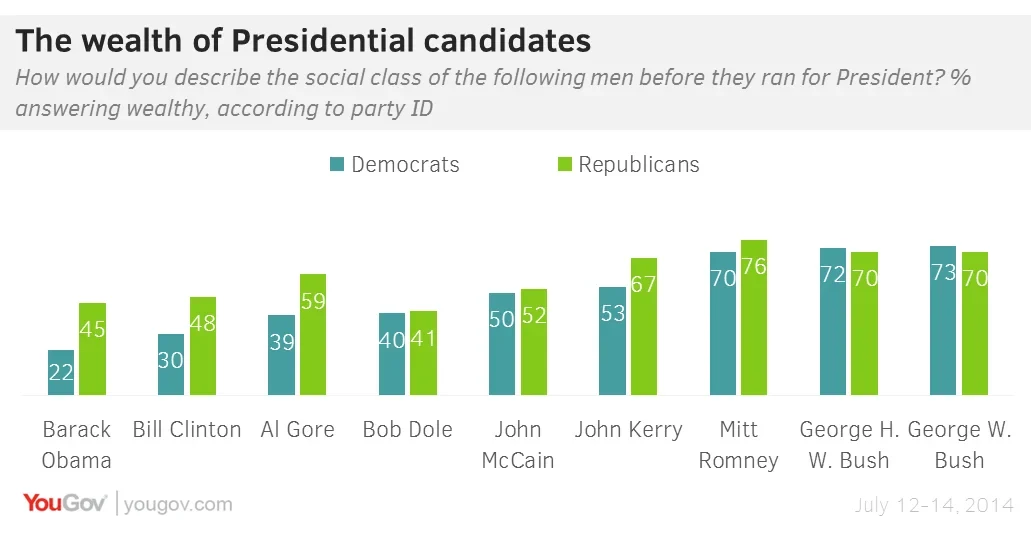 Does the perception of a candidate being wealthy hurt them? In the case of Clinton, the most recent controversy over wealth may have taken a toll. Her favorable rating has dropped five points in the last week, with much of that drop coming from Democrats, and much of it coming from a drop in their rating of "very favorable." Last week 54% of Democrats said their opinion of Clinton was "very favorable," but this week that has dropped 13 points to 41%.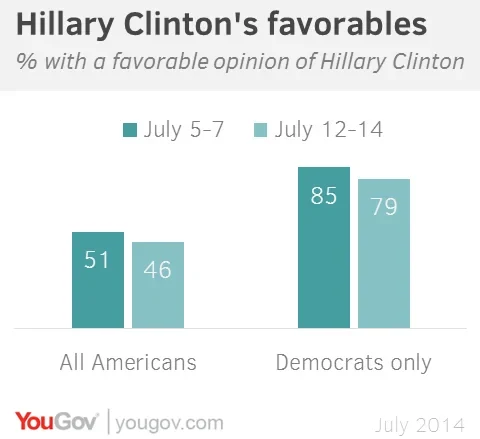 However, Clinton's favorable ratings from Democrats are actually higher than they were in February. Republicans overwhelmingly dislike her: 78% of Republicans are unfavorable, with 62% very unfavorable.
With the exception of a very brief period late last year, Clinton's national favorable ratings have always been larger than her unfavorable ones. This week favorable ratings are still larger than unfavorable ones, but only barely. And her very favorable ratings are at their lowest point since 2009. Whether this drop will be transient or not remains to be seen.
Clinton's mixed ratings nationally are still better than those for most other potential candidates: like Clinton, Massachusetts Senator Elizabeth Warren, Tennessee Senator Rand Paul, former Arkansas Governor Mike Huckabee and Wisconsin Governor Scott Walker also get mixed evaluations, though there is a higher percentage of undecideds. Opinion of all other possible candidates asked about in this poll is more negative than positive.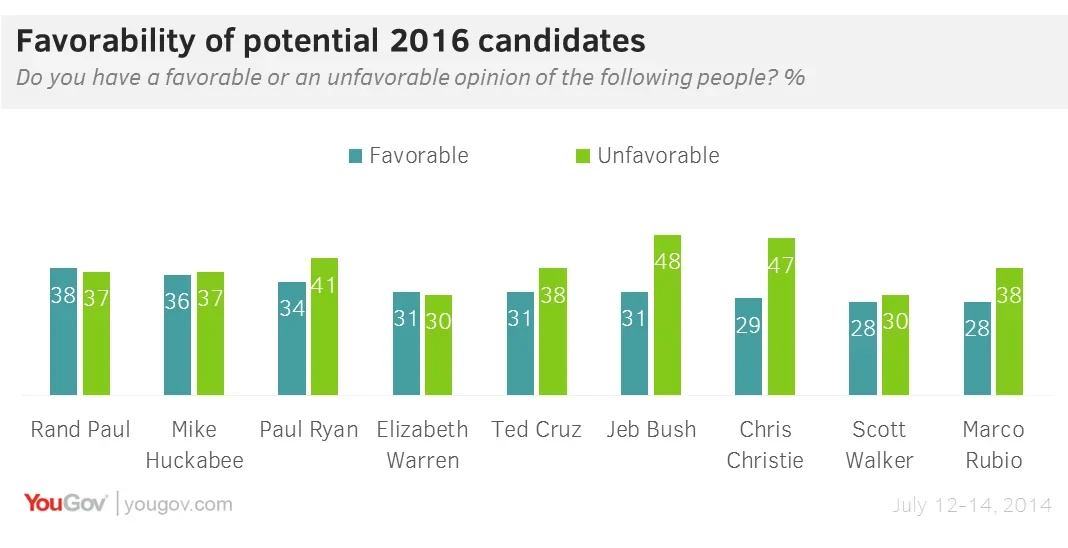 President Barack Obama and Vice President Joe Biden are also viewed negatively.
Recent comments about Clinton's wealth may have had more of an impact on the way Americans judge her empathy with ordinary citizens. Fewer Americans believe Clinton understands the problems facing middle class Americans than say she does. However, most Democrats say she understands the lives of middle class people.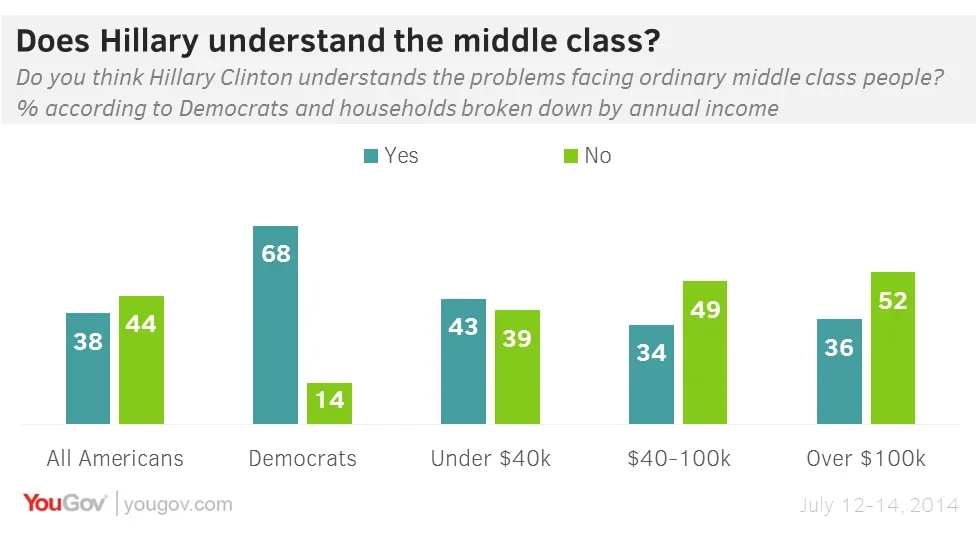 The least well-off (those with family incomes below $40,000 a year) are somewhat more likely to think Clinton understands the needs of the middle class. But half of those with family incomes between $40,000 and $100,000, who might consider themselves middle class, say she does not. Neither do half of those whose family incomes are higher.
2016
Despite this, Clinton continues to benefit from the fact that Democrats think she should run, and most Americans believe that if she did, she would win. More than two-thirds of Democrats believe she should run, and three-quarters think she will.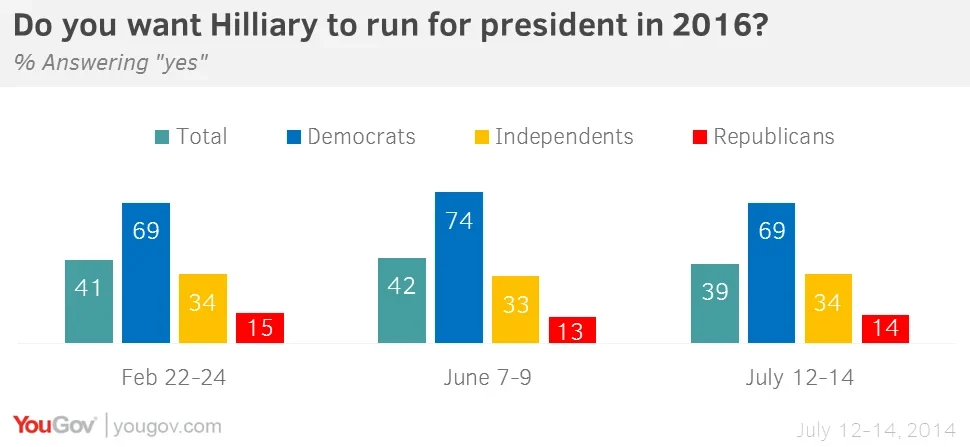 One month ago, more Democrats wanted Clinton to run; but the percentage today is about the same as it was in February. Overall, the public is divided on whether she should run, and the percentages of Republicans and independents saying that they want her to has changed little this year. Most Americans believe she will enter the race.
And if she does, most people say she is at least somewhat likely to win. Majorities of Democrats and independents think that, as do more than a third of Republicans. Of course, Clinton also appeared invincible before her 2008 primary losses to Barack Obama.