Whether or not people support delaying the business health insurance mandate depends on whether or not you mention the president in the question
Americans take their cues from the people associated with an action. In last week's Economist/YouGov Poll, opinions about the employer mandate and its delayed implementation may have suggested significant confusion, but really indicated how partisans react to mentions of President Obama. Those who favored the mandate (who are more Democratic than Republican), when told the Obama Administration had delayed implementation, supported the delay. Those opposed to the employer mandate (more Republicans than Democrats) opposed the delay in implementation.
This week, respondents were asked the same question without the information that the delayed implementation was a decision made by the Obama administration. And the responses became much less partisan than they had been. Fundamentally, without party cues and the indication it was the Obama administration that delayed implementation, Americans aren't quite sure what to think about delaying the employer mandate.
Last week, Democrats expressed support of the delay, even as they also supported the employer mandate in principle. This week, they still favored the mandate, but weren't sure what to think about the delay.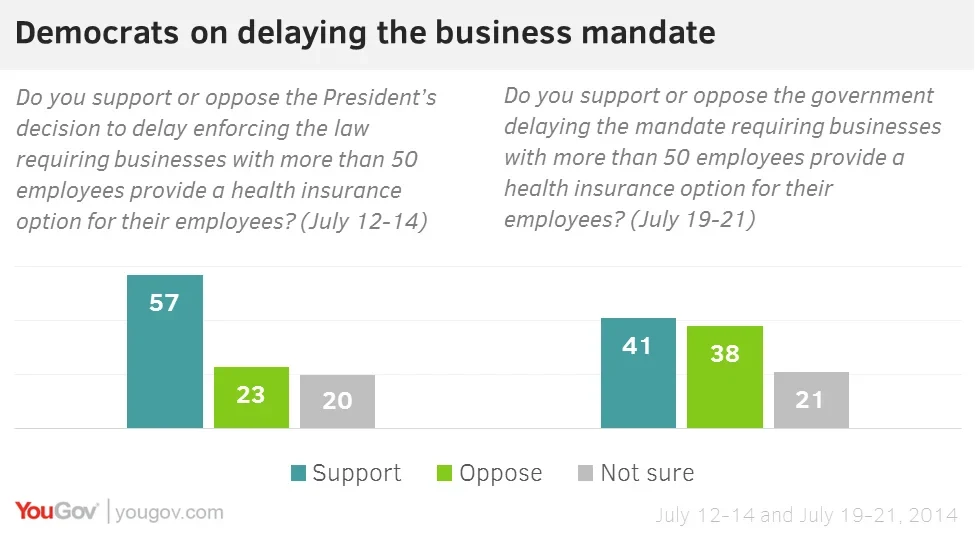 Republicans, who opposed the mandate, and opposed the delay last week, still oppose the mandate, but aren't clear whether the mandate should be delayed.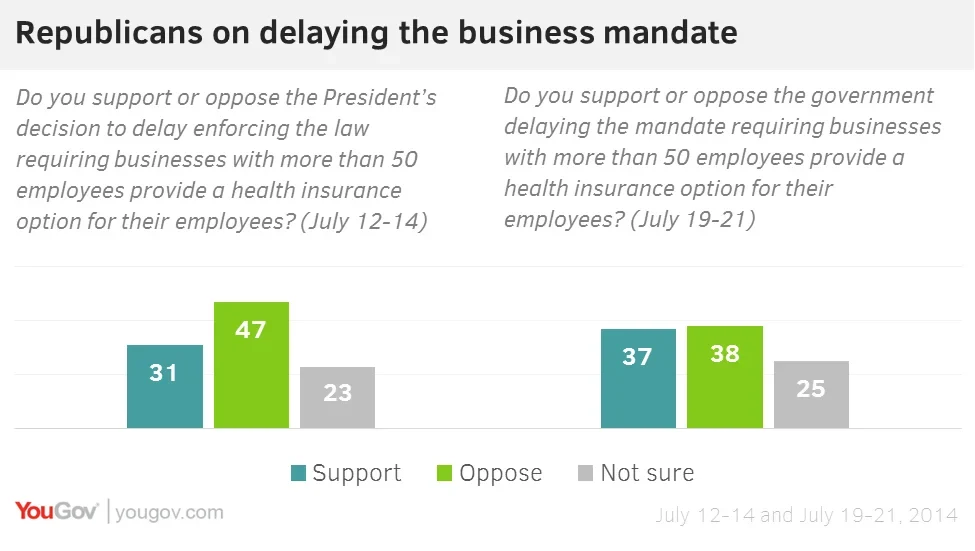 The inclusion of President Obama in last week's question clearly brought out a partisan reaction. After all, while 84% of Democrats say they approve of the way the President is handling his job, only 10% of Republicans do. And those party differences have existed through most of the Obama presidency.
One reason cues matter so much is that not all Americans are closely following what is taking place in Washington, though many say they do. 43% of Democrats and 53% of Republicans say they follow what's going on in government and politics most of the time. But even those Republicans who are paying close attention to politics are divided on whether or not the mandate should be delayed.
Image: Getty
Full results can be found here.
Economist/YouGov poll archives can be found here.