Americans are worried that ebola could spread to the US, but most people are confident that an outbreak would be contained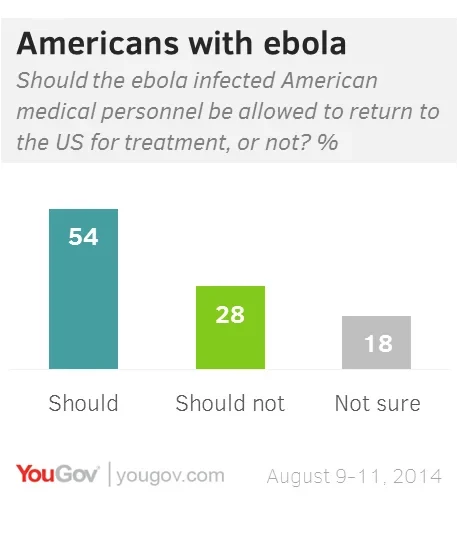 The recent outbreak of Ebola in western Africa, the first European death from the virus, and the infection of two American medical workers has brought Ebola to the United States. Americans in the latest Economist/YouGov Poll are concerned about the possible spread of Ebola in this country, but they also approve of bringing any infected Americans back home.
There are few group differences on this question. All party, age and regional groups support bringing infected Americans home, though by different margins. And while most are at least somewhat concerned about Ebola spreading to the United States, at least for now they also believe there will not be a large Ebola outbreak in the United States.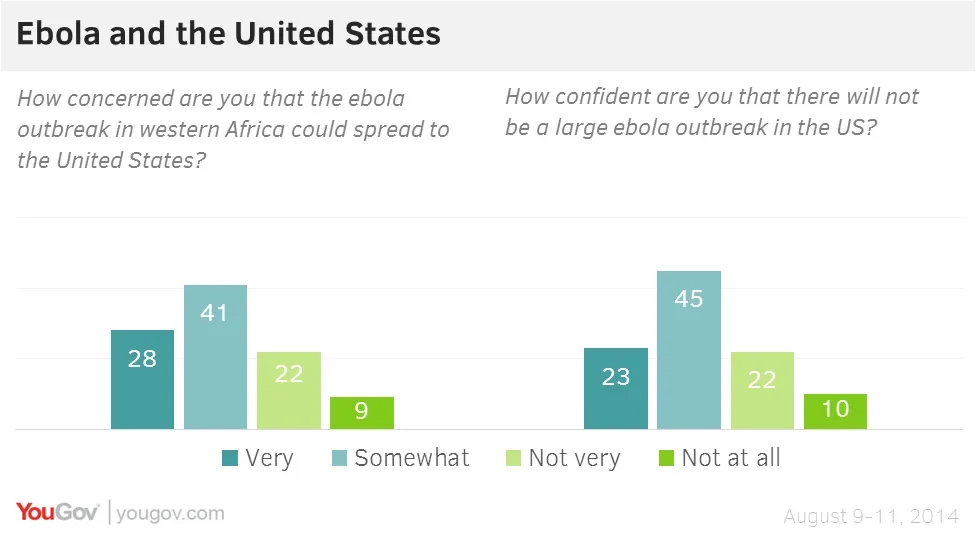 African-Americans express the most concern: 44% of blacks are very concerned, compared to 28% overall. There is much more concern in the Northeast than in the West (42% are very concerned in the Northeast, compared with only 12% in the West). That may be due to the geographic proximity to Africa (or the lack of it). Women are more worried than man.
But even in the groups that are most concerned, there remains some confidence that there will not be a large Ebola outbreak in the United States. African-Americans are the least confident: only half are very or somewhat confident an outbreak will be prevented. 18% of blacks have no confidence at all. But most in the Northeast have confidence.
Americans rate the Ebola outbreak as an important news story. 53% say it is very important, about the same percentage who say that about the U.S. air strikes on ISIS in Iraq, and more than describe the Ukrainian conflict as very important.
This is one foreign policy issue where most Americans favor action: 75% approve of charities sending doctors, nurses and medical supplies to western Africa to treat victims of the virus. And a majority say the U.S. has a responsibility to help contain the virus and treat the victims.
Image: PA
Full results can be found here.
Economist/YouGov poll archives can be found here.